Biography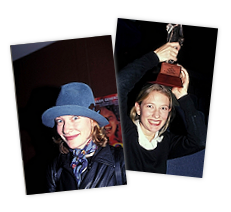 Catherine Élise "Cate" Blanchett was born on May 14, 1969 at the Jessie McPherson Hospital in Melbourne, Australia. Her father, Robert "Bob" Blanchett, was a Texan and ex-US Navy man who'd met Cate's mother, a teacher named June, while Bob's ship, USS Arneb, was in Melbourne. The couple fell in love and Bob moved into advertising in Melbourne. His American accent made him an exotic figure to his elder daughter as she grew up in Melbourne. Cate has two siblings: an her older brother, Bob, is a computer systems engineer, and her younger sister, Genevieve, worked as a theatrical designer and received her Bachelor of Design in Architecture in April 2008. According to Cate, there is some French ancestry in their heritage, one antecedent being Louis Bleriot, the first aviator to fly across the English Channel.
A tragedy struck Cate's life at a young age when her father Bob Blanchett died in a cinema from a heart attack at the age of 40. Cate was mere 10-years old at the time. "The night of the day he died, I thought, Wow — I'm up so late, and I haven't eaten all day," she recalls. "It's hard to compute something so massive. I just sort of rolled with it. You sort of see it from other people's perspective. I could see that my sister was so young, and I felt it was tragic that she might not remember him. I could see how it affected my brother, who was 11 or 12. I saw what a struggle it was for my mother. I think about my father and how sad it was that he never had grandchildren." But she utters not a word about her own grief. "Maybe this is just me trying to live with the loss." At the hospital, Cate was left in a room with one of her dad's co-workers who told the kids: "This is going to be a very, very hard time for your mother. You have to be very, very good." Cate believes that this "framed my whole relationship with the family." It also made her a perfectionist. When Bob died suddenly, the mystique Cate felt towards her father increased. She did not see his body. Cate once said she imagined for a while he had been abducted by the CIA – although she now insists she was joking to the interviewer. But she must have had unfinished business with her father? "I guess so. I mean, it's hard to say. When you're 10 years old you don't really – I mean, children assimilate those changes perhaps more than if it had happened to me when I was 21." That loss left Cate with an enduring sense that "the presence of death can coexist in life. I just don't take things for granted. I know that time is very short."
Cate and her siblings were raised by June following Bob's death. Cate has described her childhood as normal, while seeing herself as "part extrovert, part wallflower." The extrovert part was fuelled early when, at a friend's birthday party at age 6, she was hugely impressed by a magician and began to dream of life as a performer. Her parents encouraged her, particularly in the field of music. She has a great love for classical music, even now appearing regularly on ABC Classic FM radio in Sydney, both playing and discussing. Blanchett attended a primary school in Melbourne at Ivanhoe East Primary School. For her secondary education, she attended Ivanhoe Girls' Grammar School and then Methodist Ladies' College, from which she graduated, where she explored her passion for acting. She became the school drama captain, appearing in many shows, including The Odyssey of Runyon Jones, and directing her fellow students in a production of They Shoot Horses, Don't They? She also studied Economics and Fine Arts at the University of Melbourne. Blanchett discovered the pleasures of playacting long before her father died, but she never intended to make it her career. "Acting was fun, but I don't think it crossed my mind that I could do it," she says. "I thought the most important thing was security, because of my mother; it was insecure bringing up three children by herself. I thought, I want to do something more practical, so I decided to study economics and fine arts." After studying at the University of Melbourne she left Australia to travel overseas and gain life experience.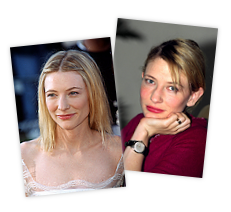 Visiting England at the age of 18, Cate was forced to leave when her visa expired, and she moved on to Egypt. A fellow guest at a hotel in Cairo asked if she wanted to be an extra in a movie, and the next day she found herself in a crowd scene cheering for an American boxer losing to an Egyptian in the film Kaboria, starring the Egyptian actor Ahmad Zaki. She dreaded the experience and walked off from the movie. However, Cate found she couldn't get away from acting, and she ended up studying in Sydney at the National Institute of Dramatic Art. "It was inescapable," she says. "I loved the looseness and freedom. Some ideas, like what you're going to do with your life, take time to form. When something is a vocation, you don't really make a decision about it." During Cate's final year at the National Institute of Dramatic Art in 1992, she starred in a production of Sophocles' Electra and made one very important fan. Her drama teacher and director, Lindy Davies, was then sharing a house with another actor, Geoffrey Rush, and urged him to come see this "astonishing young woman". He did – and he never forgot Cate's performance.
After graduating from NIDA, Cate joined the Sydney Theatre Company in 1993 for a production of Caryl Churchill's Top Girls, then moved on to play the bride Felice Bauer in Timothy Daly's Kafka Dances. Her spectacular work was noted immediately as she won the Best Newcomer of 1993 Award from the Sydney Theatre Critics Circle. Her first major stage role was opposite Geoffrey Rush in the 1993 David Mamet play Oleanna. She played Carol in the controversial and demanding play, in which a university professor is accused of sexual harassment by a student. Initially believing the play to be "a misogynist piece of crap", she did it because it made her so angry – moving people was, after all, what she wanted to do. It worked. Cate was named Best Actress, becoming the first to ever win Best Newcomer and Best Actress in the same year. Between 1994 and 1995 she also appeared as Ophelia in an acclaimed Company B production of Hamlet, directed by Neil Armfield, starring Rush and Richard Roxburgh. It was clear that Cate was making waves and taking names as a serious stage actress in her home country.
Cate also co-starred an episode of Police Rescue entitled "The Loaded Boy", in 1993. She also appeared in the 1994 television movie of Police Rescue as a teacher taken hostage by armed bandits, and in the 50-minute drama Parklands (1996), which received a limited release in Australian cinemas. Cate next starred in the eight-episode TV miniseries Heartland (1994) opposite Ernie Dingo, which won the AFI Award for Best Direction in a Television Drama. In the show, the mysterious death of an Aborigine girl in a small coastal town brought bigotry into the spotlight. As divorcee Beth Ashton, conducting an affair with an Aborigine Liaison Officer, Cate stirred up controversy. Heartland was described as ABC's "most significant production to date". She next appeared in ten episodes of Bordertown (1995), with Hugo Weaving, a miniseries set in a 1950's migrant camp peopled by European immigrants. In 1994 Cate also appeared in an episode of G.P., titled "Natural Selection".
1997 was a big year for Blanchett, who made her international film debut with a supporting role as an Australian nurse captured by the Japanese Army during World War II in Bruce Beresford's Paradise Road, which co-starred such big names as Glenn Close and Frances McDormand. Cate's first leading role in a movie, also in 1997, was the role of Lucinda Leplastrier in Gillian Armstrong's Oscar and Lucinda, opposite Ralph Fiennes. Interestingly, Peter Carey, the Booker Prize-winning Australian author of Oscar and Lucinda, had known Blanchett's father, Bob, when both worked in the advertising industry in Melbourne. Blanchett was nominated for her first Australian Film Institute Award as Best Leading Actress for the role. The film was also nominated for an Academy Award for Best Costume Design. Cate herself did, however, win an AFI Award as Supporting Actress in 1997 for her role as Lizzie in the Australian romantic comedy Thank God He Met Lizzie, co-starring Richard Roxburgh and Frances O'Connor. The director, Cherie Nowlan, had had her eye on Cate for some time, having spotted her in Kafka Dances a couple of years before. "I couldn't stop looking at her," Nowlan later recalled. "She'd covered her face in white pancake makeup, but I could see that underneath she was very beautiful. It was a performance from a pretty original, unusual actor. And, like everyone else, I thought 'This girl will go off – it's just a matter of time'."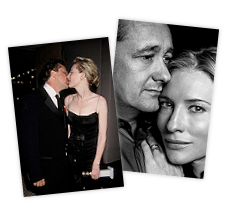 Cate met her future husband Andrew Upton in the mid-90s as members of Sydney's small theater community but got to know each other on a film set in 1996 while working on Thank God He Met Lizzie – but it was hardly love at first sight. "It was kind of animosity at first," Blanchett says. "It was a bit like Beatrice and Benedict." And yet when they finally got involved, Upton asked her to marry him within a few weeks. Why did she say yes? "I couldn't not," she says. "We were in exactly the same place at exactly the same time. He turned to me after a few days and said, 'Cate…,' and I thought, Oh, god, he's going to ask me to marry him — and I'm going to have to say yes! He didn't, in fact; he asked me what I wanted for dinner or something like that. But I'd never had that thought before. I thought, This is extraordinary! I've never felt this before. What an adventure! It was a leap, but I wasn't leaping by myself. It was a leap into the future." Now they make decisions jointly, never spend more than a few days apart, and share not just a desk but an e-mail address. "We do live in each other's pockets a bit," Blanchett admits, "but that feels natural. It doesn't feel cramped in there at all." As for Upton, he says simply: "We sort of clicked. With other people, maybe they don't get you. But with someone who does, you go, 'Ooh — I'm got! Someone's got me!' It's a relief and a pleasure." Cate and Andrew married on December 29, 1997, in the Blue Mountains National Park of New South Wales.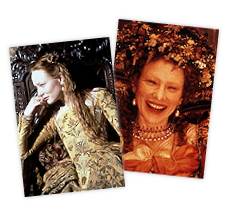 Blanchett's first high-profile international role came as Elizabeth I of England in Shekhar Kapur's Elizabeth (1998), a film that depicts the early years of the reign of Elizabeth and her difficult task of learning what is necessary to be a monarch. The lead role was reportedly turned down by a number of high profile actresses, including Nicole Kidman, Kristin Scott Thomas, Emily Watson, Juliette Binoche and Helena Bonham Carter. Blanchett was chosen to play Elizabeth after Kapur saw the trailer for Oscar and Lucinda. She shaved her forehead for just the right look for the role and went through intense research on the monarch. "I researched her letters because I felt that a lot of Elizabeth's biographies were colored by the historian's political perspective and how they felt about women. For me, the initial historical source is better to read because there is no barrier between the reader and the historical fact. The more I read about her, however, the more I realized just how large an impact she had on Britain. It's incredibly humbling as an actor to think of how you could you ever replicate that impact on screen," she said. Elizabeth premiered in September 1998 at the Venice Film Festival and was also shown at the Toronto International Film Festival. The film was a great success and Cate's compelling and powerful performance earned her an Academy Award nomination for Best Actress. Unfortunately Blanchett lost out to Gwyneth Paltrow for her role in Shakespeare in Love, but won a British Academy Award (BAFTA) and a Golden Globe Award for Best Actress in a Motion Picture Drama.
In 1999, Cate returned to the stage to perform in a charity performance of The Vagina Monologues at the Old Vic in London, alongside Kate Winslet, Julianne Moore, Melanie Griffith and Gillian Anderson. Next Blanchett refused to take big starring roles and instead joined a series of excellent ensembles, prompting her friend and co-star Geoffrey Rush to say: "It suggests that she's laying down a long-term plan to be an actress, not a star." She starred in Bangers (1999), a 9-minute short film directed by husband Andrew Upton. Next came Oscar Wilde's An Ideal Husband (1999), where she played Lady Gertrude Chiltern, the wife of Jeremy Northam. Then there was Pushing Tin (1999), in which Cate played a role radically different again. She played the wife of hot-headed air traffic controller John Cusack and she got herself up in tight pants, gold bracelets and big hair – more Dolly Parton than Elizabeth I – even sporting a special bra for that cleavage emphasizing look. Also in the same year Cate co-starred as Meredith Logue in The Talented Mr Ripley. Director Anthony Minghella really wanted her for the part of a girl who falls for Matt Damon's sinister lead, but thought she'd refuse a part so small. Liking the script, Cate took it anyway and, once she had, Minghella extended the role to make better use of her. Blanchett was nominated for another BAFTA Award for her supporting role in the movie.
In 2000 Cate co-starred in Sally Potter's The Man Who Cried opposite Christina Ricci, Johnny Depp and John Turturro, playing a Russian cabaret dancer. She starred in Sam Raimi's horror film The Gift as Annabelle 'Annie' Wilson, as a woman with extrasensory perception. She is asked to help find a young woman who has disappeared. Then she starred alongside her Pushing Tin co-star Billy Bob Thornton once again, as Kate Wheeler, a girl kidnapped by two bank robbers played by Billy Bob and Bruce Willis – and winning both their hearts – in the comedy thriller Bandits (2001). Already an acclaimed actress and a household name, Blanchett received a legion of new fans when she appeared in Peter Jackson's The Lord of the Rings. "I wanted to work with Peter Jackson. The role was oddly secondary and the consequence of playing it was beside the point," Cate said later on. She played the role of Galadriel, an Elf Queen of power and wisdom who assists the Fellowship, in all three films; The Lord of the Rings: The Fellowship of the Ring (2001), The Lord of the Rings: The Two Towers (2002) and The Lord of the Rings: The Return of the King (2003). The hugely successful trilogy holds the record as the highest grossing film trilogy of all time and went on to win multiple Academy Awards. Cate next took on the title role of Charlotte Gray (2001), an adaptation of Sebastian Faulks bestseller. Cate plays a young Scot who joins the French resistance to save her RAF boyfriend who's been shot down over France. According to reports, Blanchett and Andrew Upton conceived their first son, Dashiell John, during the filming of the movie. However, at $27 million, Charlotte Gray was the most expensive British film ever made. But, making just $3 million in the UK and only $700,000 in the States, it was a painful financial failure. Cate, however, had delivered another powerful performance and remained untainted by the financial disaster. She moved on to The Shipping News (2001), based on E. Annie Proulx's bestseller, in which she starred opposite Kevin Spacey. The year 2001 ended on a high note for Cate Blanchett and Andrew Upton as the couple welcomed Dashiell John Upton on December 3, 2001 in London.
Following the birth of Dashiell, Cate took some time off from work. Her next film project was Heaven (2002), directed by Tom Tykwer from a Kieslowski script. Heaven sees Blanchett as an English teacher in Turin who takes the law into her own hands after police ignore her pleas to arrest the man responsible for her husband's death. She finds herself not only under arrest for murder but falling in love with an officer. In 2003 Cate played the title role in Joel Schumacher's Veronica Guerin, an Irish journalist who embarks on a campaign against Dublin's major drug dealers. The actress found Guerin "so enigmatic and incredibly passionate," she explains. In addition, Blanchett recalls being "fascinated by the whole socio-political environment she was working in. Most of the films I had seen about Ireland were about the clergy and the IRA. To learn about the rampant drug problem in the 80's and 90's, because the government was so concerned about the IRA and the subversives, paramilitaries, the drug barons were left to rampage about unchecked. I was fascinated by the circumstances." Next Cate starred in the segment "Cousins" in Coffee and Cigarettes (2003), which largely involved characters discussing the likes of movies, art and Paris. Cate would appear in a double role, as a svelte actress and her own gawky, trailer-trash cousin. She next took on the role of Magdalena Gilkeson in The Missing, Ron Howard's take on a classic Western. Here Cate played frontier rancher and devout Christian, who's bringing up two daughters on the high plains of New Mexico in the late 1800s. "I saw it the other day and it's one of the scariest films I've seen. It's pretty unusual for a Ron Howard film," Cate noted about the film. In late 2003 the actress also kept busy promoting the final part of the Lord of the Rings trilogy, The Return of the King.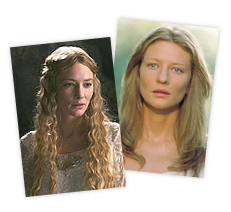 The following year Blanchett moved on to The Life Aquatic (2004), directed by Wes Anderson. This was the tale of a Jacques Cousteau-style documentary maker (Bill Murray) who enjoys a series of wild adventures with his formerly estranged son (Owen Wilson), tracking down a rare shark who killed his crew-mate. Cate played Jane Winslett-Richardson, a pregnant journalist onboard to research and write a profile on Murray's character, and would become the object of both men's affections. For her pregnancy scenes she was fitted with a prosthetic belly. However, Cate actually became pregnant with Roman Robert during the filming of the movie. The Blanchett-Upton family welcomed Roman on April 23, 2004, who, like his older brother, was born in London. Before giving birth, however, Cate took on a major co-starring role in Martin Scorsese's The Aviator (2004), portraying another real person, this time classic screen actress Katharine Hepburn, opposite Leonardo DiCaprio's Howard Hughes. Cate stepped in for Nicole Kidman who was contracted to a remake of The Stepford Wives and faced the challenge of delivering a believable Hepburn (one of Hughes' lovers), with Kate Beckinsale taking on Ava Gardner and singer Gwen Stefani trying Jean Harlow. Cate did a huge amount of research on Hepburn having accepted the role. "Firstly I scoured all her films. Scorsese has an encyclopaedic knowledge of cinema and part of the joy was rediscovering Hepburn and Cary Grant on the big screen at his place, analyzing performances which I'd only ever seen on the small screen." Her research extended to more than just watching classic films: "I read everything written about her. Lauren Bacall was generous with her memories and it was beguiling to be hearing about a friendship between two goddesses." Yet while there was serious pressure on Blanchett to do justice to one of the silver screen's best loved stars. "She is beyond legendary as far as I was concerned, but sometimes fear is galvanizing. I knew I had a lot of work to do. To move beyond mimicry and cabaret impersonations and tap into a spirit and create a character – and a full-blooded one – that was the challenge." Cate found herself – more than deservedly – Oscar-nominated for the second time. This time she won as Best Supporting Actress for her uncanny performance as Katherine Hepburn. This made Blanchett the first person to garner an Academy Award for playing a previous Oscar-winning actor/actress. Off-screen, Cate concentrated on her family, moving from Islington down to the Kemp Town area of Brighton in England. She also modeled clothes for Donna Karan, and became the face of the SK-II skincare range.
Following this, Blanchett returned to her home country of Australia to film Little Fish (2005), playing a recovering junkie in Sydney's Little Saigon area. Cate received further critical praise for her gritty and highly realistic performance. Along with Little Fish, 2005 saw the release of Stories of Lost Souls. The segment, directed by Andrew Upton and filmed back in 1999, is called Bangers and sees Cate in the role of Julie-Anne.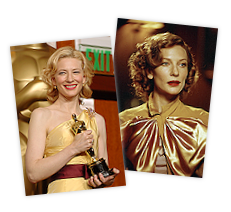 2006 was an extraordinary year, even considering Blanchett's high standards, with all of her three films being Oscar-nominated. First came Alejandro González Iñárritu's Babel (2006), which saw Cate co-star opposite Brad Pitt. It depicts a tragedy that strikes a married couple on vacation in the Moroccan desert, touching off an interlocking story involving four different families. The film was nominated for multiple Oscars and won for Best Achievement in Music Written for Motion Pictures, Original Score. Up next was The Good German, Steven Soderbergh's black and white attempt to make a movie in the style of the 1940s. The film is set in post-war Berlin to cover the Potsdam Conference, where an American military journalist is drawn into a murder investigation which involves his former mistress and his driver. Cate played Lena Brandt opposite George Clooney and Tobey Maguire. The film was also nominated for an Oscar for Best Achievement in Music Written for Motion Pictures, Original Score. Finally, Cate played Sheba Hart in Notes on a Scandal (2006). Both Cate as well as Judi Dench, the leading lady of the film, were nominated for Oscars for their powerhouse performances in the drama, in which a veteran high school teacher befriends a younger art teacher, who is having an affair with one of her 15-year-old students. In 2007, Blanchett was named as one of Time magazine's 100 Most Influential People in the World and also one of the most successful actresses by Forbes magazine.
In the meantime, having successfully taken the Sydney Theatre Company's treatment of Hedda Gabler to New York, the Blanchett-Upton would moved their family back to Australia, due to a desire to decide on a permanent home for her children, and to be closer to Cate's family as well as a sense of belonging to the Australian (theatrical) community. They bought a 1877 sandstone mansion in the harbourside Sydney suburb of Hunters Hill. It was purchased for $10.2 million Australian dollars in 2004 and underwent extensive renovations in 2007 in order to be made more eco-friendly. Cate and Andrew continued their theatrical careers at the Sydney Theatre Company. In December Upton directed David Mamet's one-act Reunion and Blanchett made her directorial debut with Pinter's one-act A Kind Of Alaska, in which a woman wakes up from a 30-year coma. It was also announced that Cate Blanchett and Andrew Upton would become co-artistic directors of the STC, beginning in January 2008. Their first productions would be David Hare's The Vertical Hour and a vivid Indian adaptation of A Midsummer Night's Dream.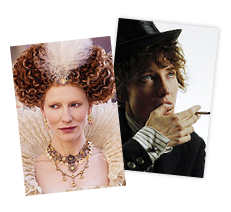 Cate also continued making movies in 2007. She made a cameo in the British comedy Hot Fuzz, playing the ex-girlfriend of Simon Pegg's character. Next came Todd Haynes' extraordinarily unique I'm Not There, a film that used several characters to represent different aspects of musician Bob Dylan's personality throughout his life and career. Christian Bale, Heath Ledger, Ben Whishaw, Marcus Carl Franklin and Richard Gere also played the singer, but it was Blanchett's performance that truly stood out. Her Jude directly corresponds to the Dylan who plugged in and toured England in 1966, meeting the suspicion of the media and then the open hostility of audiences via that famous "Judas" heckle at the Free Trade Hall in Manchester. Director Haynes says that he did not want a woman playing Dylan to be a "cinematic stunt". At a simple level, though, the physicality of Blanchett's performance – skipping, hunched and skinny, frazzled by acid and amphetamines – is remarkable. "Dylan was quite spiderlike," Cate says. She "lost an awful lot of weight" for the role. Cate won the Volpi Cup Best Actress Award at the Venice Film Festival and the Best Supporting Actress Golden Globe Award for her portrayal. In 2007 Cate also reprised her role as Elizabeth I in the sequel, Elizabeth: The Golden Age. Blanchett was reportedly reluctant to reprise her role in the big-budget sequel, but says that she simply needed persuading that she could delve deeper into Elizabeth I. "It's indisputable that she's incredibly complex. If you look at the long legacy of actresses who've played her and will continue to play her, it's a little bit like the female Hamlet." At the 80th Academy Awards Blanchett received two Academy Award nominations; Best Actress for Elizabeth: the Golden Age and Best Supporting Actress for I'm Not There, breaking more records by becoming the 11th actor to receive two acting nominations in the same year and the first female actor to receive another nomination for the reprisal of a role.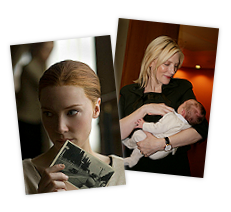 In 2008 Cate gave birth to the family's third son, named Ignatius Martin, on April 13. She appeared in two movies in the year: Indiana Jones and the Kingdom of the Crystal Skull and The Curious Case of Benjamin Button. She played the villain, KGB agent Col. Dr. Irina Spalko, opposite Harrison Ford in the Steven Spielberg action blockbuster, in which Dr. Henry "Indiana" Jones is called back into action when he becomes entangled in a Soviet plot to uncover the secret behind mysterious artifacts known as the Crystal Skulls. David Fincher's Benjamin Button saw Cate appear on screen with Brad Pitt for a second time. It is a sprawling epic set in New Orleans that begins in 1918 and ends with Hurricane Katrina, nearly a century later. It runs close to three hours long and was filmed in Louisiana, Canada, the Caribbean, Cambodia, and India, along with Los Angeles. Cate portrayed the character of Daisy throughout many decades, aging from a girl to an old woman and, ultimately, her death. She was drawn to Benjamin Button by the very elements that have caused studio executives to agonize about the open question of its commercial appeal. "David said, 'This film is about death,' and I think it's great," she says. "We've enshrined the purity, sanctity, value, and importance of bringing children into the world, yet we don't discuss death. There used to be an enshrined period where mourning was a necessary part of going through the process of grieving; death wasn't considered morbid or antisocial. But that's totally gone. Now we're all terrified of aging, terrified of death. This film deals with death as a release. I hope it's a moment of catharsis." In 2008 Cate also voiced the character of Gran Mamare in the English version of Ponyo. On December 5, 2008 Blanchett was honored with a star on the Hollywood Walk of Fame at 6712 Hollywood Boulevard in front of Grauman's Egyptian Theatre.
In 2009 Cate took on the infamous role of Blanche DuBois in Sydney Theatre Company's staging of A Streetcar Named Desire. The play was directed by actress Liv Ullmann and co-starred Joel Edgerton. Cate won the Helen Hayes Award for Outstanding Lead Actress in a Non-Resident Production, Washington, DC for her performance. She also appeared in War of the Roses. The following year she starred in Uncle Vanya, which was adapted by Upton and co-starred Richard Roxburgh, John Bell and Hugo Weaving. Cate's next movie role came in the form of Marion Loxley in Ridley Scott's Robin Hood (2010), opposite Russell Crowe. She ended up doing more than merely playing a damsel in distress. "I had to do a lot of stunts which certainly tested me," says Cate. "Ridley said, 'You can do it if you're game for it.' If someone sets you a challenge like that you're not going to turn around and say, 'No, I'm not.' I did a lot of horse riding. I wouldn't say I'm a master horsewoman but I do like riding a horse. And they are film horses so they're pretty well trained. It was a thrill in the end." Robin Hood grossed a huge opening internationally, making $75 million outside North America.
It is clear that Cate is currently focused on her duties at the Sydney Theatre Company. In fact, in 2010 Cate and Andrew extended their term as the artistic directors of the STC. They will now remain in those roles at least until late 2013. Cate's next film project is a supporting role in Joe Wright's Hanna (2011), which stars Saoirse Ronan as a 16-year-old who was raised by her father to be the perfect assassin. She is dispatched on a mission across Europe, tracked by a ruthless intelligence agent and her operatives. The film will be released internationally in spring. It was recently announced that Blanchett will reprise her role as Galadriel in Peter Jackson's upcoming films of The Hobbit in 2012 and 2013. The Hobbit will start filming on March 21 after a number of delays caused by union disputes and Jackson's stomach ulcer.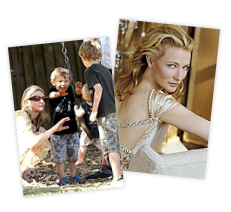 Cate Blanchett is a woman who is truly doing it all. She is not only an immensely talented Academy Award winning actress who breaks records and masters all forms of the medium, including film, television and stage. She is also an artistic director, a director and a producer. Cate is also the ambassador for the 'Australian Conservation Foundation's' online campaign www.whoonearthcares.com – trying to persuade Australians to express their concerns about climate change. She is also the Patron of the development charity 'SolarAid'. Not only this but also a wife and a mother to four children. Perhaps David Fincher put it best when stating: "She's just so smart, capable, facile, thoughtful, beautiful, and emotionally present. She helps you as a director in so many different ways, coming up with ideas you may not have thought of. She's going to come having done her homework; she's done all the thinking, and it's deep and measured. She has a great work ethic, knowing her lines and knowing everyone else's lines. She prides herself on making things work. She'll say, 'Well, I see you've given me eight words here, so how about this?' She's not one of those people who says, 'I need a soliloquy—someone's going to have to come in and retool this.' She's the prototype of what you would want to have."
Last updated on May 12, 2011
© Cate-Blanchett.com
Do not re-post without our expressed permission.