Cate is currently in Berlin where she's filming Julian Rosefeldt's the Manifesto. Here's a photo from the Daily Mail (and you can see more at their site) and a part of the article: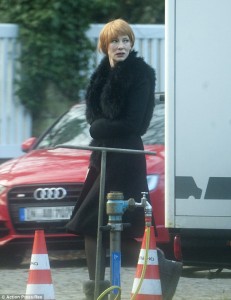 Cate will play twelve characters in the film project, as the basic premise is to take artist manifestos of all types and times – e.g. the Futurists and Dadaists, the Surrealists, Fluxus, the Situationists, Yvonne Rainer, Claes Oldenburg, Kazimir Malevich, Lebbeus Woods, Sol Lewitt and Dogma 95 – and combine them with everyday situations.

These twelve situations will be projected onto a separate screen for each scene, at an accompanying art installation.

Cate will inhabit the personas of a diverse range of characters; from a manager to a puppeteer, a newsreader to a factory worker or a taxi driver.
And instead of dialogue, she'll speak the word's of the specific artist's manifesto to fill the scene.

The project is meant to be an homage to the milestones of artist manifestos and their impact on art history.

Certainly, Cate is no stranger to that sort of cinematic film after appearing as one of many interpretations of Bob Dylan in the 2007 film I'm Not There.