Hi, blanchetters!
Check out these new interviews with Cate ahead of the release of Nightmare Alley outside the US.
Cate Blanchett: I dressed up as my daughter's teacher in lockdown
Cate Blanchett is one of a select group of Hollywood stars to have won two acting Oscars. This year marks three decades since her first ever role, on stage in Sydney, opposite Geoffrey Rush in Oleanna. The Lord of the Rings, Elizabeth, The Aviator – it has been a glittering career.

However, in 2020 she took on a very special part; one which none of us will ever get to see.

It came about because her seven-year-old daughter Edith had serious demands for home schooling during lockdown.

She wouldn't allow me at all to teach maths or do phonics, unless I dressed up as her teacher and put on her teacher's voice," the 52-year old laughs. "I had an array of stuffed animals who also had to be taught. I wasn't an offer I made. It was a request she made."

An appeal to hear a little bit of her in teacher mode is quickly rebuffed. "Mrs Venables Kyrke? No. I was so traumatic for me I've actually put my Mrs Venables Kyrke to bed. She was her teacher then. She's a saint.

Blanchett says her attempts to home school all four of her children led to her greatest Lockdown learning. "One thing that really came home to me was just how incredible teachers are. That is an inherently dramatic situation where you have to stand up in front of a class of 30 often disinterested pupils and try and get the engaged in medieval history."

In the end, almost a year was spent during Lockdown at their family home in East Sussex, "with the pigs and the chickens and watching The Sopranos. I was happy with the ending, except that it ended." The English countryside is where she has lived with her writer husband Andrew Upton since 2016.

Playing Mrs Venables Kyrke to an audience of one, was not the only acting role Blanchett took on in 2020. When lockdown started in March of that year, she had just completed filming her section of Nightmare Ally, Guillermo del Torro's first film since The Shape of Water won best picture four years ago. It is released in the UK this week.

Based on a 1946 novel, which was adapted into a film the following year, Nightmare Alley is a neo-noir thriller, in which Blanchett plays a psychoanalyst whose life becomes entangled with a circus mind-reader, in the shape of Bradley Cooper.

The Hollywood Reporter described it as luminous and finely faceted, and one of del Torro's most fluent features."

However, its running time of 2hr 30 has not appealed to all, with the New Yorker commenting: "The overdone décor and the overcooked acting serve merely as glitzy distractions from the tale's lugubrious sprawl."

Blanchett, who is nominated at the Screen Actors Guild Awards for her performance, believes that although the film is set in the 1940s its themes of deception are very current."In today's world, facing the truth is a very dangerous, almost circus like game," she suggests. "We're terrified of the truth. Somehow the notion of the truth has become politicised, and it's being used to estrange ourselves not only from each other and community from community, but from ourselves.

"I think that Nightmare Alley deals with the terrifying moment when you start believing the lie, rather than living in the actual genuine scientific immutable truth."

Blanchett is one of the most acclaimed actresses in Hollywood, both with her critics and her peers. Last year, George Clooney said she was "the best actress of her generation". She has won two Oscars, for her performances in The Aviator and Blue Jasmine, and starred in Carol, Ocean's 8, Babel and Notes on a Scandal.

This is the not the only current film with a message in which Blanchett appears. Over Christmas, the all-star climate change analogy Don't Look Up, in which she plays a TV news anchor, broke Netflix records for the most hours a movie had been watched on the service in one week.

Missing cinemas

It has split critics in the same way that the comet in the film threatens to split the earth. Blanchett has enjoyed the way it has polarised people.

"At the time we were making it, it felt like a satire but as the weeks and months have rolled on, it feels increasingly like a documentary.

"At one point, post the filming, I texted Adam Mckay, who wrote and directed the film, to say 'do you have a crystal ball, because I've just heard that there's a meteorite heading towards the earth's orbit and there's talk about the Chinese sending rockets up to intercept it? Isn't that in the film?'"

While people were able to stream Don't Look Up at home, Nightmare Alley is being released exclusively in cinemas. In the US, it opened the same week as Spider-Man: No Way Home, struggling to number seven at the box office and failing to pass the $10m (£7.3m) mark, while Spider-Man has become one of the ten biggest films of all time.

Blanchett refutes the idea that this is the way that cinema is heading – with event movies attracting huge audiences and people happy to wait and watch pretty much everything else in the comfort of their living room.

"Personally, I miss sitting in the dark with strangers and I miss that about going to live music, to going to the theatre and to going to the cinema. Maybe I'm wildly optimistic, but I still hope that when things get a little more stable, I think people will crave to see things large and big in a cinema, so what looks like a disastrous situation for cinema at the, could actually be a positive."

She explains: "Things were dicey for a lot of independent cinemas and smaller films pre pandemic. I think it is a chance for the industry to really assess who their audience is and how they can recapture and reinvigorate that audience. More adult films like Nightmare Alley, it's pure cinema. I mean Guillermo del Torro is a cinema animal. They are in that delicate place where you really hope that people will realise that the experience is so much richer seeing it on the big screen."

With the future of cinema, the nature of truth and how difficult it is to be a teacher already covered, there was just time to ask Blanchett what other big issues are annoying her. She did not disappoint.

"I'm trying to be very Zen," she smiles "which can be very annoying to other people. But otherwise, it's the usual; leaf blowers, plastic bags, people using the jam jar and putting the same knife into the butter. That's really annoying, especially when you want to have Vegemite on your toast, you don't want a big bit of jam in there."

Time for her to text Adam Mckay and persuade him to start assembling another all-star cast to sort out these most pressing of matters.

"Oh yes," she laughs. "The really big important things."
Cate Blanchett on 'bringing the system down' as a 'contemporary' femme fatale in Nightmare Alley
Click on the image to watch some parts of the interview.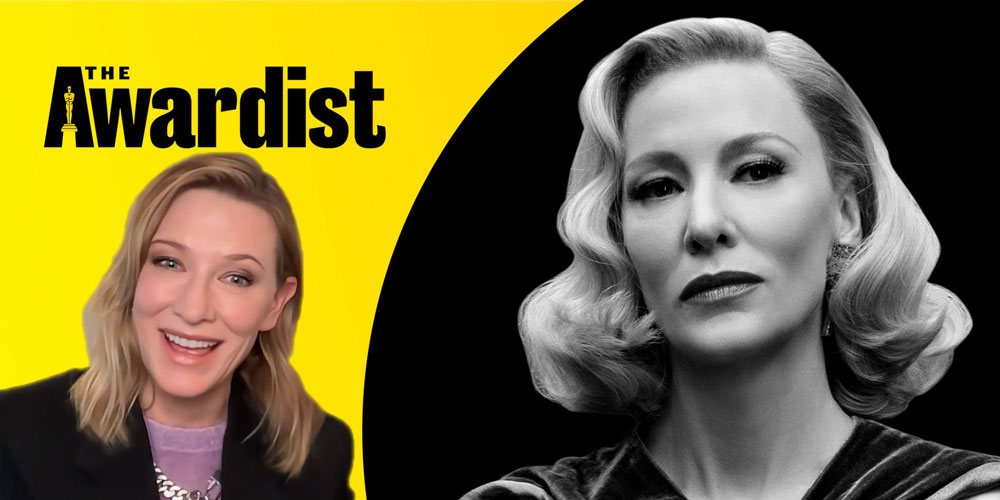 Listen to the podcast below:
The 2022 awards race is heating up in a big way, and two-time Oscar winner Cate Blanchett is poised to be a major contender once again.

Blanchett has roles in not one but two awards hopefuls this year: Guillermo del Toro's Nightmare Alley and Adam McKay's Don't Look Up. Fresh off scoring a SAG Award nomination for her work in the former, Blanchett sat down with EW's The Awardist podcast to discuss her experiences working on both projects, her inspiration for her roles, and the directors she still wants to work with.

In Nightmare Alley, Blanchett plays Dr. Lilith Ritter, a psychologist hell-bent on exposing Bradley Cooper's Stan as a conman. EW's review of the film describes her as "a purring blond puma in a skirt suit," but Blanchett is quick to point out the unconventionality of this particular femme fatale.

"I think there's a richness and a texture to her, in a way that perhaps there's not in traditional femme fatales," she tells EW's Joshua Rothkopf.

"Femme fatales, to me, often are sirens who — and it's always men — draw men into the rocks, but for destructive reasons. Whereas I think Lilith is interested in bringing the system down. And that feels a very contemporary thing for a woman who's suffered extreme pain to want to do. And it's all pouched in the buoyant, strange, and unique humanity in which Guillermo makes his movies."

Blanchett describes Lilith as "deeply ambiguous and unknowable and mysterious," so, to get a handle on portraying her, she says her director encouraged her to create a backstory for the character.

"Guillermo is very, very big on backstory," she explains. "So even though a lot of the characters never explicitly mention who they are, what motivates them, what their history is, he absolutely wants all of those characters to be rich and full the minute they walk in the door, and also for them to have a secret that is only shared with him."

Her experience working on the neo-noir psychological thriller could not have been more different from filming McKay's disaster flick, both due to COVID protocols and a significant difference in directing styles. McKay is known for having an improvisatory set, and while Blanchett says she feels that all acting has some improv involved, Don't Look Up was a unique experience.

Likening the film to "silent movie-making," Blanchett says, "It was a bit hard because [McKay] was masked and behind his PPE, so you couldn't always understand him, but he would often throw lines in from the side or let the take run and run and run."

She adds, "What was great about it is that, after a few takes, you realized you could go really off-piste because you might end up somewhere useful. And particularly because the absurd became increasingly realistic and possible. We were all living it. We're living the ridiculousness as a species. So with every passing day, it felt like things that were happening out there in the so-called real world could be not necessarily directly referenced but definitely fed into the way we were working."