Family




Cate Blanchett and husband Andrew Upton have have three sons: Dashiell John (9), Roman Robert (6), and Ignatius Martin (2). Their family also includes a dog called Egg.
Dashiell John
Birthdate: December 3, 2001
• Born in London, England
• Named after the author of classic crime novel, The Maltese Falcon, Dashiell Hammett
Roman Robert
Birthdate: April 23, 2004
• Born in London, England
• Roman's middle name is in honor of his grandfather and his uncle; Cate's dad and brother
Ignatius Martin
Birthdate: April 13, 2008
• Born in Sydney, Australia
• Weighed in at almost eight pounds when born
Dog Egg
Breed: n/a
• Also known as Number Four
Cate & Andrew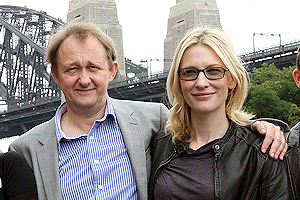 Andrew Upton was born in 1966 in Australia. He is an accomplished playwright, screenwriter, continuity editor and director.
Cate and Andrew met in 1996, while she was playing Nina in Chekov's The Seagull. He had actually worked on one of her productions before – Thank God He Met Lizzie (1997). "I'd already met her socially because the theatre world is fairly small but then the relationship developed," Andrew commented. However, their romance nearly never took off. "He thought I was aloof," Cate later said, "and I thought he was arrogant. But once he kissed me, that was that. It just shows how wrong you can be. I was, and am, swept away". Later, she would say she'd also been impressed by his passion for the Russian novelist Turgenev.
The Cate and Andrew married on December 29, 1997, in the Blue Mountains National Park of New South Wales, just before Cate left to film Elizabeth in England. She missed him very much while away, director Shekhar Kapur noting that Upton was "very, very stabilising" for her, lending her the confidence she needed to perform. "I have rarely seen a husband so supportive of his wife's success. Cate is one of the luckiest girls to have Andrew," the director also noted. In summer 1999, after appearing on the London stage in David Hare's Plenty, she played a soused housewife in Andrew's short film Bangers (1999). Andrew would move on to translate and adapt Cyrano de Bergerac for the Sydney Theatre Company, set design courtesy of Genevieve Blanchett.
He and Cate would at first live for a while in a beachside apartment in Sydney (usually rented out while they travelled for work), then move to north London, and then down to the south coast, taking a place on Hove seafront. By this time Cate would have given birth to their first son, Dashiell. Before they moved to Sydney, they lived in the Kemp Town area of Brighton, England. Cate and Andrews moved back to Sydney in 2006 and purchased a 1877 sandstone riverfront mansionin the lower North Shore suburb of Hunters Hill. They are "greening" their home at the moment: installing solar power, rainwater tanks and so forth. The couple also hope to get the STC off the power grid in the coming few years, again through the use of solar power and suchlike.
Andrew
Andrew Upton grew up in Sydney, the son of a doctor and a nurse, and wrote his first play when he was 16, after seeing Harold Pinter's Betrayal on a school trip. "It was called The Plumber, a Pinteresque title, without any of the skill, depth or capacity…" At university in Sydney he devoted all his spare time to the drama society before studying directing and playwriting in Melbourne. "I knew I didn't want to act – I tried it at school and it just wasn't my bag." Hitting a "brick wall" with the theatre, he went into film to earn a living, spending a decade working as an assistant editor (on the film Babe (1995), among others).
Andrew's original play Riflemind, with Hugo Weaving as an ageing rock star planning a comeback tour, opened at the STC on October 5, 2007 to favourable reviews. Riflemind opened in London in 2008, directed by Philip Seymour Hoffman but closed after a short run due to uniformly poor notices and the pressure of the Global Financial Crash.
In 2008, Andrew and Cate became joint artistic directors of the Sydney Theatre Company for a three-year term. They have also formed a film production company together called Dirty Films, whose projects include the short film Bangers (1999) and the feature film Little Fish (2006). Upton was the associate producer on Little Fish, which also starred Blanchett. In 2006, he wrote the film Gone which was directed by Ringan Ledwidge. He wrote the libretto to Alan John's opera Through the Looking Glass which premiered in May 2008.
Andrew has taken to calling himself "the hand", so frequently does he find himself not quite perfectly cropped out of red carpet photographs of him with Cate. After nearly 13 years of marriage to the Oscar-winning film star variously referred to as the finest actress of her generation and one of the most beautiful women in the world, Andrew has become expert in taking a back seat. "They just look and think, 'he's not interesting, cut him out.' You can almost see the scissors," he roars with laughter.
Cate says: "… marriage is all about timing. Getting married is insanity; I mean it's a risk – who knows if you're going to be together forever? But you both say 'we're going to take this chance, in the same spirit.'"
Last updated on April 17, 2011
© Cate-Blanchett.com Do not re-post without our expressed permission.