Hello everyone!
Have you watched Documentary Now! episode "Waiting for the Artist"?
We have and we think Cate is amazing as perfomance artist Izabella Barta! The episode is hilarious and memorable!
If you haven't watched it yet, make sure you do!
Here are our updates on this awesome project. Enjoy!
'Documentary Now!': The Incredible Cate Blanchett Episode That Had to Be Made in Four Days

There are few TV shows with as much obsessive attention to detail as "Documentary Now!" That's probably why it came as no surprise to series co-creators Alex Buono and Rhys Thomas that one shot of Cate Blanchett riding a mini tricycle in a massive Hungarian courtyard ended up taking a big chunk of an entire day.

"There was one moment in it where she's riding on a tricycle in the square. And that's on screen for like five seconds. And that probably cost us about five hours to get that shot. When you're shooting for four days total, that was an expensive shot to get. But it's worth it because they're just going to take place as her somewhere," Buono told IndieWire.

It's the kind of creative choice that "Documentary Now!" has the freedom to make, given its bizarre mission statement. Over 17 episodes to date, the IFC series has taken some of the most venerated and iconic documentary films and flipped them on their head. But in the process of crafting these comedic versions, they still have to follow some of the same filmmaking tenets that govern the works they're parodying.

Read More:'Documentary Now!' Trailer: That's Not Actually Marina Abramovic, That's Cate Blanchett
"You're making a documentary. So the ability even just to put it up for a few frames, it has an immense value to opening up the scale," Thomas said. "Sometimes the crew's like, 'Do you really need that thing?' I feel like we always push to do more of that."

The series, now in its third season, has tackled plenty of the biggest documentary titles of recent years. The show's most recent episodes have tackled parody versions of "Wild Wild Country" and the classic D.A. Pennebaker look behind the recording of the Broadway cast album for the Steven Sondheim musical "Company."

This week's episode has a slightly more narrow focus — the 2012 Matthew Akers film "Marina Abramovi?: The Artist Is Present" — but it enlisted the services of Blanchett, arguably the show's most famous guest cast member to date. Luckily for the show, she came in with the same level of preparation that goes into making these episodes feel so close to the spirits of their predecessors. Playing this exaggerated version of notorious performance artist Abramovi? (the "Documentary Now!" version is named Izabella Barta), Blanchett plunged into all the wild riffs that the script called for.

"The way she threw herself into it was unforeseen. We knew she'd be good, but you don't know until they walk up on set whether that they understanding the tone and the level of commitment, you know?" Thomas said. "But once she was on board, she was doing all this research. She had teeth made to shift her jawline. She had 15 wigs or something that she worked on with her longtime hair or makeup people. Her commitment to the detais matched our detail-oriented thinking."

Filming all of Blanchett's scenes in such a short time period meant not just making sure that all the logistical details were in place before production, but that the team could construct an entire fictional life's worth of archival and artistic material in a single day.

"We basically created the body of work of her entire career. We had one day to do that because we needed to get all that footage and put together to projections and photos and stuff for the actual exhibit that we did at the end. We prepped like nuts. We were in Budapest about two weeks before we did it. Just seven days of 20-something-hour days, really trying to get it dialed in."

One setpiece in particular gave the team an unexpected hurdle. One of the fake performance art pieces called for a prop toilet stall. In venue after venue, from the lodgings that inspired "The Grand Budapest Hotel" to one of the city's famous train stations, the people in charge of the venues repeatedly balked at having something bathroom-related in a public space.

"Cate Blanchett is going to be in lingerie and she's going to be lapping up milk and there's going to be a cat there. She's going to be tied to a wall," Buono said, describing the pitch at various locations. "Then we said, 'OK, we're going to put a toilet stall right here.' The Hungarians were just like, 'Wait a minute, what do you mean a toilet stall? This is offensive that you would even suggest that.' They wouldn't budge."

Eventually, they obtained clearance to film the scene in the Budapest Opera House. But that necessity of being flexible in the face of absurdity is a reflection of the same things the show asks of its performers, too.

"You're moving so fast that unlike other shows, you don't have trailers. Because the talent is never gonna go back to the trailers. It's just, 'No, no, no, stay with us. You're gonna be shooting again in five minutes'" Buono said.

It all goes back to the insane weekly time crunch of another show that gave so many of the creative team their start.

"So many of us that make the show came from 'Saturday Night Live' and had been there for a very long time. I think a lot of our crew would rather not be that way, but we all respond really well to quick [turnarounds]," Buono said.

"It's kind of exciting," Thomas added. "That's always the challenge of, 'Well, how are we going to do it?'"
'We Hope She Likes It': Fred Armisen Explains How He and Cate Blanchett Parodied Marina Abramovic and Ulay

This week, the world was finally treated to "Waiting for the Artist," a pitch-perfect parody of the 2012 documentary Marina Abramovic: The Artist Is Present.

The mockumentary, which is part of the third season of Documentary Now!, stars two-time Academy Award winner Cate Blanchett as Izabella Barta (a thinly veiled Abramovic) and Fred Armisen as Dimo (a fictionalized Ulay, the artist who collaborated with Abramovic in in the 1970s and '80s).

Throughout the episode, we follow Barta as she struggles to come up with a new work for an upcoming show in Budapest. "The question on everyone's mind that they're not saying is, 'does she have anything new to say?'" Dimo tells the filmmaker. "I think maybe not; her best work is in the past."

The show is full of small delights for art-world insiders. There's a Klaus Biesenbach-type curator, an appearance by the real-life Mr. Brainwash, and even a sequence in which Blanchett (as Barta) trains young performance artists, which is presumably inspired by Abramovic's plans to open the Marina Abramovic Institute for the Preservation of Performance Art.

There is also a clever bit of gender politics. In the show, Barta labors to advance her career, while Dimo, a lazy unoriginal, and conceited artist, finds success easily. "I put no thought and no time into it," he says at one point about one of his exhibitions. "Opening night, I went to the store and bought a bunch of crap," including a fork and a toothbrush that he displays to acclaim.

Barta, on the other hand, is best known for her piece Bucket Series, in which the audience is invited to litter the gallery floor with all sorts of objects before the artist rushes in with bucket over her head, racing to answer a phone ringing in the center of the room.

In an interview with artnet News, Armisen was quick to clarify that he has nothing against Ulay. "In any narrative piece, you need a sort of villain, for lack of a better word," he says. The choice to make Dimo lazy was plot driven, providing a foil to Barta's unfailing dedication to her work.

One commentator in the show sums up their relationship thusly: "you had a woman who risked everything for her art, and a man who risked nothing." (In real life, Abramovic and Ulay have had their ups and downs, but have set aside their differences in recent years, even making plans to write a joint memoir.)

We talked with Armisen about the episode, the challenges of parodying art, and waiting in line at art museums. This conversation has been edited and condensed for clarity.

What was it like filming this episode with Cate Blanchett?
We shot it in Budapest, and there was a video art piece at the museum with Cate Blanchett in it. A total, total coincidence! [Julian Rosefeldt's Manifesto, in which Blanchett plays 13 different roles, was at the National Gallery from May 30–August 12, 2018.]

Amazing! That's a great piece. And it really shows what a chameleon Cate is.
We weren't prepared for how much work she was going to put into it! She showed up with her own wardrobe, with outfits that were like Marina's. Cate even had some sort of dental things to make her look more like Marina. Sometimes I like to fancy myself the person who over-prepares and really gets into it—she was 10 times that. She could have done the whole episode on her own. The accent, the posture, oh man, it was incredible.

Even her skin had the right kind of… sheen.
Yeah! Whatever that quality is, she had it.

Did you see the MoMA show?
No! There was a line! I saw the movie and I love pieces like that, but I can never wait in line to see art. It's not that I'm a snob, it's that I can't enjoy it if i've been waiting. It's too much for me. I like a nice empty gallery, an empty performance.

Have you spoken to Marina about the episode at all?
No! I wish I did. I've never met her. Let her know that we are huge fans and we hope she likes it.

Why is she a good parody subject?
The boldness of her presence—and I know her documentary is called The Artist Is Present—there is something about that, the fact that it moved so many people. That, I think, is moving. If a band has a hit record, something worked, something resonated. I consider her to be somebody who had a hit piece, a hit art performance. It's a rare thing to hit the mainstream. It happens sometimes 100 years after you're dead. The fact that she did that in present day is really rare. How great is that? I really respect her art.

What's your favorite part of the episode?
I like the footage of Cate putting the pail over her head with the marbles on the floor. It just made me laugh. It's a silly part to it—I underestimate silliness.

I loved the Mr. Brainwash cameo. Any chance you guys would do a Exit Through the Gift Shop parody?
Maybe. It's just too hard to really nail. We kind of did one on Portlandia, where one of the characters thought he was Banksy. He saw some graffiti and he was like, "oh that looks like my handwriting. I wonder if I'm Banksy?" Whenever you depict art, it's very difficult because it can come off as just lazy or easy.
BTS photos from Documentary Now Instagram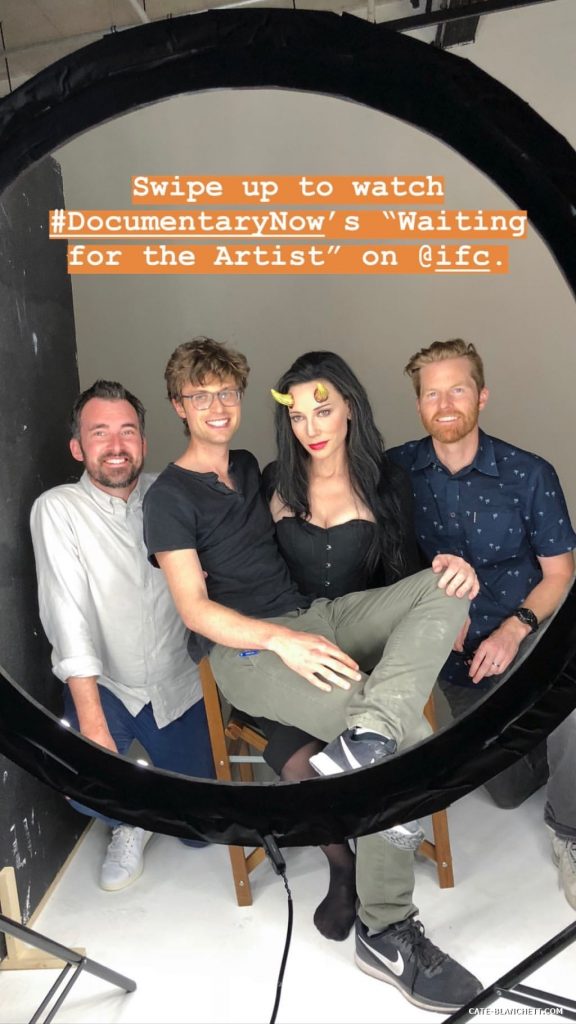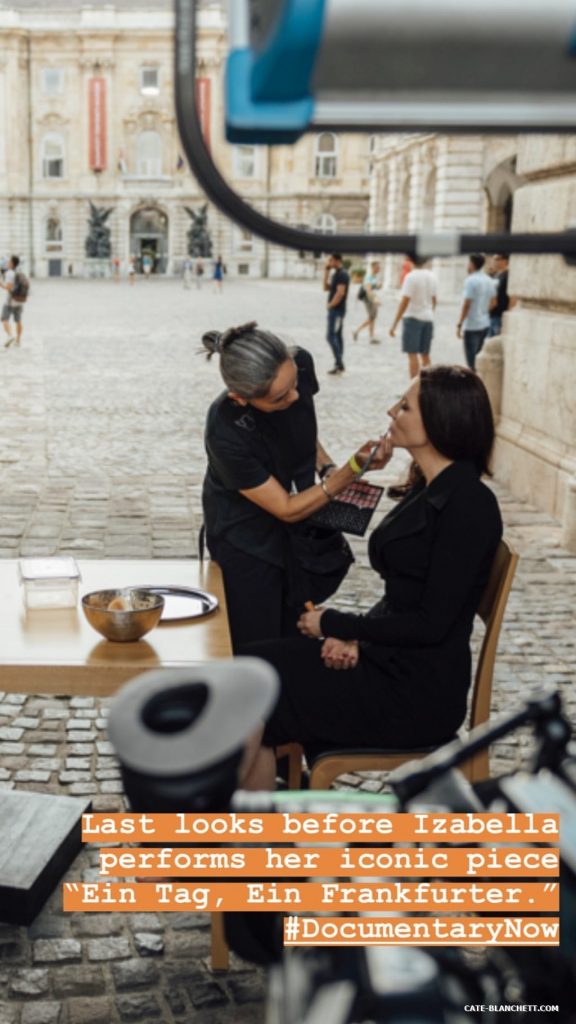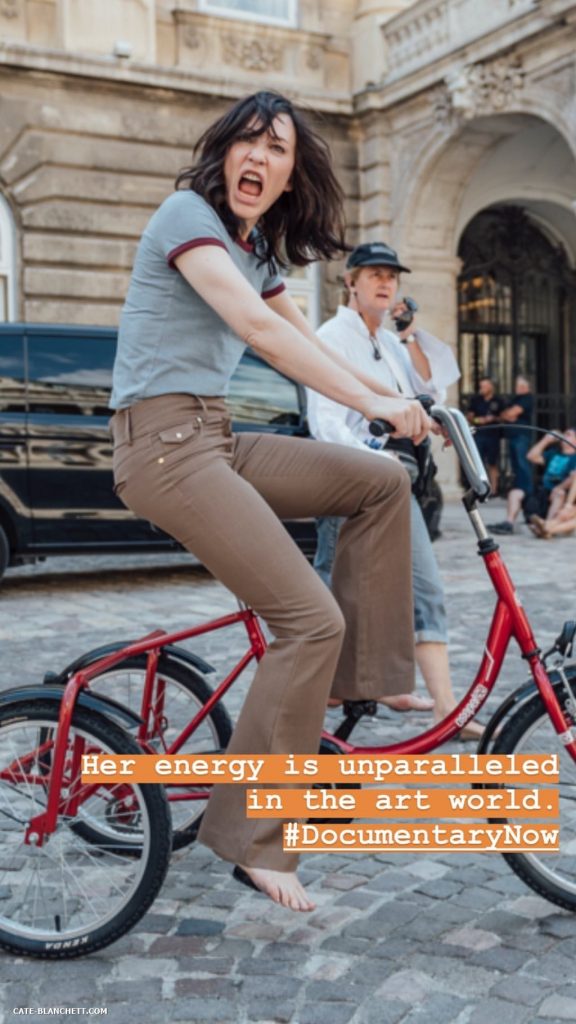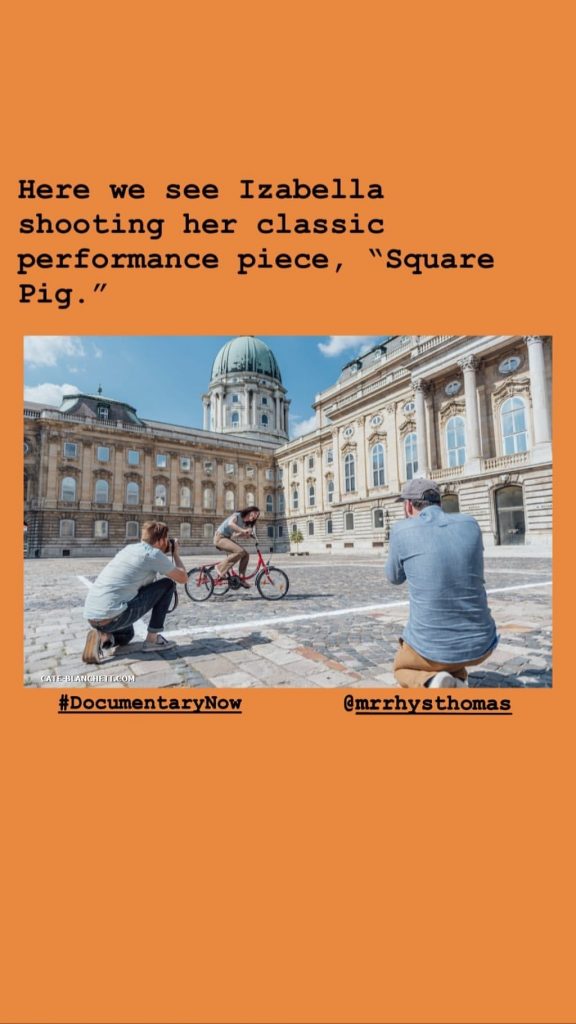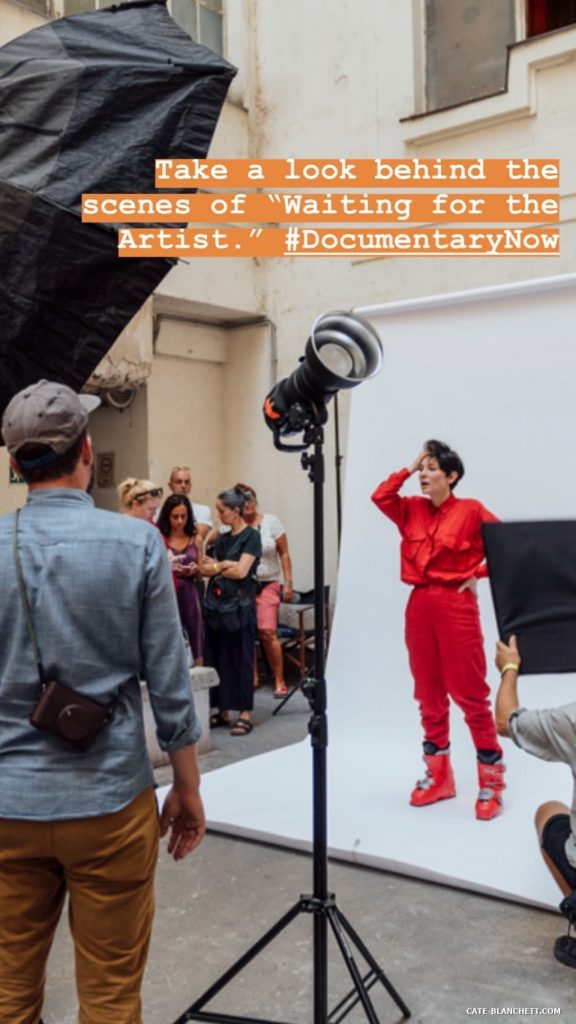 See visual guide of Cate's perfomances on Documentary Now >>here