Hi, everyone!
Earthshot Prize Council members which includes Cate has signed an open letter, to mark this year's Earth Day, encouraging people to tackle climate crisis. You can read the statement below. There's also another article released from the Armani webinar for Si Eau de Parfum launch.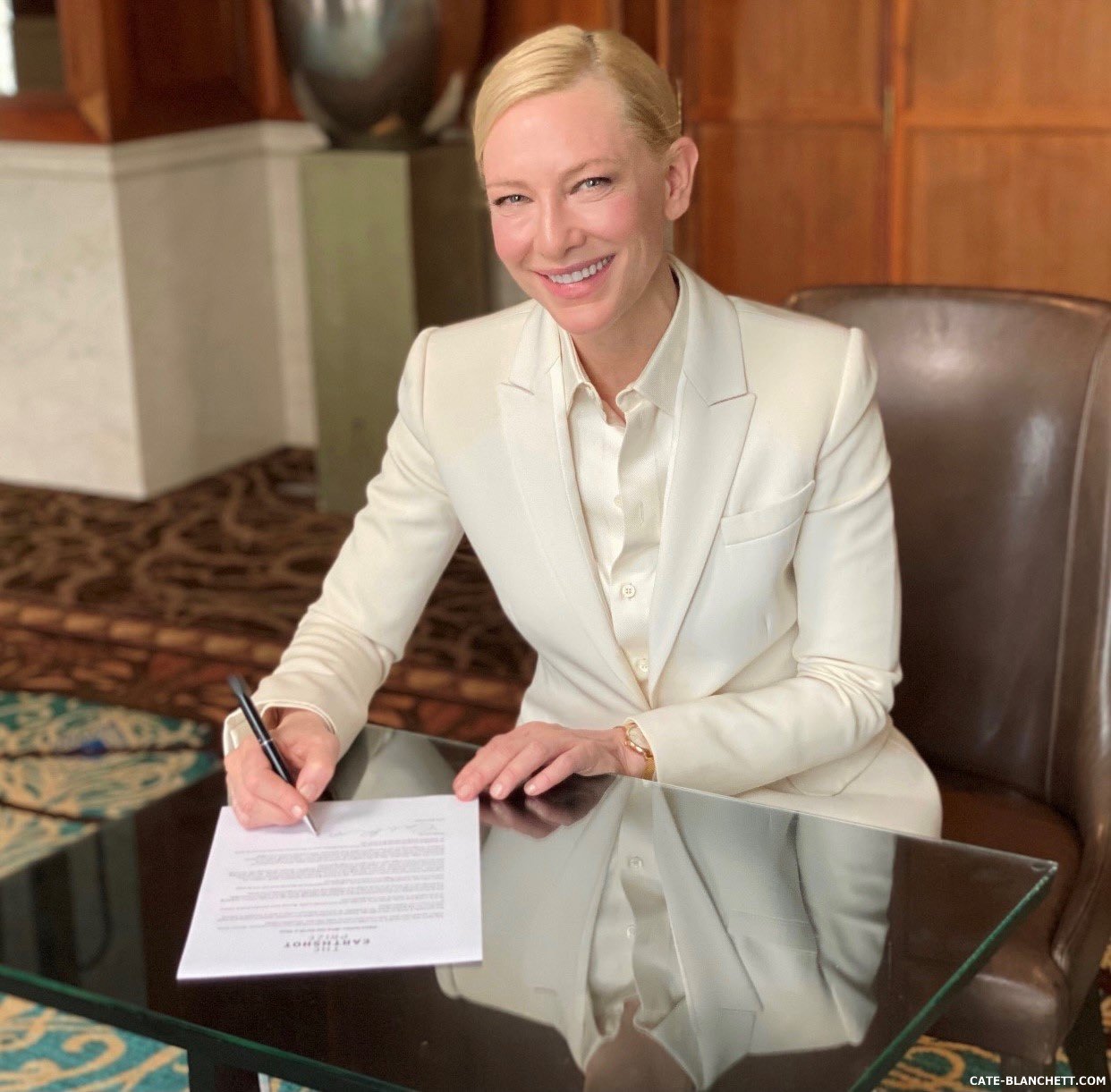 This Earth Day, we are calling on the world to come together to Give the Earth a Shot.

Members of our Earthshot Prize Council have signed an open letter calling on the world to channel the same spirit of innovation and possibility from the fight against COVID to our greatest challenge: repairing our planet.

This Earth Day, the world is in the midst of the worst health emergency in over a century. Almost three million people have died. Lives have been put on hold, jobs lost, education halted.

But humanity is rising to the challenge. People everywhere have worn masks, stayed at home and made sacrifices for the greater good. The availability of vaccines after just a year is both a triumph of science and a victory for collaboration.  

There is a long way to go. None of us are safe until everybody is safe. But we have learned what it means to pull together in the face of a truly global crisis. 

These lessons apply not just to pandemics but to the most pressing challenge in human history: stopping the climate emergency. If we do not act in this decade, the damage to our planet will be irreversible, impacting not only those of us alive today but threatening the future of generations to come.  

That's why we're backing the Earthshot Prize, a global initiative to discover and roll-out at scale solutions to the world's biggest environmental problems.  

Inspired by President Kennedy's 'Moonshot', we're focusing on five 'Earthshot' goals: oceans, air pollution, nature, climate and waste. Starting this autumn, we will award the Earthshot Prize to five winners, one per Earthshot, whose ideas make the most progress towards these goals. We will find and reward inclusive solutions which can repair the planet, help protect those most vulnerable to the changing climate, and create a healthier, cleaner and better life for us all. Five winners, every single year of this Earth-changing decade. 

Now is the time. This Earth Day, as the Leaders' Summit on Climate kicks off the countdown to November's COP26 Climate Conference in the UK, we must be inspired by the ingenuity and determination of the past year. We must transform our relationship with our planet, learning from those already living in harmony with nature and recognising that we all have a part to play. A better future is possible. 

As people around the world queue up for their vaccinations, now is the time to harness that same spirit of invention and give the Earth a shot too.  

Signed by:

His Royal Highness Prince William

Her Majesty Queen Rania Al Abdullah

Cate Blanchett 

Christiana Figueres

Dani Alves

Sir David Attenborough

Hindou Oumarou Ibrahim

Indra Nooyi

Naoko Yamazaki

Dr. Ngozi Okonjo-Iweala

Shakira Mebarak

Yao Ming
INTERVIEW DE CATE BLANCHETT : PLUS BELLE ET CONFIANTE QUE JAMAIS
Cate Blanchett est l'égérie de Sì, la fragrance féminine iconique de Giorgio Armani lancée en 2013. Mais elle est, aussi et surtout, une actrice oscarisée de talent, une femme puissante, inspirante et bienveillante qui pense que les imperfections font la beauté.

Comment percevez-vous la vision de la beauté de M. Armani ? Cela correspond-il à votre propre vision ?

La notion de beauté comme état de perfection m'est étrange car c'est dans les défauts ou les imperfections que quelque chose révèle son unicité, sa grâce et sa puissance. En fin de compte, je pense que la vraie beauté est en constante évolution. Presque insaisissable et inaccessible.

Qu'est-ce qui vous plaît le plus dans le message véhiculé par le parfum Sì ?

Appeler son parfum signature Sì est un message puissant et positif, invitant les femmes à se connecter positivement avec elles-mêmes et avec les autres. Dire oui à la vie, aux possibilités qui s'offrent à nous, aux expériences qui se présentent, c'est essentiellement ce que M. Armani a fait toute sa vie.

En grandissant, y avait-il quelqu'un que vous admiriez tout particulièrement et que vous trouviez beau ?

J'ai toujours pensé que David Bowie était profondément beau. En lisant sur Eleonora Duse, je pense qu'elle a dû être absolument captivante et la voix de Nina Simone est l'une des plus belles choses que j'ai jamais entendues.

Quelle est votre vision sur le fait d'être une femme aujourd'hui ?

Je n'ai jamais été aussi enthousiasmée par la collaboration entre femmes qu'aujourd'hui, à travers les cultures, les disciplines et les générations. Il y a un réel niveau d'ouverture, d'honnêteté et d'expérience partagée qui se met en place ; une volonté de regarder notre passé collectif afin d'avancer de manière productive et positive dans le futur. Évidemment, il y a encore du chemin à parcourir mais je pense qu'il existe un climat favorable tant pour discuter de nos échecs et de nos peurs que pour partager nos succès et nos inspirations.

Que signifie pour vous être une femme puissante ?

Être puissant est souvent associé à l'argent et à l'influence. Certaines des personnes les plus puissantes que j'ai rencontrées sont des personnes qui possèdent une grande maîtrise d'elle-même, qui sont engagées, généreuses et sages. Personnellement, je me sens de plus en confiance lorsque je n'essaye pas de prouver quoi que ce soit à qui que ce soit d'autre qu'à moi-même.

Dans quelle mesure est-il important d'oser être soi-même?

Être «soi-même» est un concept délicat car découvrir qui vous êtes est un voyage de toute une vie. Nous sommes dans un état constant de «devenir». Mais l'expression de soi sous toutes ses formes peut être angoissante et révélatrice, alors quand vous avez le soutien et la confiance de ceux qui vous entourent, et le courage de vos propres convictions, cela aide vraiment.

Y a-t-il une règle de beauté que vous ignorez continuellement ?

Je sais que le sommeil est très important pour avoir les idées claires et prendre soin de son corps, mais je me couche toujours trop tard.

Quels conseils beauté donneriez-vous à la jeune Cate Blanchett ?

D'accepter ses défauts. Après tout le visage et le corps changeront constamment tout au long de la vie, alors autant l'accepter dès le départ.
Sources:
Earthshot
,
Elle Belgium