Hi, everyone!
A week ago today, TÁR had it's premiere at the 79th Venice Film Festival where the movie and Cate Blanchett had received rave reviews. It was reported that the movie received a standing ovation that went on for over six minutes. TÁR is an original screenplay by director Todd Field and his first film in 16 years. He said during the press conference of the movie that he wrote it for Cate Blanchett. Blanchett plays the titular character, the fictional Lydia Tár, who is considered to be one of the greatest conductor and is the first female conductor of a major German orchestra. The movie had also it's North American premiere in Telluride this past weekend. Before it's October 7th release in the US it will have it's New York premiere on October 3rd as part of New York Film Festival main slate then it will be released across the globe around January-February 2023.
We have gathered video interviews and some of the reviews on the film. You can check them below.
Day 1
On the first day of the festival, Cate Blanchett arrived where she did some interviews for TÁR then attended a dinner organized by Armani Beauty in honor of Regé-Jean Page, who is the face of Armani Code men's fragrance.
79th Venice Film Festival – Day 1
Armani Beauty Dinner
Photographed by Greg Williams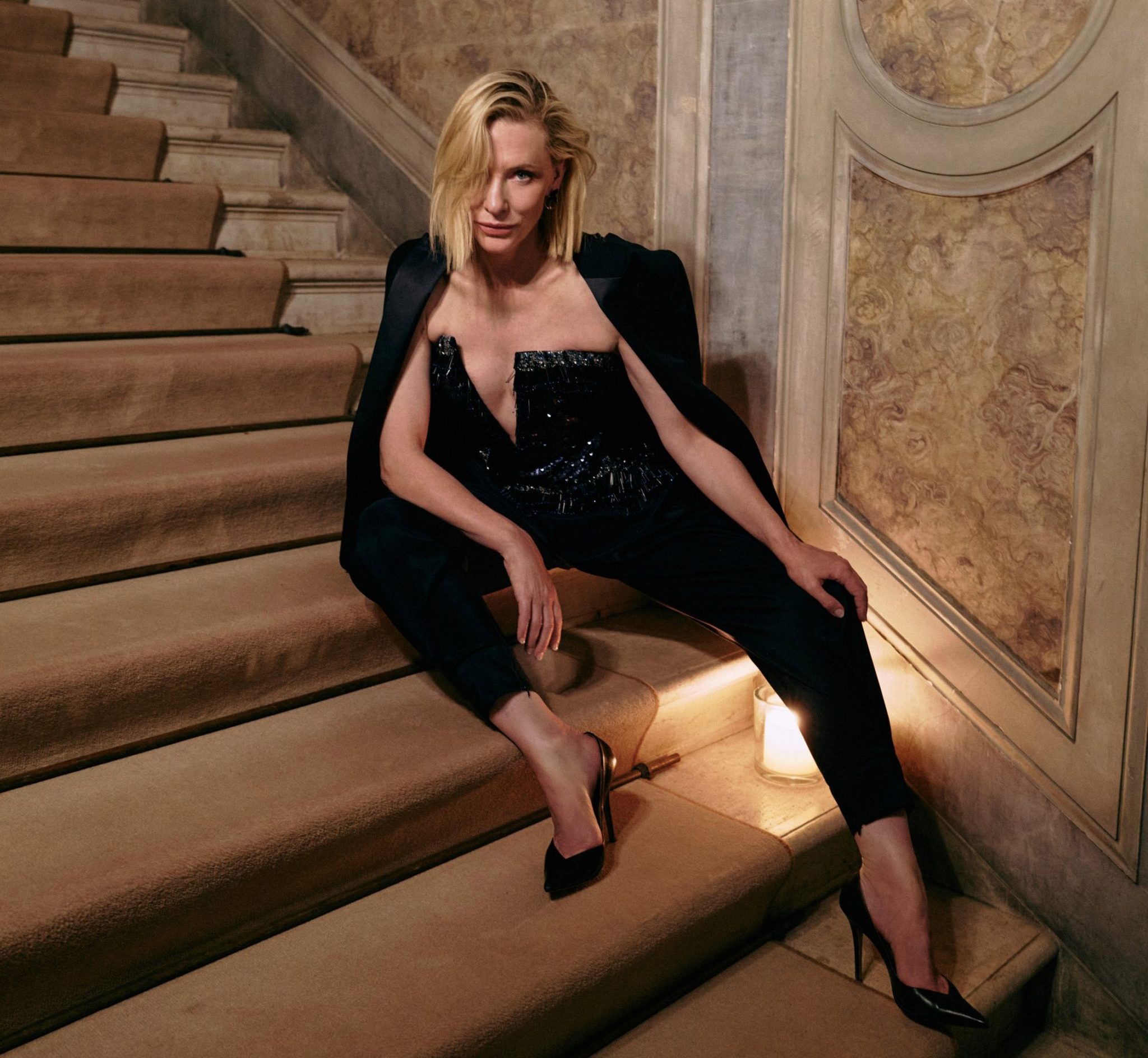 'Tár' Earns Ecstatic 6-Minute Standing Ovation in Venice, Generating Instant Oscar Buzz
The 79th Venice Film Festival officially kicked off the fall Oscar race on Thursday afternoon with Todd Field's "Tár," a drama starring Cate Blanchett as a famous composer embroiled in a public scandal. The film was showered with an ecstatic six-minute standing ovation as the audience inside the Sala Grande Theatre kept chanting "Bravo!"

Clutching the hand of festival chief Alberto Barbera, Blanchett took a bow — but the clapping continued and even grew louder. When the applause finally ended, a misty-eyed Blanchett turned to someone on her team and said: "Let's get a drink."

Indeed, Blanchett's work in "Tár" will likely be one of the most toasted performances of Oscar season. The enthusiastic reviews for the film all but guarantee Blanchett will land her eighth Oscar nomination for acting. (She's already won two Academy Awards — for 2005's "The Aviator" and 2014's "Blue Jasmine" — but "Tár" is bound to stir up speculation that she could take home a third statuette in March 2023.)
Please be aware that some reviews and interviews with the cast and director include spoiler from the movie.
Day 2
Venice Film Festival regular Cate Blanchett arrived at the Lido to present her latest film 'Tar' pic.twitter.com/lIm2kSORjy

— Reuters (@Reuters) September 1, 2022
79th Venice Film Festival – Day 2
Photocall
TÁR PHOTOCALL. #Venezia79 pic.twitter.com/9FkaNUmhDc

— TÁR (@tarmovie) September 1, 2022
TÁR Photocall
Ambiance détendue sur les canaux de Venise avec Aimée Lou Wood, Laure Calamy et même Cate Blanchett se laisse aller à une grimace ! #BiennaleCinema2022 #Venezia79 pic.twitter.com/JHFl6pn4xS

— CANAL+ (@canalplus) September 2, 2022
Press Conference
TÁR Press Con begins at 2:22:00
TÁR Press Conference
Red Carpet
TÁR Premiere Arrivals
Video from Il Gazzettino
Cate Blanchett arrives at around 32:00
Cate Blanchett and her 'TAR' co-stars Nina Hoss and Noemie Merlant were given a warm welcome by fans as they arrive for the movie's world premiere at the Venice Film Festival #Venice79 pic.twitter.com/tJG0wAfZhi

— Reuters (@Reuters) September 2, 2022
TÁR Red Carpet

Cate Blanchett takes a bow during the rapturous six-minute standing ovation for #TAR at #Venezia79. pic.twitter.com/5m3ga7id4r

— Ramin Setoodeh (@RaminSetoodeh) September 1, 2022
Reviews
In Tár, Cate Blanchett Gives a Dazzling Performance as an Orchestra Conductor on the Edge
In writer-director Todd Field's dazzling, uncompromising high-wire act Tár—playing at the 79th Venice Film Festival—Cate Blanchett plays Lydia Tár, a conductor at the top of her game, and of her world. We don't see her struggling to be the best, or complaining about how hard it is to be recognized in a field dominated by men. In fact, she believes women conductors have no reason to complain about disadvantage or discrimination. While men often use money and power to fuel their sense of entitlement, Lydia stakes her claim on her own intelligence. She takes what she wants from people and leaves scorched earth behind. She's great and awful in equal measure, so compelling you can't turn away from her, but also touching in a way that never courts our pity. She's unlike anyone we've ever seen onscreen, which may help explain why this is only Field's third movie as a director, even though he has worked steadily through the years as an actor: he's obviously a guy who waits for the right one to come along.

Tár, Field's first film in 16 years, is extraordinary. It's also, in places, disconcertingly chilly and remote, possibly the kind of movie that's easier to love than it is to like. But people will surely be talking about it, and about Blanchett's performance specifically. Blanchett, though extremely gifted, can be excessively mannered. (Her 2014 Oscar-winning role in Blue Jasmine is Exhibit A; she hits each Blanche du Bois-inflected note with tuning-fork precision.) But she can also be a performer of great, near-alien strangeness and beauty, and that's the subterranean current she's tapping as Lydia Tár. This is a willful, charismatic performance, stubborn and elegant as a vine.

Field's previous two films were adapted from previously existing sources: In the Bedroom, from 2001, was drawn from an Andre Dubus short story, and Little Children, from 2006, was based on Tom Perrotta's novel of the same name. But Tár, he has said, was written specifically for Blanchett, and his surefooted direction makes the most of her every line and gesture. When Blanchett as Lydia stands before her musicians, she's so open she may as well be listening through every pore. In her kingdom of woodwinds and strings, she can hear things we can't, like the rush of wind beneath a bird's wing—she knows intuitively whether that whoosh is too loud or too soft, and she can shift it accordingly. Blanchett learned to speak German, play piano and conduct an orchestra for the role, though what she does goes beyond mere research and memorization. Her movements are precise, definitive, balletic: Blanchett plays a woman who knows what she was born to do, and the thrill of it sets her eyes ablaze. Tár doesn't offer anything as comfortable as redemption, and it asks us to fall in love, at least a little, with a tyrant. But how often do we see women portrayed this way, as magnificent rather than admirable? Lydia Tár is the antithesis of tote-bag feminism, not least because she knows that the power of a question is greater than that of a slogan.

Full review on TIME
TÁR: a sly, scabrous symphony
Cate Blanchett is mesmerizing as a monstrous orchestra conductor in Todd Field's latest masterpiece, one of the most grippingly brilliant films of the year.

Todd Field's TÁR is a two-hour-38-minute slow dive into the increasingly alienating psychology of a world-famous orchestra conductor. It moves to a rarefied tempo: philharmonic politics, contested cello solo auditions and live-recording contract negotiations for one of Mahler's more daunting works. It is replete with classical-music-world in-jokes and casually caustic namedrops that must mystify anyone who failed to graduate from Juilliard with honors before pursuing a doctorate in Advanced Stravinsky. It has absolutely no business being even remotely watchable, and yet here it is, one of the most grippingly brilliant films of the year, featuring, in Cate Blanchett's mesmerizing central turn, perhaps the season's first truly irreplaceable star performance.

Full review on Sight and Sound
'Tár' Review: Cate Blanchett Orchestrates Her Own Destruction
"TÁR" is so much more than the Great American Movie about "cancel culture" — a phrase that it humiliates with every movement — but this dense and difficult portrait of a female conductor's fall from grace also demands to be seen through that singular lens from its very first shot. Todd Field's thrilling, deceptively austere third film exalts in grabbing the electrified fence of digital-age discourse with both hands and daring us to hold onto it for 158 minutes in the hopes that we might ultimately start to feel like we're shocking ourselves.

The "Little Children" maestro's first movie in 16 years — and the only original screenplay he's ever directed — isn't quite the ultra-mordant satire you might imagine if someone just told you where its final scene takes place. On the contrary, Field has come back to us with a savage yet acutely sincere character study that's slathered in a million shades of gray. "TÁR" tells the story of a trailblazing woman whose aspiration to embody the grandeur of the past makes her vulnerable to the uniquely modern pitfalls of the present. The film is every bit as brilliant and implosive as she is.

Cate Blanchett makes for a magnificent 21st century Icarus. Expertly weaponizing her inimitable gravitas away from art and towards predatory self-preservation instead, the "Carol" star commands the movie's lengthy and unbroken scenes as if she were conducting them herself; as Lydia gradually loses her ability to modulate the tempo of the world around her, "TÁR" finds a sickening pleasure in the dissonance between a spiraling character and an actor in perfect control of her instrument.

We've seen Blanchett play women on the verge of a nervous breakdown before, but she's never obliterated herself on screen with such concussive force. The controlled demolition of a performance she delivers here provides a more nuanced (and cautiously sympathetic) interpretation of the social dynamics behind the #MeToo movement than any male actor or character might be able to offer. It's because of Blanchett that "TÁR" is able to elevate the uselessly outmoded paradigm of separating the art from the artist into the visceral portrait of an artist separating from herself.

Full review on Indiewire
Cate Blanchett May Have Found Her Magnum Opus in the Tremendous TÁR\
The film is loaded with references to high-culture figures, to literature, to music theory. It all sounds pretty impressive. Which is the point: how often have we been so glamoured by smarts and talent and accomplishment that we miss an obvious pattern, or disregard contrary narratives as bitter noise? TÁR offers itself up as instructive tool, diligently tearing down the specific mythos that Field has worked so meticulously to create.

Somehow, this all happens without the moralistic droning of a lecture. TÁR is breathtaking entertainment, beautifully tailored in luxe, eerie Euro sleekness by production designer Marco Bittner Rosser and cinematographer Florian Hoffmeister, and ominously scored by Hildur Guðnadóttir (who gets a little meta shout-out in the film). That fine craftsmanship is all anchored by Blanchett's alternately measured and ferocious performance, a tremendous (but never outsized) piece of acting that is her most piercing work in years. Alluring and frighteningly vituperative, Lydia is a beguiling creation, all the more villainous for the beauty that birthed her.

Full review on Vanity Fair
Tár review by Guy Lodge
From the get-go, then, Tár aims to disrupt conventional rhythms — as does its eponymous protagonist Lydia Tár (Blanchett), a celebrated classical conductor known worldwide for her unorthodox approach to music, but known only to her most intimate inner circle for personal dealings that cross the line from unorthodox to dysfunctionally toxic. She has every award available to her art, her lifelong dream job conducting the Berlin Philharmonic, a cavernous Architectural Digest apartment that she shares with her beautiful, gifted violinist partner Sharon (Nina Hoss) and their angelic moppet of a daughter — everything, in other words. And when has having everything ever boded well for a character? Tár feels jinxed from the film's first full scene, an agonisingly obsequious onstage Q&A — played by Blanchett with a performative graciousness that feels wryly knowing and meta — in which her manifold achievements are trotted out like a list of potential charges against her.

Yet it takes us time to spot the makings of her downfall, in part because Field's film so cleverly guards our access to her, gradually peeling away her shellacked layers of public decorum and lucidity and wit, making us — and, one feels, the forever surrounded Tár — wait and wait to get her alone. This isn't a typically romantic portrait of unhinged genius: the maestro (and don't you dare call her maestra) here has an implacable core of self-knowledge and self-belief that make her spiralling sociopathic impulses all the harder to square with her sleek-suited image. Suffice it to say that MeToo-era queries of abuse, offence and cancellation are raised in the film's complex, prickly inquiry; you can probably guess that Field and Blanchett have no interest in tidy answers.

Not since Carol has Blanchett got to negotiate this degree of inner turmoil on screen; not since her Oscar-winning turn in Blue Jasmine has a part stretched to both the most icily contained and hotly raging extremes of her range. In a film expressly about the power granted by untouchable brilliance, hers makes this impossible moral minefield of a woman warm to the touch; the unpredictable tics and intricately detailed facial maps of thinking that she grants Tár make this nearly three-hour film consistently riveting, as tense as it is languid.

Full review here.
Interview
Cate Blanchett changes music and conquers Venice with the film Tàr by director Todd Field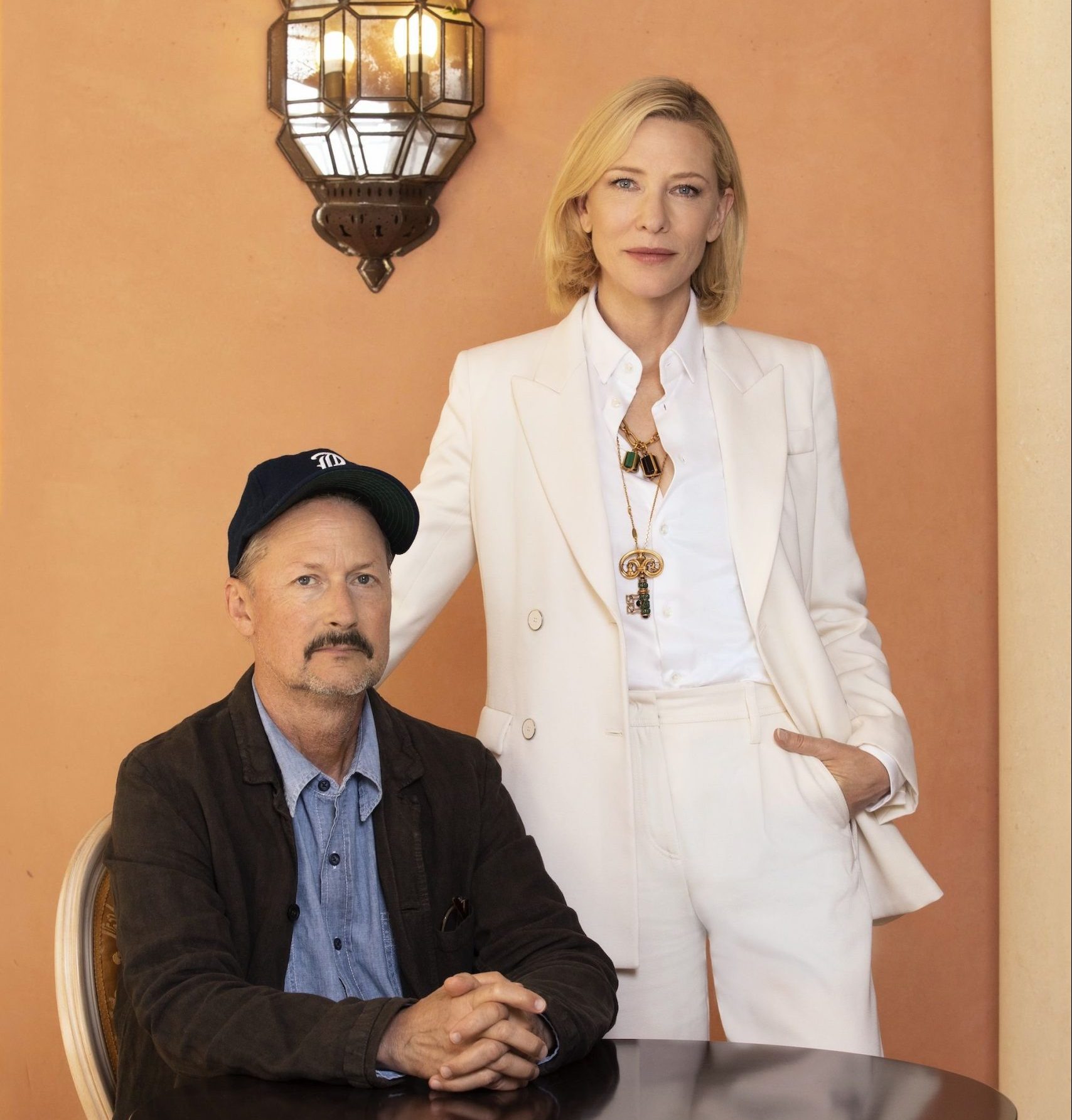 The first noteworthy style is the look of our conductor, Lydia Tár, a.k.a the shining Cate Blanchett; a tailor-made men's suit, a white shirt, the blond hair on her shoulders, freshly combed, and pale make-up showcased both on the podium and in the brutalist house she shares in Berlin with her violinist wife Sharon (Nina Hoss). In rhythm, in heartbeats, in the mathematical simplicity of music is defined Lydia's imaginary life, told in Todd Field's film Tár, which narrates the rise and fall of the Berlin Philharmonic's film female conductor. Cate, good friend of the Venice Film Festival, whom she supported in attendance in the darkest moments of the Covid pandemic, returns to shine, with a role tailored to her legend: a eulogy of emancipation in a world as separate and non-inclusive as the world of classical music, but spiced up with the complexities of the decision-making and the dramas of the post #MeToo era. "My character", said the actress, "is enigmatic, she confronts power and is at the top of her career, a loner in the female world. But her life is difficult, the big apparatuses and financiers press her; every time she must prove something more. Such a struggle exhausts her. It is always more difficult for a woman in a top position". Tár is a film with a very broad and visionary ambition, for which the Australian Blanchett studied piano, an American accent, German, and posture to be able to conduct the orchestra from the podium in a credible way. Venice is already ready to beat time with her, Cate, an absolute icon who certainly mirrors Lydia's passion, success, and eagerness to live.
Press Junket
Cate Blanchett ??
L'attrice è a #venezia79 per presentare "Tàr" di Todd Field, film incentrato sulla figura della prima donna della storia a divenire direttrice di una delle più importanti orchestre tedesche.#BiennaleCinema2022 #radioufficiale @la_Biennale @ManolaMoslehi pic.twitter.com/6Tvkauv8lA

— Radio Italia (@RadioItalia) September 1, 2022
Day 3
79th Venice Film Festival – Day 3
Source:
Variety
,
Elle Italia
,