Hi, everyone!
Today is the Screen Actors Guild Awards where Cate Blanchett is nominated for Outstanding Performance by a Female Actor in a Leading Role. The ceremony starts at 5pm PT / 8pm ET and you can stream here. She won her third AACTA International Award last week and you can watch her speech below.
Yesterday, Cate presented TÁR at the 34th Producers Guild of America Awards.
TÁR had its last premiere at 2023 Berlinale International Film Festival. Cate, Todd Field, Nina Hoss, Sophie Kauer, and Hildur Guðnadóttir were all present. During the day, they attended the Berlinale Talents event, Grand Orchestra: Conducting TÁR. The short film, The Fundraiser, which exists in the same universe as TÁR, was shown to the audience. Monika Willi, the editor of TÁR, said that the short is set on Lydia Tár's birthday. According to the attendees, Field confirmed that it was a one-time screening and never to be screened again.
There are photos, videos, and new interviews from German press ahead of TÁR's release in German cinemas on March 2nd. And here's a photo that Mary Greenwell shared the day after Cate won her BAFTA Award.
AACTA International Award
Producers Guild Awards
Mindy Kaling and Cate Blanchett share a moment at the #PGAAwards pic.twitter.com/XsgsEySSW7

— The Hollywood Reporter (@THR) February 26, 2023
Cate Blanchett presenting TAR #PGAAwards pic.twitter.com/ZxxblFRqb2

— Gregory Ellwood – The Playlist ? (@TheGregoryE) February 26, 2023
TÁR German Premiere at 73rd Berlinale International Film Festival
The day before TÁR's premiere, Cate visited the Neue Nationalgalerie in Berlin where a reception was held for the Museum of the 20th Century that is being built.
Alexander Skarsgård kicked things off as a speaker in the role of the director of the National Gallery: "Good evening, ladies and gentlemen, my name is Klaus Biesenbach…". The Swedish film star also revealed the reason for the meeting. The future Museum of the 20th Century, which is being built next door, lacks film as a genre.

A separate department is needed, ideally like MoMA's film department. Larry Kardish, senior curator of the department for many years and himself a film legend, nodded approvingly before Minister of State Claudia Roth was able to confirm the necessity from her point of view at the microphone. The two directors Nicolette Krebitz and Tom Tykwer, with whom Biesenbach organized a film club in the Kunst Werke in the 1990s, climbed the podium as further initiators.

Everyone present agreed that a good idea should be applauded, even though there is no lack of institutions in the city that represent the film. At some point Cate Blanchett, who had previously lost herself in the exhibition, finally joined them and invited them to the Berlinale for the next performance of "Tár" the next evening. In any case, the connection between film and the National Gallery is there. Whether the department comes along like MoMA remains to be seen. The associated museum has to be opened first.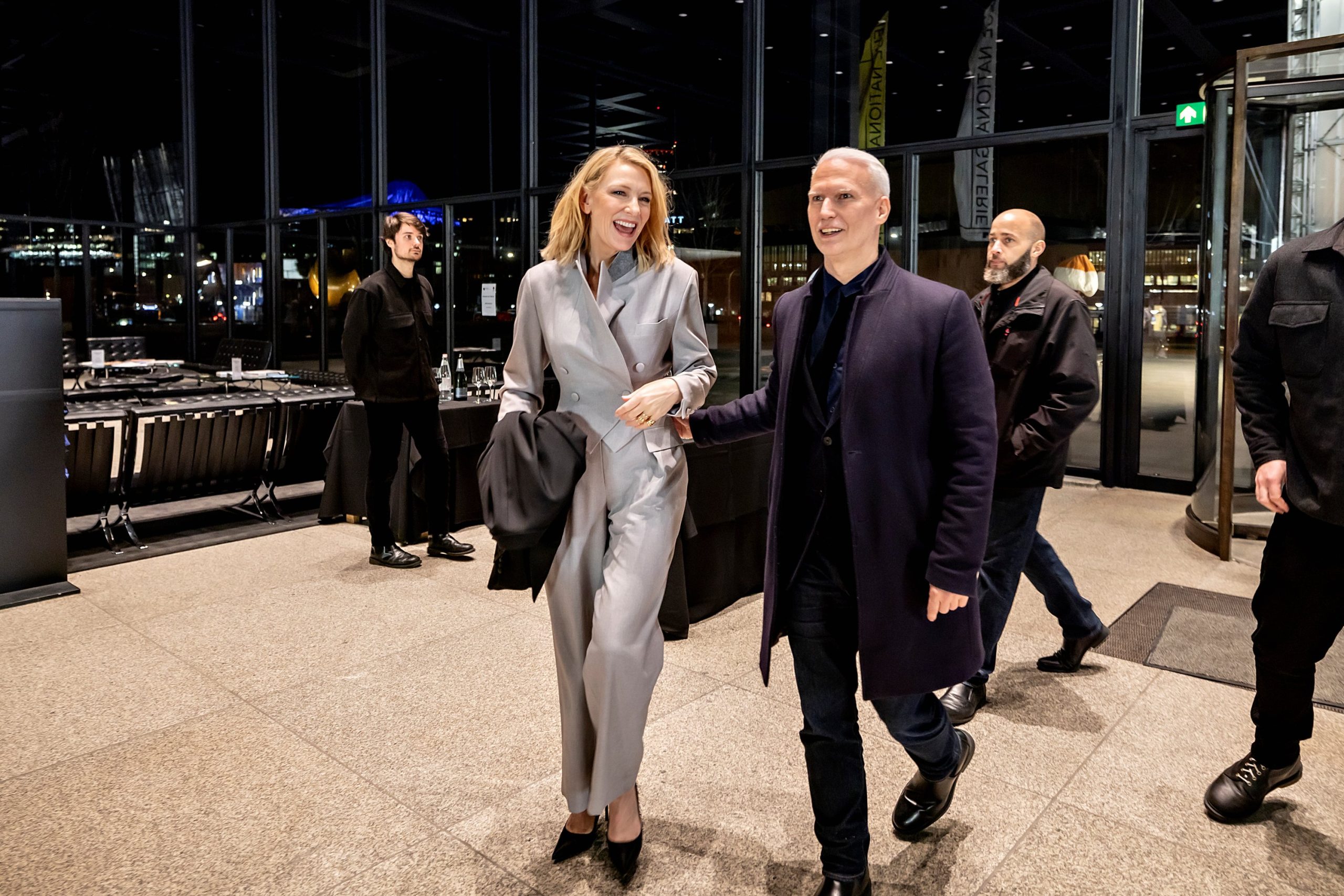 Berlinale Talents Talk – Grand Orchestra: Conducting TÁR – Photocall
??? pic.twitter.com/C4jgMguTQF

— laura (@gerrikelIman) February 24, 2023
Berlinale Talents Talk – Grand Orchestra: Conducting TÁR 
i'm so happy i have no words pic.twitter.com/UGRzbU6XsJ

— ????? ?? (@julesblanchett) February 23, 2023
'Unbeknownst to her, she's conducting a funeral march. She's grinding the joy out of something she once loved." – Cate Blanchett on Lydia Tár

— Gayle Sequeira (@ProjectSeestra) February 23, 2023
Beyond incredible to be in the room for the #Tár panel and screening of The Fundraiser at @berlin_talents yesterday. And Cate signed my vinyl! ? #lydiatár @tarmovie @berlinale #berlinale #berlinaletalents #ConductingTar @UniversalPics #CateBlanchett pic.twitter.com/NFsR0ttF4r

— Sam Peter Jackson (@sampeterjackson) February 24, 2023
Cate Blanchett giving credit to everyone else as always ? Like she doesn't outshine everyone wherever she goes by default #berlinale pic.twitter.com/jCcpHCGYOt

— Nina // Bands on Film (@bandsonfilm_) February 23, 2023
Lors d'une masterclass, la #Berlinale a présenté le court #TheFundraiser de #ToddField. #CateBlanchett et #NinaHoss reprennent leurs rôles dans ce film gothique et envoûtant, mettant en scène un bal masqué dans un manoir, qui peut se lire comme une séquence inédite de #TÁR pic.twitter.com/6r9ufrbCSt

— Le Polyester (@LePolyester) February 24, 2023
I'm one of the lucky SOBs to watch the TÁR short film THE FUNDRAISER, which Field and Blanchett confirmed won't ever be screened again. What a masterclass, what a film, what an experience!#Berlinale2023 pic.twitter.com/PMQ0JolfnK

— Nicolò Grasso (@nickygra97) February 23, 2023
A
summary
of what happened in The Fundraiser was shared by a fan.
This short radio special from RBB Radio also has some snippets from the talk.
Google translated from German to English.
Battle of words with Hollywood diva and Berlin stage icon
As part of the Berlinale Talents 2023, the actresses Cate Blanchett, Nina Hoss and director Todd Fields, among others, did the honors at a panel discussion in the HAU 1 theater.

The ladies have a sense of humor! At HAU 1, Cate Blanchett and her Berlin film partner Nina Hoss, together with director Todd Field and other participants, discussed the film "Tár".

The audience nearly fought for seats in the 800-seat theater. How did she come to be in the film? "It was cheap," director Field joked. "But not easy!" Blanchett countered. "I never thought she would say yes," Field said in awe.

Stage icon Nina Hoss also kept up well. She emphasized that she immediately found a common language with Blanchett because they had both played a lot of theater, "sometimes even the same roles as Hedda Gabler," said Hoss. She had to dig deep into the character of Sharon in the film "Tár", "like a little pig looking for truffles", the Berliner continues.

Blanchett was finally asked where she got her enormous screen presence from: "It's called a close-up!" says the Hollywood diva. Thunderous laughter!

Afterwards she explained that there is a trick she knows from working in the theater: "Every night when you go on stage you are nervous. That brings adrenaline and the energy to take risks. But then you have to get over your nervousness!"
Cate re-wore a gown from Givenchy's Spring/Summer 2018 Couture Collection. She first wore the gown from when she presided the main competition jury at Cannes in 2018.
TÁR German Premiere – Arrivals 
? Cate Blanchett a foulé jeudi le tapis rouge du festival de Berlin, à l'occasion de la première projection allemande du film "Tár", dans lequel elle incarne une cheffe d'orchestre impitoyable #AFP #AFPTV pic.twitter.com/qSLoQuMkjP

— Agence France-Presse (@afpfr) February 24, 2023
WATCH: Actor Cate Blanchett dazzles at Berlinale as she promotes her film 'Tar' pic.twitter.com/oWAANx74E2

— Reuters (@Reuters) February 24, 2023
TÁR German Premiere
Cate Blanchett bei der Tár Premiere – ich war so nah dran, holy moly.. pic.twitter.com/wMk5Jpp1hS

— Helena ?? (@itzhelli) February 24, 2023
Cate Blanchett reacting to Todd Fields speech at Berlinale. ? pic.twitter.com/160u68ljX8

— Helena ?? (@itzhelli) February 24, 2023
TÁR Interviews
Interviews are Google translated from German to English, original sources are highlighted in red.
AA: "Tár" is a story about a female conductor who has made her way in a male-dominated profession and then falls into the snares of a scandal. What do you think is the actual subject of this story?

Cate Blanchett: This story has a fair amount of tentacles. Waking up this morning I thought to myself that this is a meditation on power. And not just the power of institutions, but the unequal distribution of power between individuals.

AA: And also about how power changes the individual?

Blanchett: Conductors like to talk about the orchestra as their instrument, but the latter consists of individuals on whom they act. My character has that power. Originally she challenged the system of classical music which, as you said, is created and controlled by men. What happens to someone who has become part of the system himself? Will he or she be consumed and destroyed by the Force? And once you get to the top of the system, is it all downhill? My character has reached the absolute peak and so she wonders what can follow after that. Could the next step be to smash everything? Is that the real intention hidden somewhere in their subconscious? I admit that's a bit of a rambling answer.

AA: With "Tár" you feel like you're in every scene…

Blanchett : Oh, I'm so sorry.

AA: Don't you feel that if you accept such roles, you could advance your career and thereby your power? You could win your third Oscar for your role as a conductor in "Tár"?

Blanchett: The criterion that guides my choice of role is my responsibility to my four children. I'm guaranteed not to consider whether I have a particularly large number of scenes. I just ask myself: do I want to be part of this story? I also play supporting roles.

AA: Nonetheless, you have power in the industry. How do you exercise this?

Blanchett: With a great deal of consideration.

AA: That's the short answer. What would be the detailed?

Blanchett: You mean how messed up am I? Just as much as everyone else. I admit: In a way, I have incredible power. I'm a white woman, financially secure, through all levels of education. I am in a loving relationship, able to work and in good health. But there are limits. When my husband and I took over the Sidney Theater Company, effectively Australia's national stage, in 2008, we knew we couldn't just march on like we were the CEOs. We had to see ourselves as part of an ensemble. You must know when and how to use your power.

AA: Are there different rules for women and men?

Blanchett: Male directors, for example, often try to give the impression that they are in control. It's the best show of strength when you say 'I don't know what to do yet.' Because people always expect an immediate answer. That's changing now. But when a man admits he's at a loss, the reaction is often, "Wow, that's an interesting attitude." On the other hand, when a director says something like that, you can feel how the rest of the crew feel thinks, "Oh my god, this is going to be a long shoot."

AA: Does that mean that, based on your experience, women are still evaluated differently than men in the cultural sector?

Blanchett: I can only give you a few examples. "Tár" revolves around a performance of Mahler's Fifth. That's why I watched a documentary, which of course also highlighted the role of his wife Alma. And I thought to myself: What a hideous, talentless creature that creatively drained him. What did she do with this person? But in the end I understood that these judgments were all made by men. Not a single woman spoke. You have to be aware that every creative person is supported by other people who help him to bring his work into the world. Of course there will be misconduct, but we have to understand the whole background.

AA: Which in turn raises the question of whether artists should be blamed for their moral misconduct, which is what your character is doing as well. Such discussions are currently being conducted in the context of the 'cancel culture'.

Blanchett: It's important to use healthy criticism. But if, for example, we don't read certain books from the past because we are offended by certain elements from today's perspective, then we can never understand how people thought back then. And we will repeat the mistakes of before. Is Schopenhauer's work extraordinary? Of course it is. Questionable things certainly happened in Picasso's personal life, but is his "Guernica" one of the greatest works of art of all time? Absolutely. However, there are no clear answers to this complex of topics. So I'm much more interested in asking questions.

AA: Would you like to switch roles and ask questions instead of giving answers?

Blanchett: That's the problem I have with interviews, of course. Because my statements will be translated into a foreign language, and then maybe back into English. And suddenly there's the headline in the world: "I think Schopenhauer was an asshole and that we shouldn't read his works." That's why I don't have a clear answer as to what this film is about. I wanted to work with director Todd Field because he wrote such a remarkable screenplay that was riddled with intriguing questions.

AA: In your own career, have you never been confronted with specific situations in which an artistic result came about under morally questionable circumstances?

Blanchett: Absolutely. When I was 22, fresh out of drama school, I was cast in a production of David Mamet's Oleanna, in which a student accuses her professor of sexual harassment. I was so upset by the play that I threw my copy across the room. I found what he said to be just awful. Then I read it again – same reaction. I came to the rehearsal full of prejudices and thoughts that I wanted to get rid of. I started laughing and the director stopped rehearsals and took me to task. More specifically, he yelled at me, "What do you think you are? They stand in the way of the whole production. If you did that at the premiere, I would fire you.

AA: How did you react?

Blanchett: I started crying. My playing partner said he's never seen so much snot and water coming out of one person. I figured that was the end of my career. But then the director said, "Now get up and play that again." And that experience completely changed my relationship to my job. Because I've learned to play my characters completely impartially. This allowed the play to have an immediate impact on the audience. The most heated discussions took place in the foyer, I think some of the audience got divorced afterwards. But if all of this had happened to me today, I could have gone to HR, complained and said, "I'm totally traumatized by this man's behavior."

AA: But that would mean that today's outstanding acting performances might not materialize because those concerned go to the human resources department.

Blanchett: I still think the system needs to change. It is a highly complex subject. When we ran the theater we found ourselves confronted with the question of how to cast ethnically diverse roles. How can we represent the different cultures? We are in a process and it is important to ask questions. But, as I said, the system cannot remain as it is. Because when people experience that this system fundamentally disadvantages them, they want to destroy it. The reaction is an anger that should be analyzed more deeply. All of this leads to generalizations. We therefore find ourselves in the discussion about 'Cancel Culture' and experience a time of turmoil that the film reflects. But in the end I can only say one thing: I don't know.
Oscar winner Cate Blanchett has described the character of star conductor Lydia Tár in her latest film as her most challenging role. "All I can say is that I was totally, totally absorbed by it," Blanchett told journalists on the sidelines of the Berlinale on Thursday. "It consumed me completely." In addition to the role, this was also due to the questions that the film deals with. "It was psychologically challenging," Blanchett said. "I'm still thinking about it."

Blanchett was convinced that if you work with a character so intensively and for such a long time, parts of her will always stay with you. "The rubble or remains stay with you. And that's the joy of what I do, that you feel expanded through these roles."

The actress said she found kindred spirits in director Todd Field and fellow actor Nina Hoss, who plays Blanchett's partner and concertmaster in the film. The work was the most exhilarating thing she's ever done.

The film orchestra was played by the Dresden Philharmonic. In the film, Blanchett also speaks German during rehearsals with the orchestra. That was her idea, Blanchett said. "In the first few weeks, I said to Todd that it had to be in German." An opera singer friend then put her in touch with a woman who helps opera singers who don't speak German sing Wagner. "She was so great. She knew all the musical phrases," Blanchett gushed.

Since filming, she perceives music differently. When she was in high school, she ate lunch with a friend whose father was an opera critic. "And it was quiet. You could hear the clock," Blanchett said. When she brought it up, he said: "No music can be heard in the background. You deal with music." Now when she puts on a record, she sits and listens to it. "I hear different things that I couldn't hear before because I was listening in a slightly different way."
> 2021 was shot mainly in Berlin. How did you experience the capital?

Cate Blanchett: That was during the pandemic, which was strange. Now I'm back here and the street noise is back. But then all was quiet. My daughter went to school in Mitte and like everyone else, she had to wear a mask. Yes, it was all very complicated.

> Nevertheless, do you have a very special relationship with Berlin?

CB: I'm so happy to be back in Berlin at this wonderful film festival. In Berlin everything is back in full swing.

> One of your best friends, Barrie Kosky, Artistic Director of the Komische Oper lives here…

CB: That's right, we studied at the University of Melbourne at the same time and became best buddies there. I realized years ago that so many Australians ended up in Berlin.

> How did you find out?

CB: I once went to a playground in Prenzlauer Berg with two of my children. But there were so many Australians there that I took my kids to another playground with them (laughs). Like Australians, we're artistically keen to look elsewhere for careers. That's why many come to Berlin, but we always return home.

> The film was shot with the Dresden Philharmonic. How powerful does it feel to conduct such a large orchestra?

CB: I would put it more concretely: it was intoxicating, enlightening, electrifying, but also terrifying. For me it was a profound discovery that I have never experienced before.

> You don't often see women in films who are as power hungry as Lydia Tár.

CB: That's interesting, in the film business there's only a narrow range of feelings for female roles. They should usually come across as sympathetic, but women are also people who can also be afflicted with mistakes.
> In the film, Lydia Tár conducts the Berlin Philharmonic. The chief conductor lets herself be called "Maestro", she is very demanding, harsh and she has a clear position of power. Tár could also be a man. But you have decided to tell the story of a woman.

CB: We can take a much more nuanced look at how difficult it is to let go of power. When someone is in an authoritarian and influential position, the most courageous thing to do is to give it up.

> You played many strong characters before Lydia Tár. Queen Elizabeth I, Elven queen, Galadriel, in The Lord of the Rings, Lady Macbeth…

CB: Lady Macbeth is an extraordinary creation, a very complex person. She's remembered because she's vulnerable, but she also has incredible strength. Lydia Tár is a very powerful person. She is going through a profound change. I don't think about gender on Tár, but we talk about it all the time. It's still a problem for all of us. We lack female narratives. That's why you can't have an easy relationship with Lydia. We're not used to characters like her. That's why I hope Tár really grabs the audience.

> How important are female characters in the film business?

CB: When I started film, women catered to a certain range of emotions. Maybe two or three levels of emotion. People talked about whether they found a female actress attractive, whether they were attracted to her, and whether they found her likeable. Today, when a woman leads the narrative, she has to be noble and graceful. She is meant to teach us something and lead us to a new, shimmering place. But women are people! We are flawed and we make mistakes. And therein lies the drama.

> Lydia Tár makes an appointment to have dinner alone with the young, attractive cellist Olga. Is Lydia aware that she is taking advantage of her position?

CB: We leave a lot of what happens between Olga and Lydia in vague. In our society, we are often too quick to judge relationships that take place in public and about which we only have superficial information.

> For Lydia Tár, art is above man. The student Max doesn't share her opinion, for him Bach is a misogynistic composer, which makes it impossible for him, as a pansexual POC person, to deal with his work. Ultimately, Lydia publicly exposes Max's ego.

CB: The central question is why a person perceives me in a certain way and not differently. Max talks about Bach from Lydia's point of view, although he has not dealt with Bach's work in depth. Lydia asks him to join her on the stage and sits down with him at the piano. She wants him to see Bach's work, but he doesn't. When he leaves the room, she doesn't have time to take care of him. This is a problem in our society. We no longer perceive interpersonal relationships. We're always rushing to the next meeting, we need to get things straight to the point, and we're no longer having nuanced conversations. Lydia is a victim of these circumstances.

> You prepared for the shooting for nine months. After all, you conducted the Dresden Philharmonic, which plays the Berlin Philharmonic in the film, yourself. Did you feel a sense of power?

CB: I don't want to talk about power. That's too general for me. It was an uplifting, electric, terrifying feeling. A friend helped me prepare for conducting and read the score. She said to me: "You prepare in silence, you get a sense of movement and sound, but nothing will prepare you for the moment when you keep time and the orchestra starts again." It is indescribable.
Sources:
Taggespiegel
,
BZ Berlinale Talent