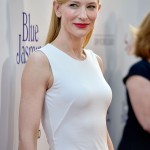 The winner of the award, backed by Swiss watchmaker IWC Schaffhausen, will again receive a $100,000 cash prize.

LONDON — Oscar winner Cate Blanchett will once again head the jury that will pick the winner of the Dubai International Film Festival's IWC Schaffhausen Filmmaker script award.

The IWC Schaffhausen Filmmaker Award was launched last year with a cash purse of $100,000 to help the winning filmmaker transfer his or her vision to the screen. IWC Schaffhausen is a Swiss watchmaker.
IWC Schaffhausen and DIFF have drawn up a shortlist of four projects to vie for the sizeable cash purse.
Looking to catch the eye of Blanchett and the yet-to-be-announced fellow jurors of film industry experts are Faiza Ambah's A Reverence for Spiders; Hussain Alriffaei's Siege, written by Bahraini author Ameen Saleh; Waleed Al Shehhi's Dolphins, penned by UAE author Ahmed Salmeen; and Zeyad Alhusaini's How I Got There.
The four projects, currently in development, were selected from hundreds of submissions from established and upcoming directors from the United Arab Emirates, Saudi Arabia, Kuwait, Qatar, Oman and Bahrain.
The winner will be announced during the ninth edition of DIFF at a gala event Dec. 7.
DIFF chairman Abdulhamid Juma said: "This year we received three times as many entries for the award as in 2012, which speaks for the numerous filmmakers in the region who are ready to take on a feature project and have already done considerable work in terms of putting together a team and financing. The award recognizes their vision and gives them a boost with seed money that will attract further investment. We look forward to congratulating the winning director and welcoming him or her back to DIFF with the finished project in future editions."
Last year's IWC Filmmaker Award 2012 went to Maysoon Pachachi for Nothing Doing in Baghdad.