Happy Friday, everyone! Nightmare Alley is now released in US cinemas.
We have some ecstatic news! Cate is to be honored with an honorary César award next year. She also appeared on Good Morning America to promote Nightmare Alley, and we have the latest issue of Sight and Sound which featured the movie. She will be a guest on The Graham Norton Show next year. Check the updates below.
Cate Blanchett To Receive Honorary Cesar Award
Australian actress Cate Blanchett will receive French cinema's top honor, the César d'Honneur, a lifetime achievement award, from the French Film Academy.

The French academy on Friday said it had picked the two-time Oscar winner to be the 2022 César d'Honneur winner. Blanchett will receive the prize in Paris on Friday, Feb. 25 as part of the 47th César ceremony, France's equivalent to the Academy Awards.

In a statement, the academy said the 2022 honoree had an "absolutely remarkable career and personality."

Blanchett is among the most successful and acclaimed actors of her generation. Since her international breakthrough as the titular Queen in Shekhar Kapur's Elizabeth (1998), a role that earned her a best actress nomination at the Oscars, as well as best actress, wins at the BAFTAs and Golden Globes, Blanchett has been a force on the global cinema scene. Alongside her two Oscar-winning performances — in 2005 in the best-supporting actress category for playing Katharine Hepburn in Martin Scorsese's Aviator and for best actress in 2014 for Woody Allen's Blue Jasmine — Blanchett has collected a trophy case of awards and nominations, among them the best actress honor in Venice for playing Bob Dylan in Todd Haynes' I'm Not There (2007) and BAFTAs for both Aviator and Blue Jasmine (for best supporting and best lead actress, respectively).
Cette année, le César d'Honneur sera remis à l'actrice et productrice australienne doublement oscarisée : CATE BLANCHETT ! ? Elle le recevra le 25 février 2022 à l'@OLYMPIAHALL lors de la 47e Cérémonie des César, diffusée en clair sur @canalplus. #César2022 pic.twitter.com/Xot2a5asI8

— Académie des Arts et Techniques du Cinéma. (@Les_Cesar) December 17, 2021
Good Morning America
Cate Blanchett on The Graham Norton Show
Cate will be a guest on the 14th episode of Series 29 which will air on January 14th 2022 at 10:35pm (London time).
Comedy superstar Ricky Gervais, promoting the third series of his black comedy-drama After Life; Oscar winner Cate Blanchett, starring in film noir remake Nightmare Alley; top TV duo Ant and Dec, hosting new ITV game show Ant & Dec's Limitless Win; and musical guest Elvis Costello and the Imposters, who perform their new single Paint the Red Rose Blue.
Black and White Version of Nightmare Alley to be released for a limited run
Guillermo del Toro's "Nightmare Alley" is already getting a rerelease in a special new format. Los Angeles audiences will get the chance to see Del Toro's '40s noir film in black & white.

Searchlight Pictures will host a limited run engagement for "Nightmare Alley: Vision and Darkness and Light," which will be a black & white print of the film screened on 35mm film stock.

The black & white version of the film will run in select repertory and specialty theaters across LA in January, following the film's release on Dec. 17.

"Although we shot 'Nightmare Alley' in color, we lit it as if it were black & white," del Toro said in a statement. "You can see exactly the same level of design, and we wanted to give viewers this special vantage as a take of the classic noir genre that the film is part of."

"As a cinematographer, it is a total privilege, a huge artistic satisfaction and a dream come through to have the possibility to tell Guillermo's amazing story first in a rich and colorful version and then in this beautiful black & white version as well," added "Nightmare Alley's" director of photography Dan Laustsen. "When we designed and shot we were always thinking color and black & white. The classic lighting I have used is an homage to all the incredible masters of cinematography who have inspired me."

Below, you can find a list of where and when to watch the black and white print of "Nightmare Alley."
– The New Beverly Cinema on January 15 and 16 – Beverly Blvd, Los Angeles
– AMC The Grove from January 14 through 20 – The Grove Drive, Los Angeles
– The Landmark from January 14 through 20 – W Pico Blvd, West Los Angeles
– The Los Feliz Theater, American Cinematheque, from January 21 through 23 – N Vermont Ave, East Los Angeles
Anatomy of a Scene: Nightmare Alley
(SPOILER – a clip from Nightmare Alley) The sequence features Cooper as Stan, a carny who has moved to the city to perform his mentalism and clairvoyance act with his professional and romantic partner, Molly (Rooney Mara). Stan is blindfolded but able to guess the objects that belong to audience members.

One attendee has doubts about the act. Lilith (Cate Blanchett) believes that Stan and Molly are using verbal signals. Narrating the scene, the director Guillermo del Toro discusses how he sets up the cat-and-mouse game between Lilith and Stan, partly by the way he shines searchlights on them, and partly by how he positions them within the performance space.
Sight and Sound – Winter 2021-22 – Vol 32 Issue 1
Guillermo Del Toro Found 'Nightmare Alley's' Godzilla In Cate Blanchett
Guillermo Del Toro is not as prolific as some of his peers when it comes to feature films, but it's still somewhat surprising it's taken this long for him to work with Cate Blanchett. They both had their breakthrough moments in the mid-to-late-1990s and Blanchett could have easily stepped into the worlds of any "Hellboy" movie, "The Shape of Water," or "Crimson Peak" without a second glance. Thankfully, the pair have finally collaborated in Del Toro's latest epic, "Nightmare Alley," and the result is, well, electric.

Interviewer: I think I was smiling underneath my mask during the entire scene when Bradley and Cate's character's meet for the first time. Kate is just killing it. It's one of the best scenes from an actress or actor I've seen in a long time. How did you know that Cate would be so electric with Bradley in this role?

GDT: Well, we talked. Cate and I had developed a project together in the past, that was a noir TV series. And we were very interested in working in that world together. And it never came to pass, but I knew that this was in her by everything [she'd done before]. It's sort of indicated by when she plays "Carol" or she plays a harder edge character, more self-contained character. But I thought even in "Blue Jasmine" when she's playing the wife of Alec Baldwin, there are moments there that indicate that flintiness. That was interesting. And I wrote it with that in mind with Kim. Kim And I agreed that we were writing it for Cate. And I approached her and I said to Bradley, "Look, King Kong, I need to get you your Godzilla." And I knew that I needed somebody of that stature to, what has been up until then, a guy that has run on unopposed for half the movie. And you need to feel when the vineyard comes in. And the other thing is, very important here, is the ramp of the movie needs to be slow, but continuous. And you need to feel "O.K.. I get the world, I get the act. I get the guy. Now what?" And the answer to "Now what?" Is Lilith, it's Cate.
In Nightmare Alley, Art Deco Furniture Stars Alongside Cate Blanchett and Bradley Cooper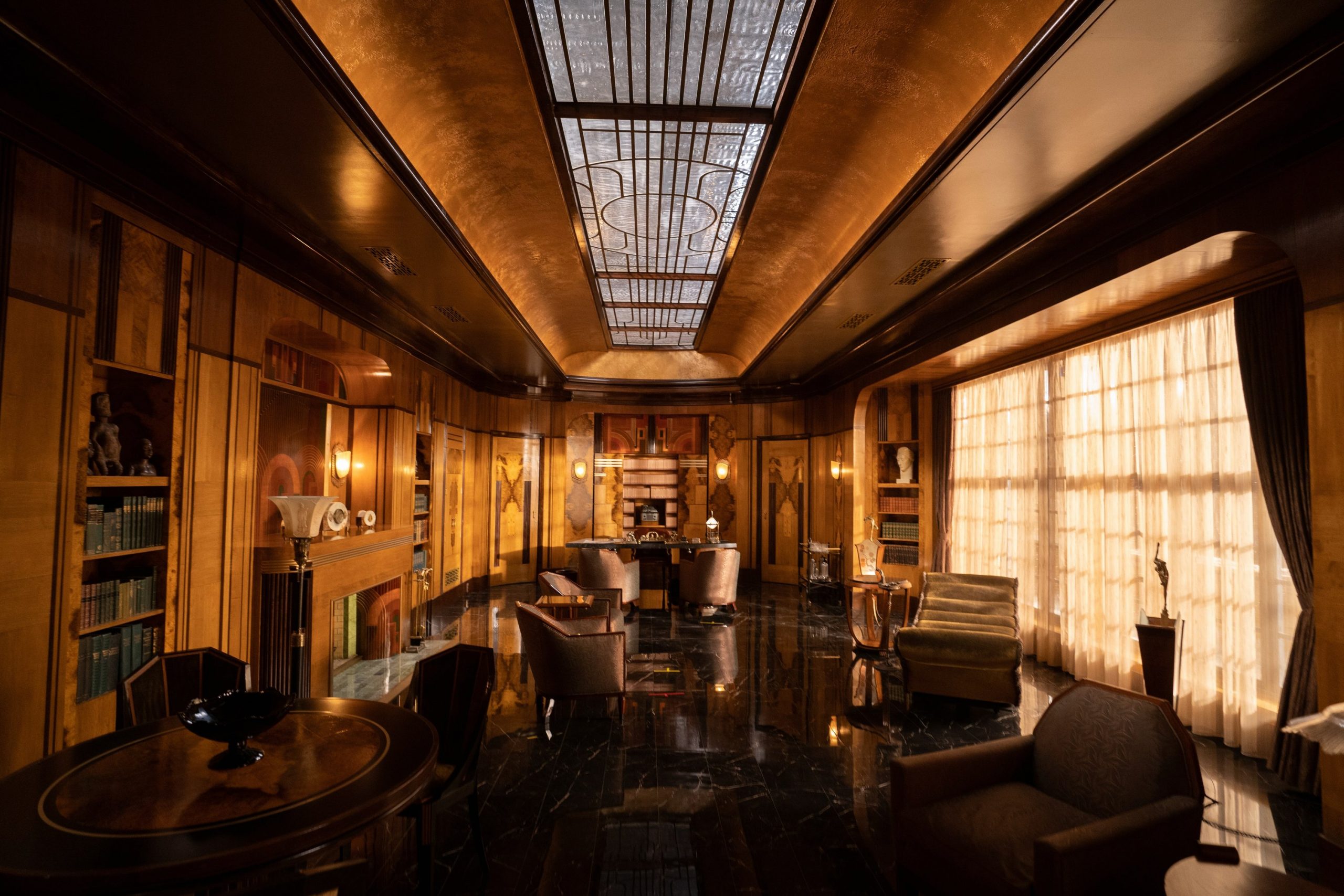 Nightmare Alley is classic film noir with a modern-day twist. It was key for the film's director Guillermo del Toro to create a spicy adaptation of William Lindsay Gresham's 1946 novel that reveals the corrupt underbelly of showbiz and the American Dream.

With nods to Old Hollywood, the film follows Stanton Carlisle (Bradley Cooper), a down and out carnival magnate who cons the rich with his cunning ways. He meets Lilith Ritter (Cate Blanchett), a psychologist, who helps him, but inevitably traps him. The film, which hits theatres December 17, looks like a 20th-century Edward Hopper painting draped in shadowy gloom. There is Art Deco furniture, a 1920s carnival, and vintage accents that feel fresh. In other words, it doesn't look like a dusty antique shop.

Tamara Deverell, the film's production designer, says that Del Toro didn't use CGI (except for falling snow and flying bullets) because he wanted all the sets to have real architecture and props. "We created a contemporary version of a noir film—a Guillermo del Toro version, which has its own visual range and parameters," says Deverell, who previously worked on Star Trek: Discovery.

One key piece is Blanchett's office, which was inspired by furniture in the Brooklyn Museum's Weil-Worgelt Study, an Art Deco study designed by Henri Redard in the 1920s for a wealthy client. "I wanted to keep it reflective, sharp, and with clean lines," Deverell says. "It's a combination of straight Art Deco lines and curves, which is very much a Guillermo thing."

The architecture helped define each character in the film, like Blanchett's golden hued-office with angelic light, as her character sometimes makes heroic gestures. "We mostly see Lilith in her office, so we wanted to make it the setting of a powerful woman, the woman who out-cons the con man," Deverell says. "She's smarter, more beautiful, and more sinister than Stan."

Blanchett was blown away by her office, which featured Art Deco chairs with "amazing angular lines that remind me of Cate," Vieau says. The Oscar-winner actress expressed her admiration to Deverell while decked out in her 1930s-style hair and makeup. "I was speechless," the production designer says. "It was a tricky set, but her office gave her so much character.
Source: THR, Architectural Digest, BBC One, The Playlist, The Wrap