UNHCR Goodwill Ambassador Cate Blanchett returned to Jordan to meet Syrian refugees. She was first in the country in 2015, the following year she was named Goodwill Ambassador by the UN High Commissioner for Refugees, to help raise awareness about refugees. UNHCR will be sharing stories from her trip across their social media platforms (Twitter, Facebook, Instagram, YouTube). If you would like to donate, you can follow the link here.
Cate was on WBUR's Here and Now programme to talk about her trip in Jordan and reflect on the poem, "What They Took With Them," by Jenifer Toksvig."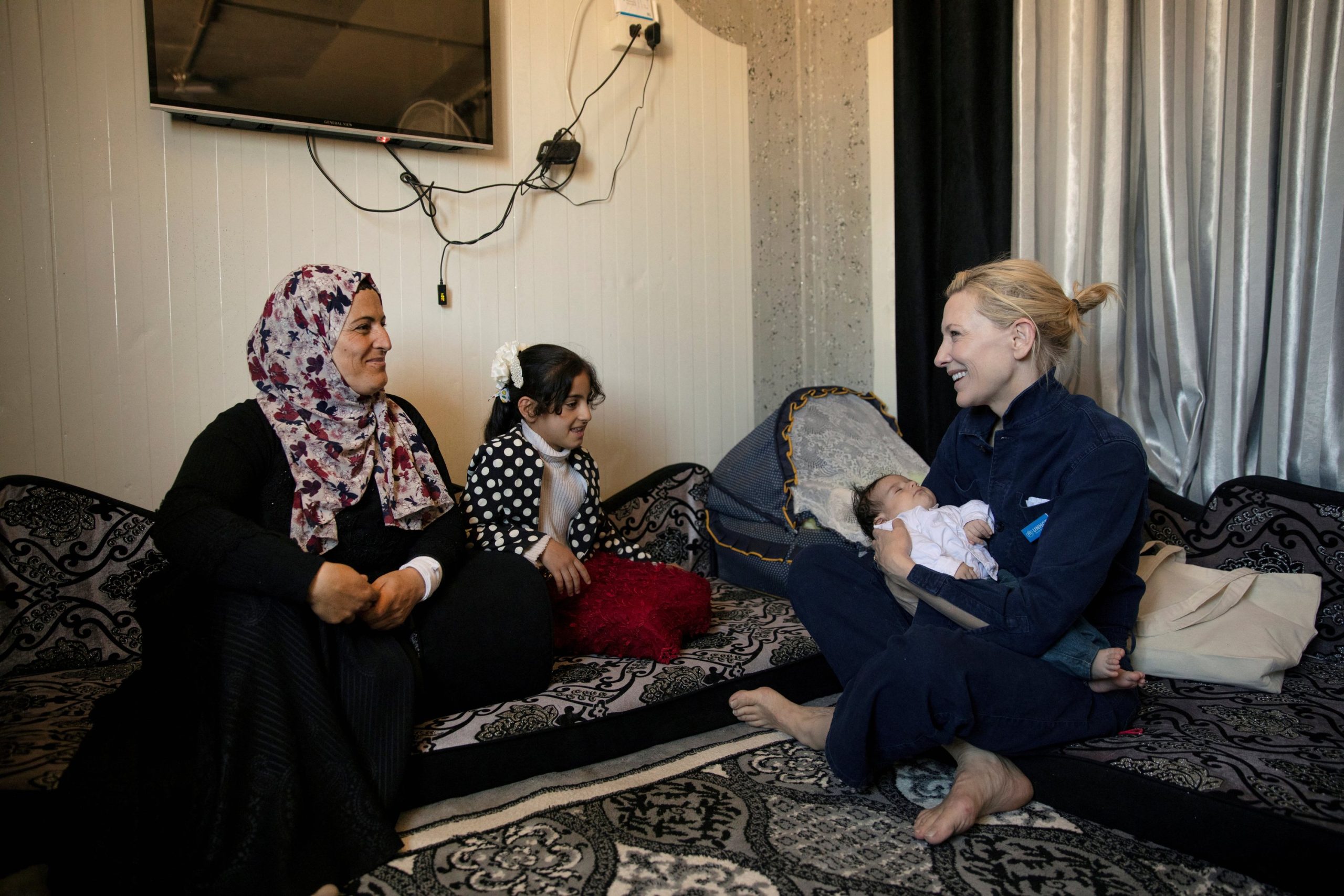 Cate Blanchett calls for more support for refugee host countries
Actor Cate Blanchett, a goodwill ambassador for the UN refugee agency, has called for more support for countries hosting people forcibly displaced from their homes to prevent "a forgotten crisis."
Blanchett, appointed a UNHCR goodwill ambassador in 2016, said it "was easy to forget" there were protracted conflicts around the world leading people to seek refuge elsewhere.

The two-time Oscar winner travelled to Jordan last week, which hosts some 661,800 Syrian refugees, in a return to the country she first visited seven years ago in her humanitarian role.

"When you think that 74% of refugees are sheltered by lower to middle income countries, it's not the wealthiest countries in the world that are bearing that responsibility. So it was amazing to see that support continuing, but also to go back and revisit with families, children who are no longer children," Blanchett told Reuters in an interview.

Some were perhaps in an even more precarious situation now, she said.

"[To] see them seven years on with the ability to return home dwindling with all of… their savings spent… (shows) just how important it is for the global community to continue the support…for those countries that are hosting what could become a forgotten crisis."

Blanchett reunited with families in Amman and travelled to Zaatari refugee camp, created soon after the Syrian conflict erupted in 2011 and where some 80,000 people now live.

"As we the general public sort of remotely lurch from watching one crisis unfold to another crisis… it's easy to forget that there are these protracted crises in Yemen, in many parts of Africa and as I was so painfully reminded in Syria," Blanchett said.

"Of course the ultimate goal is peace but while we wait for that to be brokered, humanitarian aid is absolutely vital and for governments to find cohesive bilateral solutions to these things and safe pathways for people."
"I feel conflicted today."

UNHCR Goodwill Ambassador Cate Blanchett just got back from a trip meeting Syrian refugees in Jordan. This week we'll share some of their stories — the uplifting and the painful. pic.twitter.com/jmAH3MA302

— UNHCR, the UN Refugee Agency (@Refugees) May 3, 2023
Google translated from Spanish to English. Original text is linked below.
Cate Blanchett is a universal actress who has nothing left to prove. She has won two Oscars, four BAFTAs and four Golden Globes. For some critics she is the best of her generation. That she devotes all that power of influence for refugee cause makes her an irresistible speaker. She receives EL PAÍS in a London apartment in the southwest of the city, near the Tate Modern museum. You hardly need to ask. Her speech is overwhelming and passionate. A monologue full of data and elaborate reasoning. Blanchett is a Goodwill Ambassador for UNHCR, the UN High Commissioner for Refugees. She has just returned from her second visit to the refugee camps in Jordan.

Q: What does it feel returning back from Jordan?

A: I was able to meet again some of the refugees I had met seven years ago. Some live in urban settings, others in the Zaatari camp. Their ability to get something out of nothing is amazing. That is why I find this xenophobic rhetoric that has permeated [in the West] so disappointing and so irritating when it comes to embracing the arrival of refugees. Because they are people who have a lot to offer. They can see opportunities where others don't.

Q. What led you to turn to this cause?

A. It's like climate change. You see something that is happening, and at the same time you see how people look the other way in the face of a problem that is festering, or talk about it as if it did not exist, or refer to it -in the case of refugees- using a terminology incorrectly and wildly xenophobic. With the purpose of dehumanizing them. There is something within me that compels me to redirect that false narrative.

Q. Your own experience in your country of origin contributed…

A. As an Australian, I lived in a country that – regardless of its own history of colonial invasion – was built on the positive vision of embracing refugees and asylum seekers within. The "brand Australia" I grew up in was multicultural. It was all about integration, in a country that had been colonized by the British and had its own powerful indigenous history. We were really a nation with a great mix. And that offered a very positive global vision, from the creative, cultural point of view. We were above our own level as a country thanks to that welcoming spirit.

Q. That spirit faded at the end of the last century, with the arrival of boat people (rafters, or arrivals by boat) from Vietnam, Cambodia or, later, the Middle East.

A. All of that calcified and hardened. The message became dehumanizing from the mid-1990s onwards. I could see the deleterious effect that this had on the Australian civilian population. How tremendously shameful was the process by which refugees were sent to islands far from the coast [since 2012, Australia sends irregulars to the islands of Nauru, independent, and Manus, in Papua New Guinea ]. I know there is a change now taking place, but we still have to admit that shame. There is much to do.

Q. Australia takes a step forward, and the UK takes a step back, with a retort that consists of deporting irregular migrants to Rwanda .

R. It is a policy that does not work. And it is very expensive. The economic and human cost of exclusion is much higher than the cost of inclusion. Accepting this false rhetoric is an economic and humanitarian disaster. Instead of contemplating the result, we are once again caught up in this whirlpool of xenophobic narrative. We all need to remember that we are talking about a basic human right. Everyone has the right to security.

Q. And a problem is inflated that, in reality, only affects the West to a small extent.

A. 74% of refugees are welcomed in poor countries. They are not in rich countries, despite all those figures with which the discourse of fear feeds us. One in four people in Lebanon are Syrian, and they want to stay close to home. It is up to all of us to help those neighboring countries [of the region from which the refugees are fleeing] to face that responsibility.

Q. But neither the left nor the right, at least in the United Kingdom, want to face the reality of an issue that takes away votes.

A. It's easier to control people when you make them afraid of something. It's something we see not only in this rhetoric of the refugee crisis, but also in issues like climate change. I think it's a way to evade responsibility, based on loading it onto others. It's kind of disgusting. Any country—not just England—that gets the problem out of the way by handing it over to another will only make it come back in the form of a new problem, a new incursion, a new conflict. The pressure is too great. It must be a collective responsibility.

Q. Has it worsened in recent years?

A. When after 2015 the money sent to neighboring countries began to decrease, we could see a huge flow of people crossing the Mediterranean risking their lives. It is very important that humanitarian aid continues to reach countries like Jordan. Spain has been an enormously generous country. We could see it with Syria and now with Ukraine. But we must continue to see this issue as a collective responsibility. And as an investment in human capital.

Q. We are seeing it with Ukraine. The enthusiasm of populations and governments when it comes to support falters after a few months.

A. This is the case of Syria, a crisis that has been prolonged over time. We must invest in organizations like UNHCR to cover a long period, because we must continue to provide education to all these people. It helps no one that all these young people are not able to develop the skills they have acquired.

Q. One thinks of the former German Chancellor Angela Merkel. She accepted the entry of 1.2 million refugees from Syria, and it ended up being an internal political problem that she played against her.

A. Germany thought that, as one of the leading countries in the EU, it could lead by example, in the hope that others would do the same. But the rest of the countries did not host the same level of refugees. So a huge responsibility was left in the hands of a couple of nations. It ended up being an internal problem [for Merkel], because there was no reciprocity.

Q. It is not a unique problem for each country.

A. We are absolutely connected, the information flows through the networks. And yet we continue to build these nation-states with the idea that human beings never and never will move. And the truth is that they have done so since time immemorial. I have seen in my own country what happens to the collective psyche, the negative effect produced by knowing that your own country is violating human rights. People harden. You start to clash with your neighbors. We started talking about refugees not as people, but as a problem.
Source:
EL PAÍS
,
Reuters