Cate Blanchett is featured in a new magazine with brand new pics from the last Armani's campaing. Enjoy!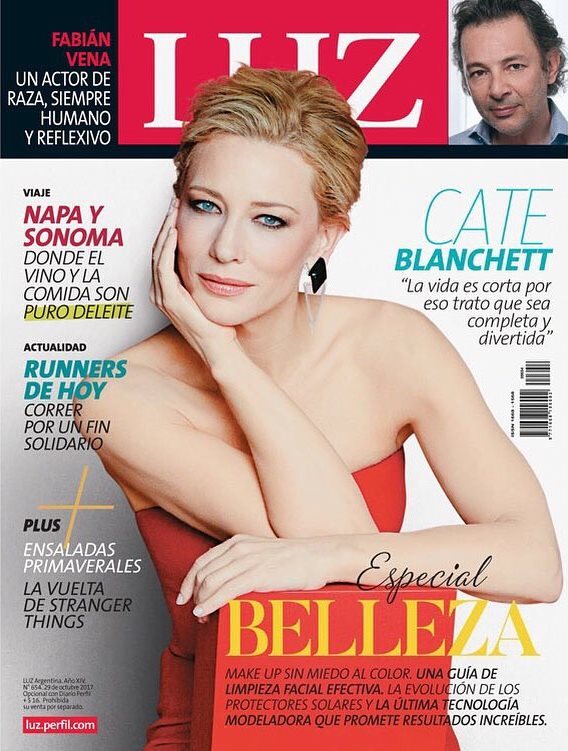 Cate Blanchett: "Este es el momento de las mujeres"

Por Fernando Gomez Dossena l Es una de las actrices más talentosas e importantes de Hollywood. A días de estrenar la película Thor: Ragnarok, la cara de la fragancia Sì de Giorgio Armani se refiere a sus nuevos desafíos actorales y a la polémica con el escándalo del productor Harvey Weinstein.

Hace todo lo que quiere hacer. Y siempre de la mejor manera. Puede protagonizar películas súper taquilleras, refugiarse por un tiempo para actuar en una pequeña obra de teatro en su Australia natal, ser la cara de una marca de lujo o embanderarse por una causa ecológica y nunca generar polémica ni rencores; sólo apoyo y admiración. Tiene una belleza fuera de lo común, transita su edad (48) con la naturalidad y belleza que traen los años y cultiva, encima de todo, un bajo perfil y un estilo de vida austero, siempre acompañada de su marido, Andrew Upton (director de una compañía teatral en Australia) y sus cuatro hijos: Dashiell (16), Roman (13), Ignatius (11) y Edith (2, adoptada).
Se confiesa admiradora de la moda como arte, pero no es una fashion victim. El buen gusto y la elegancia son otras bondades que la enaltecen. En las últimas semanas de la moda internacional engalanó las primeras filas de desfiles como Givenchy en París y Giorgio Armani en Milán. Justamente de este diseñador es su musa inspiradora. "Ella encarna a la mujer para quien diseño, por eso es la primera embajadora que elijo para una fragancia de mi marca", señala Giorgio, quien la eligió personalmente para volver a convertirse en la cara de Sì. Este Eau de Parfum sorprende por sus notas de rosa, chipre, mandarina y bergamota. Estos acordes se mezclan con fresias y grosella negra creando un jugo sofisticado, fresco y súper elegante. ¿Quién podría ser la más indicada para representar las ganas de vivir, de amar, de jugarse por la pasión, la profesión y el deseo? Sin dudas, la mismísima Cate, una de las pocas actrices de Hollywood que aúna todas esas características y muchas más.

-¿Cuántos "sí" dijiste en tu vida y con qué frecuencia?
-Tengo el hábito de decir sí, más que nada cuando me enfrento a una aventura, a la sorpresa o a nuevas oportunidades en mi carrera. El tiempo es corto, así que intento que mi vida sea lo más completa y divertida posible.

-¿Sos osada?
-Decir sí a lo desconocido contiene un riesgo y cuando una se arriesga, ya sea de manera premeditada o espontánea, algo inesperado surge. Animarse siempre conduce a cambios. ¿No es así como nosotras, como mujeres, seguimos evolucionando y creciendo? Tengo una sensación de apertura, estamos en un momento en que las mujeres ya no quieren guardarse sus éxitos y tropiezos, sino compartirlos con otras.

-¿Qué opinás de este sentimiento colaborativo entre chicas?
-Es vital. Ya no podemos esperar cambios que provengan de un statu quo, la situación que ya conocemos. Tenemos que ponerle el pecho y enfrentarlos y la única manera de hacerlo es de forma colectiva.

-¿Podrías darnos un ejemplo de distintas elecciones que hiciste en tu vida y te marcaron?
-Tomamos decisiones todos los días, pero una determinación que para mí fue vital es que desde muy joven decidí elegir el respeto propio y el respeto hacia los demás por encima de todo y más que nada de la búsqueda despiadada de metas.

-En el comercial jugás con movimientos audaces de boxeo pero, a su vez en otro de los fragmentos, decís: sí a la fragilidad, ¿qué te despierta esta dicotomía?
-En mi experiencia para ser verdaderamente fuerte y segura una debe experimentar y confrontar la debilidad y la duda. Una convive con ambos sentimientos, lo importante es que siempre nos gane el coraje y la valentía.

-¿Te gusta jugar con tu propia feminidad?
-¡Por supuesto! Mi sentido de ser mujer no es algo estático ni preestablecido va cambiando y potenciándose con el tiempo.

Un año a puro desafío
Hace apenas tres meses terminó una breve temporada de teatro en Broadway. Por primera vez la australiana se animó a protagonizar la obra The Present (inspirada en una pieza de Anton Chejov) en la arteria teatral más famosa del mundo, pero puso una condición: debía ser con la compañía de teatro de Sidney que dirige su marido. Pero este no fue el único desafío que tuvo este 2017. También aceptó un papel bastante inusual para su carrera, el de la Diosa de la Muerte, la secuela de Thor: Ragnarok, de Marvel que se estrena la semana que viene en todo el mundo.

-¿Por qué decidiste dar el salto a una película de súper heroes?
-Era la oportunidad de estar en diálogo con una nueva audiencia. Interpretar a la Diosa de la muerte era una propuesta muy atractiva como para dejarla pasar. Yo también estaba emocionada de que ella iba a ser la primera villana de Marvel en ser llevada al cine. ¡Ya era hora para que las mujeres malas lleguen a la pantalla grande! (risas).

-Y para este año aún te resta el estreno de Ocean´s Eight, un thriller secuela de la ya famosa La gran estafa, pero con un elenco repleto de mujeres (Dakota Fanning, Sandra Bullock, Katie Holmes, Anna Hathaway, Mindy Kaling, entre otras… ¿cómo fue la experiencia?
-Me encantó cada segundo de la filmación. Amo muchísimo estar rodeadas de mujeres. Y más aún de chicas tan diferentes e interesantes como las del elenco. Creo que hicimos una película maravillosa. Fue apasionante.

-¿Qué rol cumple la pasión en tus decisiones actorales?
-La pasión es todo poderosa, puede servir para crear o mismo para destruir. Si uno está muy apasionado por un proyecto, creo que es mejor dejarlo en manos de otro para no arruinarlo.

Y continuando con los retos en este último trimestre aún tiene que ponerle la voz a Kaa, la serpiente de El libro de la selva en el nuevo filme Orígenes. A pesar de la madurez los papeles diversos y desafiantes están a la orden del día para esta australiana. "Me gusta probar, cambiar y también tomarme mis tiempos para crecer. Cuando salí de la escuela de interpretación, no pensaba en dedicarme al cine. Me gustaba soñar con que iba a tener una larga carrera en el teatro. Es por eso que llegó un momento en que decidí dejar la pantalla grande por un tiempo para centrarme por completo en mi compañía de dramaturgia en Australia. Muchos me decían que no iba a poder volver. No me importaba. Pensé: "A ver qué pasa". Cuantas más mujeres seamos proactivas y dinámicas en esta industria, menos sorprendente será que no nos volvamos invisibles a partir de una determinada edad", señala, quien como pope de la Meca del cine la semana pasada se refirió al caso del productor Harvey Weinstein (con quien trabajó en la película El aviador y Carol) acusado por muchas actrices de acoso laboral. "Cualquier hombre en una posición de poder o autoridad que piensa que tiene poder para amenazar, intimidar o agredir sexualmente a cualquier mujer con la que trabaja debe ser llamado a rendir cuentas. Nunca es fácil para una mujer salir adelante en estas situaciones y doy mi gran apoyo a las que se animaron a hablar", dijo mostrando su compromiso con la causa y la defensa del género. Así, es Cate. Aguda, audaz, talentosa y más común de lo que cualquiera de nosotros pudiera imaginarla.
via Luz