Hey everyone!
New project with Cate!
Cate Blanchett is the narrator of new Australian fairy tale short film called Sweet Tooth. The 22 minutes movie, set in a fictional European town in 1780, is inspired by the classic narrative of Hansel and Gretel but focusing on the untold of the wicked witch and her gingerbread house.
Sweet Tooth is directed by Shannon Ashlyn and it is also a project proudly committed to pushing for change both in front of and behind the camera in terms of gender parity in the film industry.
No release date is available at the moment. However, stay tuned!
Synopsis
Once upon a time, there were a brother and a sister called Hansel and Gretel. The children stumbled through the dark woods, lost and afraid, until they came upon a marvelous house of sugar and spice and everything nice. That is the fairy tale we know. But there are always two sides to every story.
Many moons earlier, a little girl is born to a penniless baker's maid – a baby blinded by the Red Devil's disease. Together with her little brother, she must navigate a cold world and stand up to the hardened townsfolk who dislike them. But, as time passes, the children have fewer and fewer places left to hide and must seek refuge in the forest. Out there, it will be up to them to find a home where no one will ever find them. Until, one day, there would come a brother and a sister: Hansel and Gretel.
On Cate Blanchett being part of the project:
Cate Blanchett supports emerging female filmmakers

Albert Einstein once said, 'If you want your children to be intelligent, read them fairytales. If you want them to be more intelligent, read them more fairytales!' And who better to tell you a tale of dark forests and magic beyond your wildest dreams than the inimitable Cate Blanchett?
[…]

Blanchett has unquestionably given wings to these filmmakers as they step out onto the international stage with their first film. By endorsing this story, the Australian icon has not only elevated the film in a way they hardly dared imagine until it actually happened, but she has also made a clear statement about supporting emerging female talent going forth and claiming executive roles in filmmaking, the roles which are traditionally (and therefore disproportionately) filled by men.
The week the filmmakers approached Blanchett, Dr. Blasey Ford was standing trial in the Kavanaugh hearings in the US. It never felt more timely to be courageous and to go out on a limb for the sake of women everywhere. Witch hunts are far from being a thing of the past.
To Ashlyn and Shearer, the fact that Blanchett agreed to lend her voice and profile to Sweet Tooth is proof that when women unite, anything is possible, and that magic doesn't just happen in fairy tales.

***

How did you convince Cate Blanchett to join the Sweet Tooth team?

Shannon Ashlyn: The answer is very simple: we just asked her – from the heart and with zero expectations. Mad as it sounds, we never imagined anyone else narrating, so when it finally came to it, I plucked up the courage to record a piece to camera explaining why I had written the film and why I believed its message might be something Cate may also deem important. Admittedly, it felt surreal…!
Katherine Shearer: That was the first, crucial step. But after that, it still took a lot of faith and support from the people around us to get our message to Cate. For instance, our casting agent and mentors at AFTRS really put themselves out there for us, even as first-time filmmakers. That was incredibly humbling, and we are so thankful. The fact that Cate actually agreed was – and is – a dream come true.
Teaser – Trailer
Poster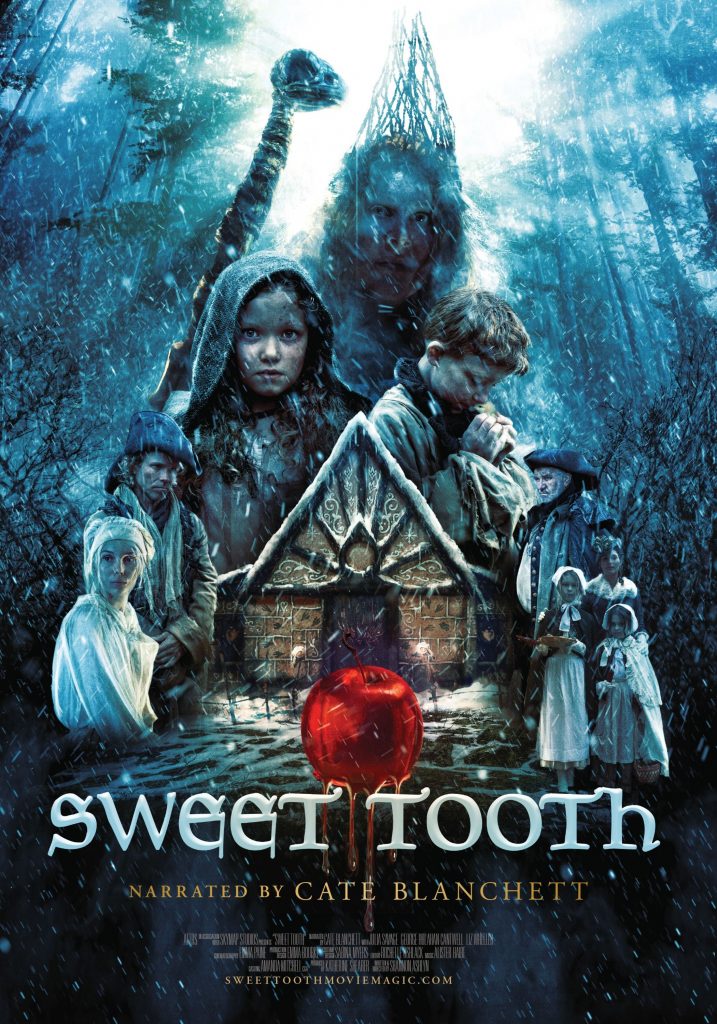 Official Website
Official Instagram
Official Facebook
IMDB
Source