Hi, everyone!
Armani Beauty is releasing a video series celebrating the craft of make-up artistry. Cate will appear in a video with her friend and long-time make-up artist, Mary Greenwell.
In film updates, Nightmare Alley will have its first confirmed screening on December 1st, 2021. And thanks to our former member admin, Mary, who found the information about Symphony of the Invisible, a documentary which featured a voiceover of Cate from Manifesto. You can click the link below to watch. Also, check the cute video of Cate that Morag Ross shared as they prepare for today's shooting for TAR.
Armani Beauty
Nightmare Alley
The December 1st screening for Nightmare Alley will be at Fox Lot – Blakeley Theatre in Los Angeles, CA. The screening for that day is already and it is for critics and industry members only. Early screenings in New York at Bryant Park Hotel Screening Room which will begin on December 2nd are also full.
#NightmareAlley incoming pic.twitter.com/dHQ8UKYUHM

— EW (@ErickWeber) November 9, 2021
Here is the official synopsis of the movie:
When charismatic but down-on-his-luck Stanton Carlisle (Bradley Cooper) endears himself to clairvoyant Zeena (Toni Collette) and her has-been mentalist husband Pete (David Strathairn) at a traveling carnival, he crafts a golden ticket to success, using this newly acquired knowledge to grift the wealthy elite of 1940s New York society. With the virtuous Molly (Rooney Mara) loyally by his side, Stanton plots to con a dangerous tycoon (Richard Jenkins) with the aid of a mysterious psychiatrist (Cate Blanchett) who might be his most formidable opponent yet.
Searchlight will also be campaigning Cate in Best Supporting Actress category, and the cast for Best Ensemble: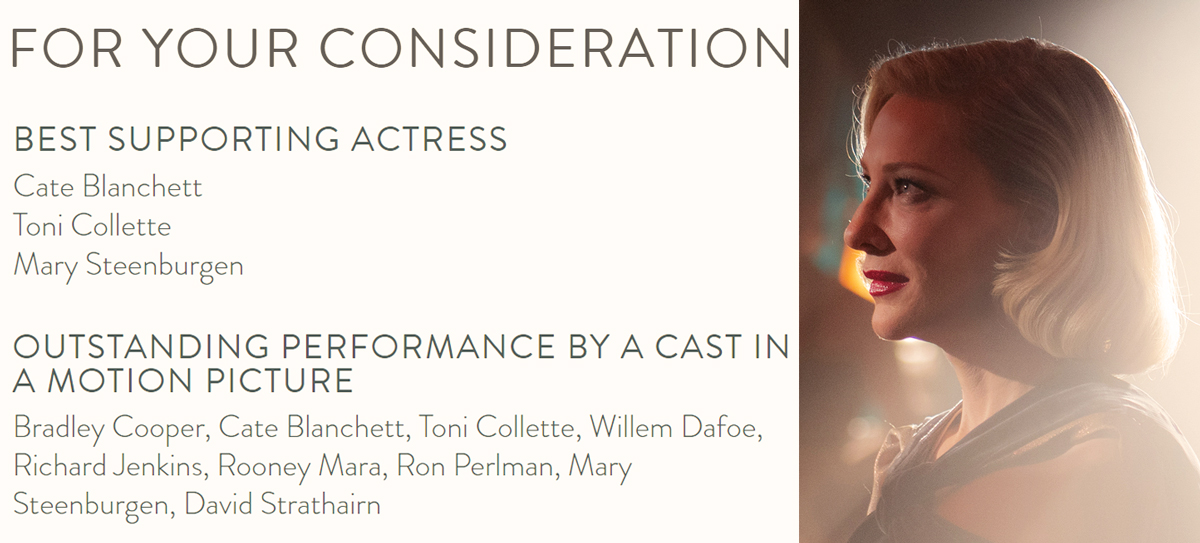 Symphony of the Invisible
"Symphony of the Invisible" is a reflection on creation and how through art, poetry and images you can break the limits that have been imposed on language and life itself.
Click the image to watch:
Source: Searchlight, FYC