Hi, Blanchetters!
Focus Features has released a bit more information on TÁR including it's release date. Nightmare Alley promotion will begin with Cate as guest on The Late Night Show with Stephen Colbert on December 1st followed by Good Morning America on December 2nd. A new clip has also been released, and a new behind the scene photo shared by still photographer, Kerry Hayes. Don't Look Up will also have a New York premiere on December 5th but it is not confirmed yet if Cate will attend. Check them below.
Todd Field's TÁR Starring Cate Blanchett Sets Release Date
Focus Features will release Todd Field's TÁR on Friday, October 7, 2022 domestically.

About TÁR

Focus Features and Universal Pictures International present TÁR. The new motion picture from three-time Academy Award® nominated filmmaker Todd Field, starring two-time Oscar-winner Cate Blanchett. The film, set in the international world of classical music, centers on Lydia Tár, widely considered one of the greatest living composer/conductors and first-ever female chief conductor of a major German orchestra. The supporting cast includes Nina Hoss, Noémie Merlant, Sophie Kauer, Julian Glover, Mark Strong, Allan Corduner, and Sylvia Flote.

The score for TÁR will be composed by Grammy-winning composer Hildur Guðnadóttir. The first female composer to win an Academy Award, Golden Globe, and BAFTA Award for Best Original Score.

TÁR's website is already up. Click the photo: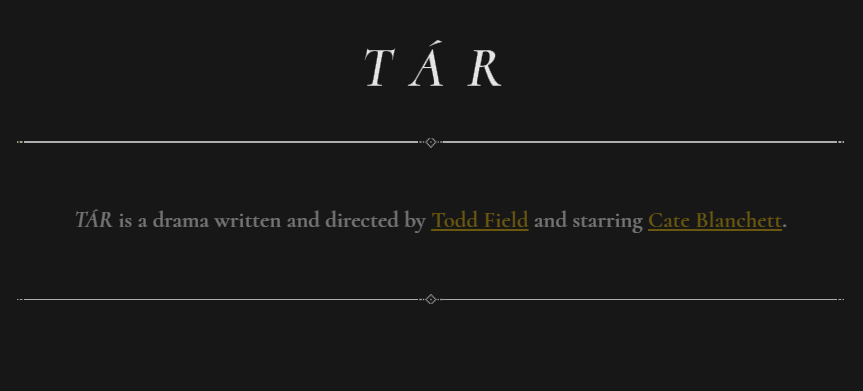 Nightmare Alley Promo
Let the Nightmare Alley promo begins! Cate will on The Late Show with Stephen Colbert which airs at 11:35 p.m. ET/PT on CBS. She will also be on Good Morning America airing from 7:00-9:00AM ET on ABC.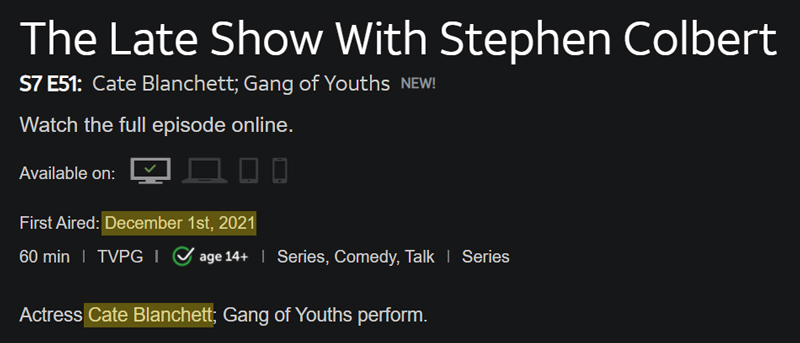 Good Morning America: Thursday, Dec. 2—Actress Cate Blanchett ("Nightmare Alley"); Deals and Steals with ABC e-commerce editor Tory Johnson; GMA's Rise and Shine tour of America: Nevada
Sometimes you don't see the line until you cross it.
NIGHTMARE ALLEY
A film by Guillermo del Toro
Only in Theaters December 17 pic.twitter.com/cHAtIPfF8I

— Nightmare Alley (@Nightmare_Alley) November 26, 2021
Publicity in NY on MTA Shuttle
Don't Look Up Premiere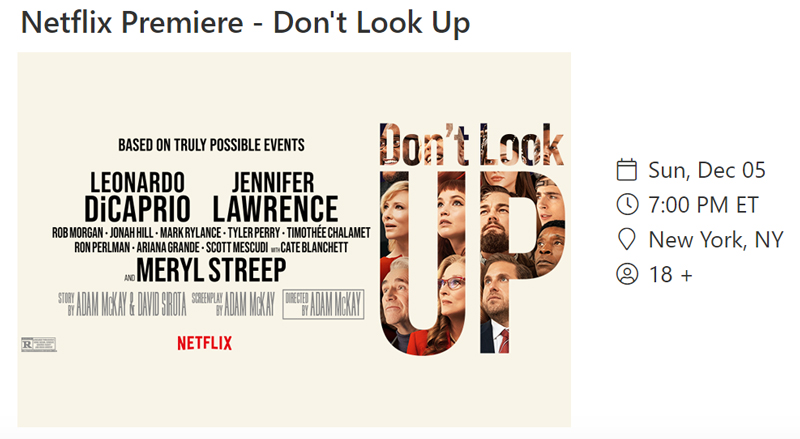 Source: Focus Features, Late Night, GMA, Don't Look Up