Hi, everyone!
The Hollywood Reporter confirmed that Cate Blanchett will be working with Guy Maddin on dramedy "Rumours" which is set to roll cameras on Monday, 9 October. Plot details are being kept under wraps. The Canadian-German production secured SAG-AFTRA Interim Agreement that allows independent productions with no direct ties to members of the Alliance of Motion Picture and Television Producers to proceed with filming amidst the ongoing actors strike in the US.
Rose Byrne shared a photo of Cate encouraging Australians to vote YES on the Voice Referendum. Cate has also shared her opinion on the referendum back in July during promotion of The New Boy. You can watch the video below.
[The Voice] is a straightforward and practical idea. The Voice to Parliament is a committee of Aboriginal and Torres Strait Islander people who can give advice to Parliament on matters that affect Indigenous communities.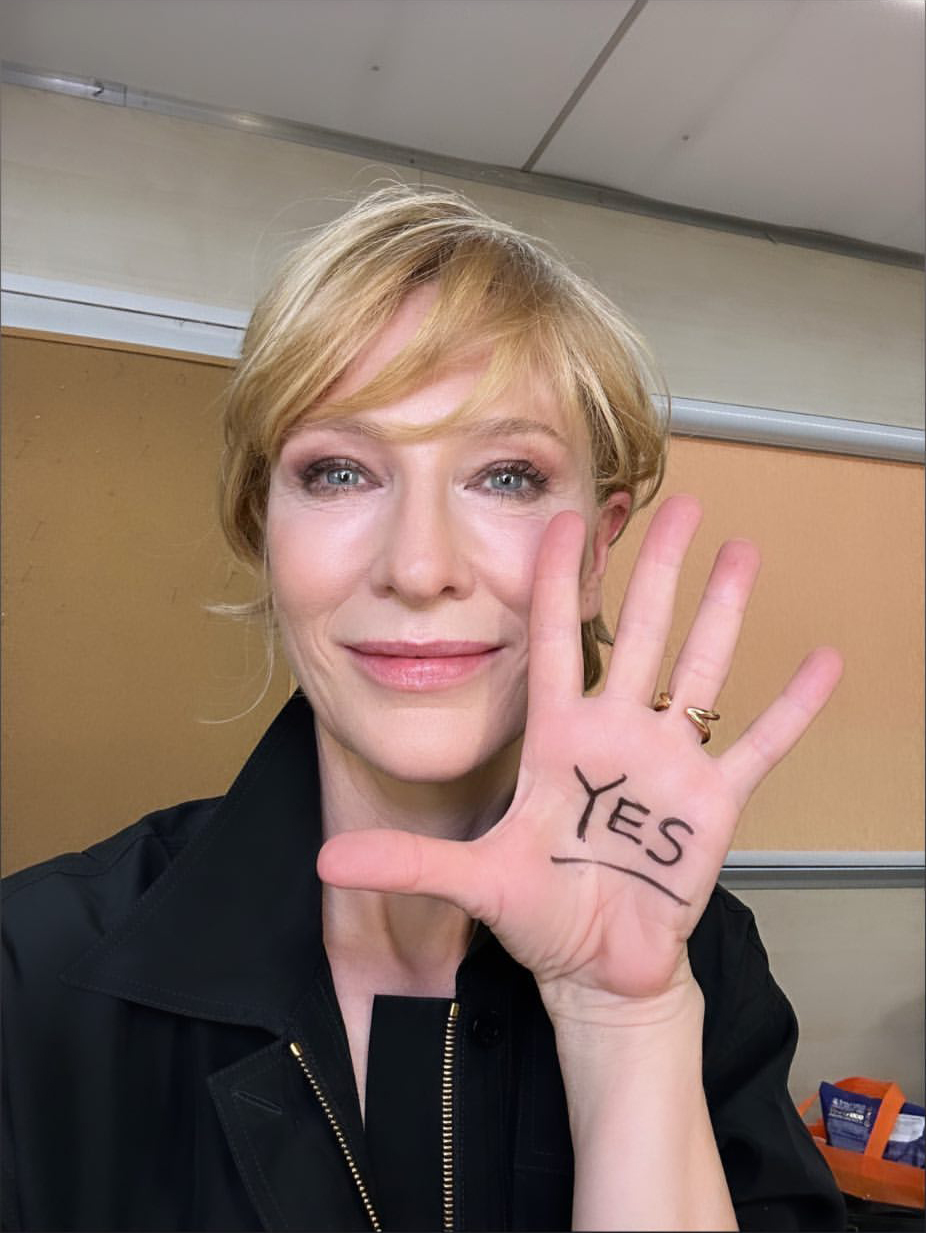 Paris Fashion Week
Cate attended the Spring/Summer 2024 show of Stella McCartney and Louis Vuitton on Monday! Cate is a friend of Stella McCartney and supported the morning show in Paris then in the afternoon she supported Louis Vuitton where she is a house ambassador. We added some photos from Alexander McQueen SS24 show on the gallery as well.
Stella McCartney Spring/Summer 2024 Show
Louis Vuitton Spring/Summer 2024 Show
Alexander McQueen Spring/Summer 2024 Show
Paris Fashion Week
Cate Blanchett talks about Sì Eau de Parfum Intense
Some of parts of the interview. Google translated from Italian to English
Is it easier for you to say yes or no?
CB: It depends on what you say yes or no to, it could be an opportunity we open ourselves up to. In any case, we must always say yes to love, friendship and, why not, also to risk.

Have you ever regretted a choice you made?
CB: Our "yes" can have consequences on the lives of others, we must be aware of what we are facing, we must not act in a vacuum.

The word "yes" is the most romantic, is she?
CB: Sometimes I'm romantic, other times very practical: I can be at the same time.

Since 2013 you have been the face of Sì Eau De Parfum. And since 2018 you have been Global Ambassador Armani Beauty. What relationship do you have with Mr. Armani?
CB: Our relationship is one of the most important from a professional point of view. The relationship began in my head even before we met, because we share the same passions, from cinema to architecture.

Perfumes have the power to bring past situations back to the surface.
CB: I also have memories linked to other versions of Sì, but the latter, with the hint of black tea and warm notes, takes me into the twilight zone, where I feel at ease. I love the first light of dawn and the twilight and Sì takes me right there.

Your beauty routine.
CB: When you wear heavy make-up on set you have to protect your skin in some way. I have always used Giorgio Armani black cream, with sunscreen.

Your face is also at Palazzo Reale, in Milan, in the shots by Luigi & Iango.
CB: I find it embarrassing to take photos, I prefer to be shot in motion, but with them it was very nice.

Your typical day.
CB: One thing I never give up is a cold bath in the morning and I also try to do gymnastics, but as a friend says, trying is lying…

A beauty secret of yours
CB: I love stretching and hanging upside down for two minutes.

An antigravity yoga?
CB: Nothing so fancy! I hang wherever it happens. I do it for the mood. When you return to the normal position you change your attitude.

You like to let go.
CB: I think it's crazy to always be in control. Sometimes letting go is the bravest thing."

Full interview here.
Source: THR