Ciao, Blanchett fans!
Cate Blanchett has been nominated for Best Lead Performance at the Independent Spirit Awards. TÁR received a total of 7 nominations. Another interview with Cate and Nina Hoss has been released, and The Late Show with Stephen Colbert aired their recent episode where Cate took The Colbert Questionert. There will be preview screenings of TÁR at Picturehouse cinemas in London on New Year's Eve, you can book tickets here. The movie will be released in the UK on January 13th 2023.
We have added the scans from Financial Times: How to Spend It on our gallery. The January 2023 issue of Empire UK magazine is out now. Cate and Todd Field were interviewed by Olly Richards, and photographed by Mary McCartney during the recording of TÁR's concept album.
#TÁR is nominated for seven #SpiritAwards, including Best Director (Todd Field), Best Lead Performance (Cate Blanchett) and Best Feature. pic.twitter.com/EX3wldyOhO

— TÁR (@tarmovie) November 22, 2022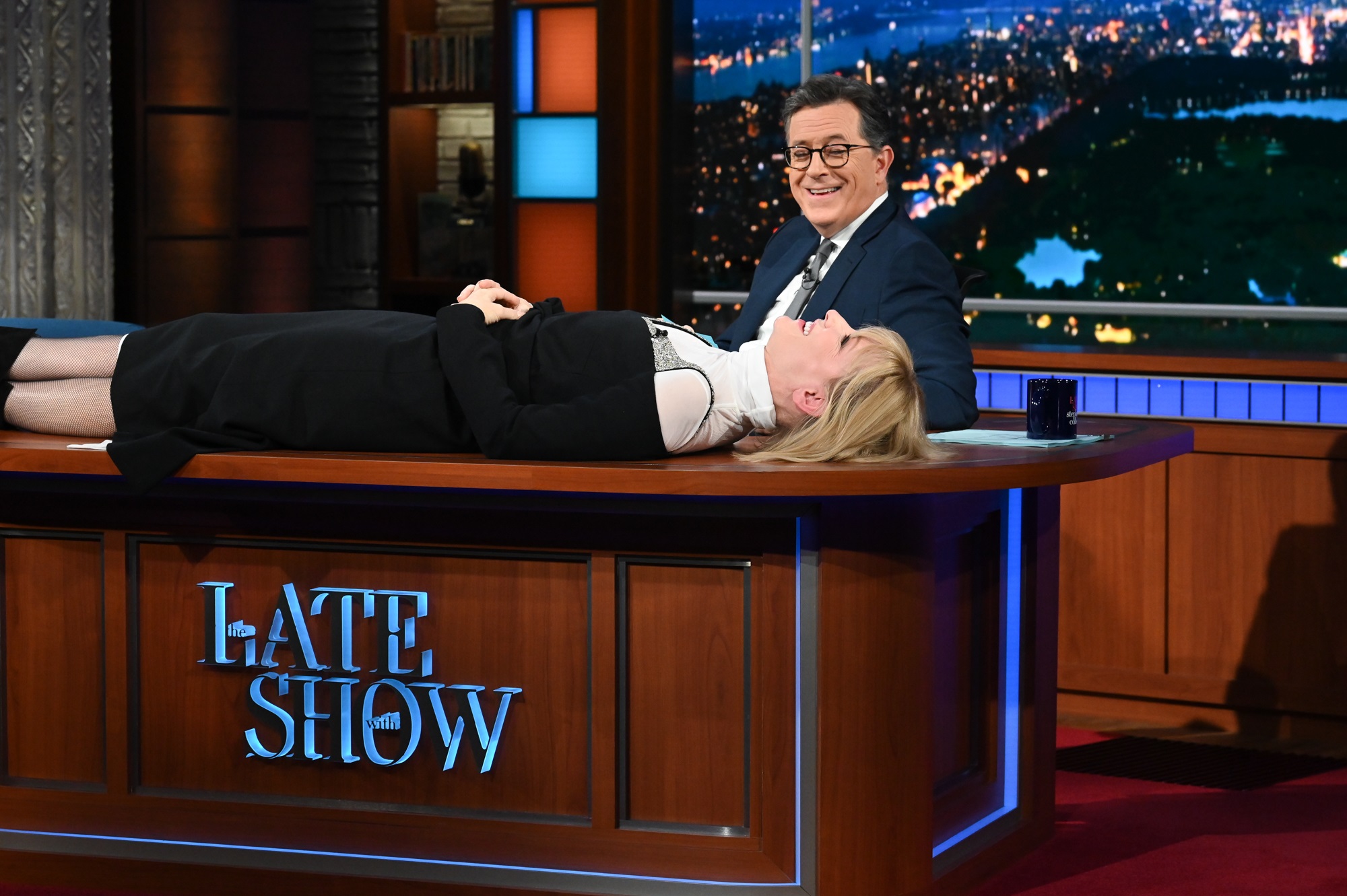 Financial Times: How to Spend It – November 19th 2022
Empire Magazine Interview
Here are some parts of the interview with Cate by Olly Richards.
If you're ever having a nice chat with Cate Blanchett and want to stop it dead in its tracks, ask her about acting.

It's like throwing a bucket of water over her. "I couldn't be less interested in talking about it," she says, slowly folding her arms as if this might deflect the question. She would rather talk about anything else. She'd like to talk about her garden (her onions are doing well). She'd like to talk about how amazing it is that we're standing about 15 metres from where The Beatles recorded (we're in Abbey Road Studios, which we'll explain later). Just please, oh God, not acting. Unfortunately, we're going to make her talk about it because, you may have noticed, she's really very good at it. And in her new film she's about the best at it she's ever been.

The list of great Cate Blanchett performances is not short. It's pretty much a list of all Cate Blanchett's performances. After 1997's Oscar and Lucinda she was talked of as a talent to watch. The next year she played Elizabeth I and showed she was a talent you couldn't tear your eyes from. So it's been ever since, The Aviator, Notes on A Scandal, Blue Jasmine, Carol. You might find some duff films on her CV, but you won't find a duff performance.

TÁR, though, sees Blanchett operating on a different level. She's ripping through layers of a complicated, troubled woman in a way that leaves you wrung out just spectating. It's like watching Whitney Houston sing or Gene Kelly dance. You know they're made of approximately all the same bits as you, but it's impossible to fathom how they've been able to put them to much more remarkable use. At 53, Blanchett is doing the most astonishing work of her career.

The reason we're at Abbey Road is because Field and Blanchett are, in a very meta move, making a concept album inspired by Tár's planned Mahler album. Blanchett is readying to conduct the Dresden Philharmonic (the orchestra in the film), who will arrive tomorrow. Their chairs are set up, expectantly awaiting orchestral bottoms. "It's all in the breath," says Blanchett, waving her hand gently in the air. "If you stop breathing, you break the communication with the orchestra, You stop thinking when you stop breathing."

She will talk about conducting for as long as you like. She spent months studying it — the right hand keeps tempo; the left instructs the orchestra — as well as learning to play the piano so well that she could interpret Bach piece in multiple ways. She likes to talk about the brilliant people who taught her things, but resist any talk of her own skills. We try to take her back to the first note of her performance. As it turns out, becoming Lydia Tár began as all Blanchett's favorite roles do: with absolute terror and confusion.

Back in 2012, Field was writing a political thriller with Joan Didion. It fell through but not before he'd spoken to Blanchett about playing the lead. She lurked at the edges of his mind for years, until in 2020 he began writing TÁR. The character kept assuming a familiar face. "I didn't tell anyone. I didn't tell the studio. They thought I was writing this about a man. I thought, 'How do I want to tell this story?' And I thought it had to be a woman… it's Cate."

He was terrified about actually asking, but sent her the script, which he never does before meeting an actor. When Blanchett received it, she was just as frightened. She had no idea what she was expected to do with this woman.

"It was mind-blowing," says Blanchett. "Because I didn't know what it was. That, for me, is the most exciting and dangerous way to start a project. Often when you read something you can admire it, but if you know exactly what it is, then you should hand it over to someone else, because it's already made in your head. I had no idea how to approach this."

Blanchett never really stops preparing. She has an iPad full of bits of characters; pages of notes, links and clips that make sense only to her but might one day become a fragment of a character's life. They might not have been assigned to a particular character when she saves them. "You never know where the key to a character lies," she says. "Sometimes its in a conversation, in a piece of music you listen to, or a gesture someone did." She laughs as she remembers one of the references for TÁR.

That iPad is a place for new characters to gestate, but also a sort of crypt for the ones who never made it. She can't bring herself to delete them. She recently found a file she'd made for Lady Marchmain in Brideshead Revisited, which she was going to make with Luca Guadagnino. "I thought, 'I should delete this, because it's not going to happen now." But I was reading it on a train and I thought, 'There are interesting thoughts. Who knows what they're going to become?'"

Blanchett loves to have her own ideas confronted. "To be in agreement all the time, to be in a room where everyone thinks the same way or speaks the same way, I'll run a mile. I think that's what's wrong with democracy at the moment. We've lost that robust townhall debate." She brings it all back neatly to music and conducting. "You can only hear harmony if you've heard discord," she says. "You've got to tune the instrument."

Blanchett has been tuning her instrument for over 25 years now. In the quarter of a century since her first movie, Paradise Road, she's racked up 60 film acting credits, not including short films or television. That's a lot. Tom Cruise only has 47 and he's been going 16 years longer. Julia Roberts has 52. Famously prolific Nicole Kidman has 68, with a 14-year head start. Blanchett gasps when we tell her the number. "Terrible!" Well, it definitely isn't terrible, but it does suggest someone who needs to work. "I do find it hard to say no," she says. "Some things I should have said no to." She never really lets herself stop working and isn't sure what she'd do if she did. "I need to develop some hobbies," she says. "But I suppose work is my hobby. Or it's a compulsion."

"I reserve the right to walk away," she says with mock imperiousness. "Everyone has a different relationship with work, but I do need to be seduced back into it." So it's not that she has a compulsion to work for the sake of work, but that she keeps getting seduced. And she likes to be seduced rather than the seducer. She still has a big list of directors she wants to work with — Ari Aster, Jane Campion, Park Chan-wook, Kelly Reichardt — but she hasn't let them know. "I'm quite shy," she says. The only one she's not shy with is Scorsese, who directed her in The Aviator. "Every time I see him I say, 'Come on. I'm not getting any younger. When are you going to make a film with a fucking woman at the centre?'" She says it so fiercely, you have to assume Scorsese is somewhere writing in a panic right now.
You can read the full interview on the scans below and you can purchase the magazine here.