Great day, Blanchetters!
Cate is on one of the covers of W Magazine's Best Performances this year. She has also received her 16th and 17th nomination from SAG (Screen Actors Guild) Awards for both Nightmare Alley and Don't Look Up. BAFTA released their longlist which includes Cate's performance in Don't Look Up in the supporting role category. We also added a behind the scene photo, still, and some scans from Nightmare Alley on our gallery. Check them below!
Critics Choice FYC
Behind the scene and still from Nightmare Alley
The Hollywood Reporter – January 12th 2022
(Beware of spoilers!)
Cate Blanchett Keeps on the Sunny Side
The plot of Guillermo del Toro's Nightmare Alley could be boiled down to a game of cat and mouse. Cate Blanchett's Lilith is hell-bent on exposing Bradley Cooper's Stan as a quack, and she sure doesn't mind taking the purported mentalist's girlfriend, played by Rooney Mara, down with him. (Suffice to say, this is not the Carol reunion we envisioned.) For W's annual Best Performances issue, Blanchett shares how starring in the film brightened her pandemic experience—along with a bit of gardening on the side.

Production on Nightmare Alley was stopped for six months during lockdown.

Yes—and that was fine. I love the project. I saw Tod Browning's Freaks at an impressionable age, and it was so full of humanity. I've always been fascinated by the circus or carnival world. I saw the original [1947] Nightmare Alley with Tyrone Power, and I loved that in the film, everything was a game. [In this version], I play the traditional femme fatale—I draw men to their doom. But I saw my character, Lilith, as a beacon of truth in a perverted way. Someone who was able to excavate the truth from a person who did not want the truth revealed.

The film is set in the world of fortune-telling and "carny" workers. Have you ever had your fortune told?

Years ago, I played a psychic in a Sam Raimi film called The Gift. I'd never even had a reading, so I thought I should. She said some very strange things that didn't make sense at the time, including that I would have four children. Much of what she said came to pass—and here I am with four children! Part of me wanted to rush back and see her again, and part of me never wanted to see her again. [Laughs]

What were your Covid activities during the film's six-month break?

I gardened for England! Couldn't stop planting! We had a derelict greenhouse on our property that we brought back to life. I practiced the piano. And I also watched every episode of The Sopranos, which I had never seen. I can't look at a screen now—I have PTSD about watching anything at home. I want to be out: in a cinema, a concert hall, a theater, experiencing something with strangers. I miss that communal bond.

Do you think Nightmare Alley has a larger message?

Yes. The more one tries to conceal one's true nature, the more those tendencies will have an impact on your life. It's one thing to lie—it's another thing to believe your lies. (And my character reveals the truth.)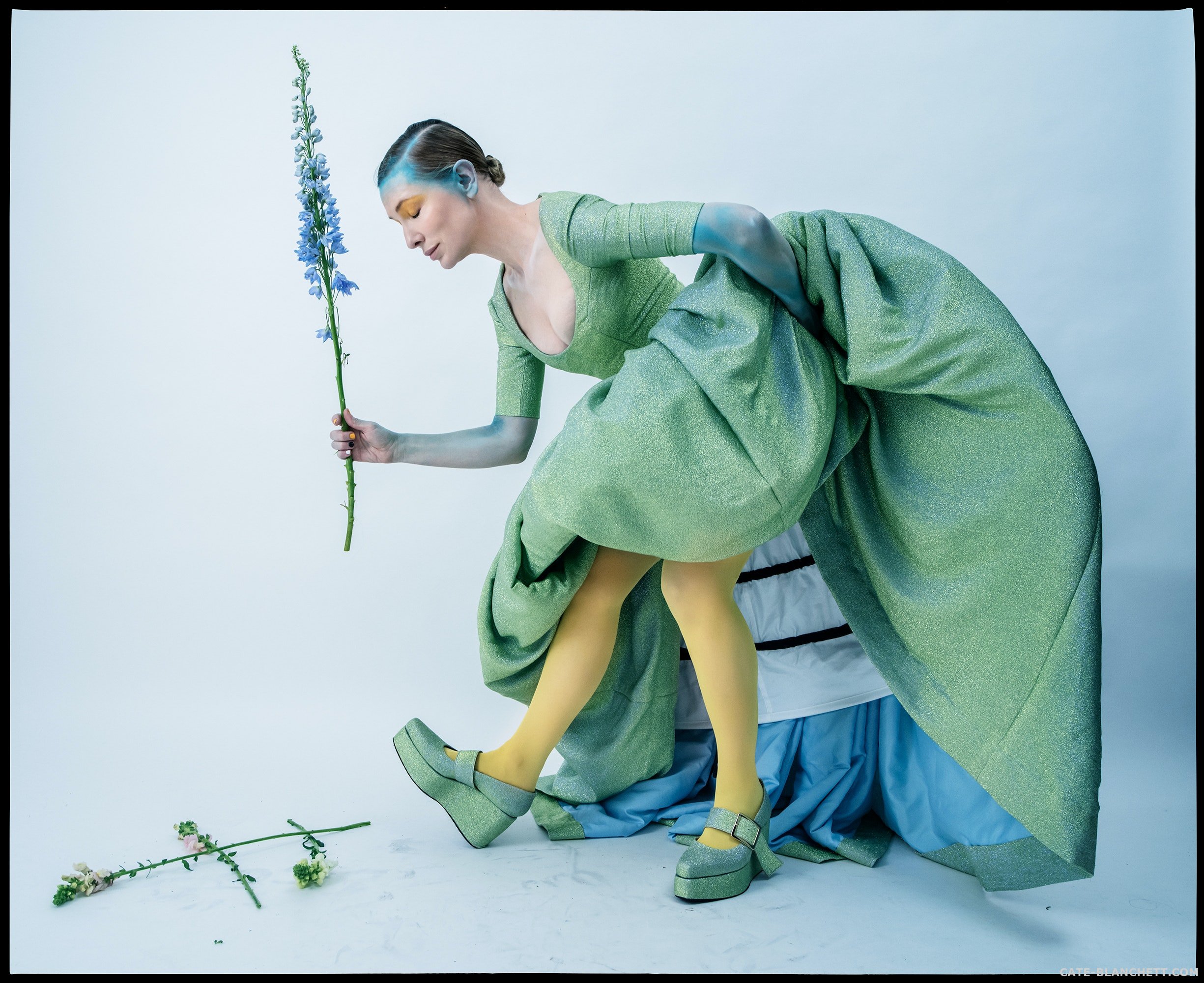 2022 EE British Academy Film Awards Longlist
Supporting Actress

15 performances will progress to Round Two of voting, and six will be nominated. To determine this longlist, in Round One the acting chapter voted; the top 12 were automatically longlisted. The remaining three places have been voted on by the Longlisting jury, who have considered the next 10 placed performances from the chapter vote. Round Two is voted on by a jury who will vote for the six nominations. In Round Three, the general voting membership will select the winner in this category. 202 performances were submitted for consideration.

Caitríona Balfe Belfast
Cate Blanchett Don't Look Up
Jessie Buckley The Lost Daughter
Ana de Armas No Time To Die
Ariana DeBose West Side Story
Ann Dowd Mass
Judi Dench Belfast
Kirsten Dunst The Power of the Dog
Aunjanue Ellis King Richard
Kathryn Hunter The Tragedy of Macbeth
Rita Moreno West Side Story
Ruth Negga Passing
Vinette Robinson Boiling Point
Meryl Streep Don't Look Up
Anya Taylor-Joy Last Night in Soho
SAG Nomination
Cate has been nominated for Outstanding Performance by an Actress in a Supporting Role (Nightmare Alley) and Outstanding Performance by a Cast in Motion Picture (Don't Look Up). She is now the most nominated actor in the ensemble category with 7 nominations and 1 win — Lord of the Rings Trilogy (won for Return of the King), The Aviator, Babel, The Curious Case of Benjamin Button, and the latest is Don't Look Up.
After going virtual last year amid the pandemic, the SAG Awards are returning to an in-person event, though this year's ceremony will be held in the spacious Santa Monica Barker Hangar and follow COVID safety protocols. The show will simulcast live on Feb. 27 on TNT and TBS on at 8 p.m. ET / 5 p.m. PT.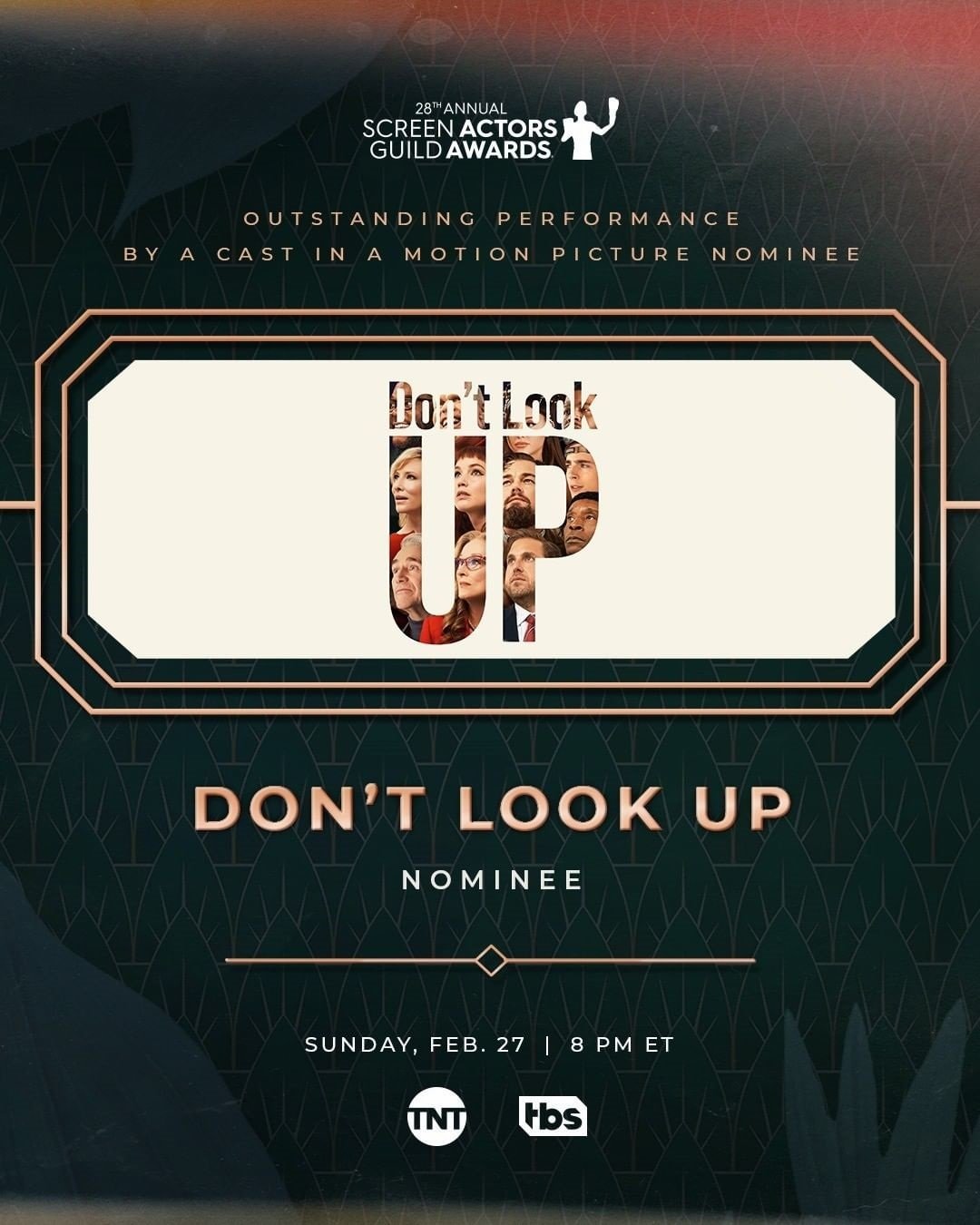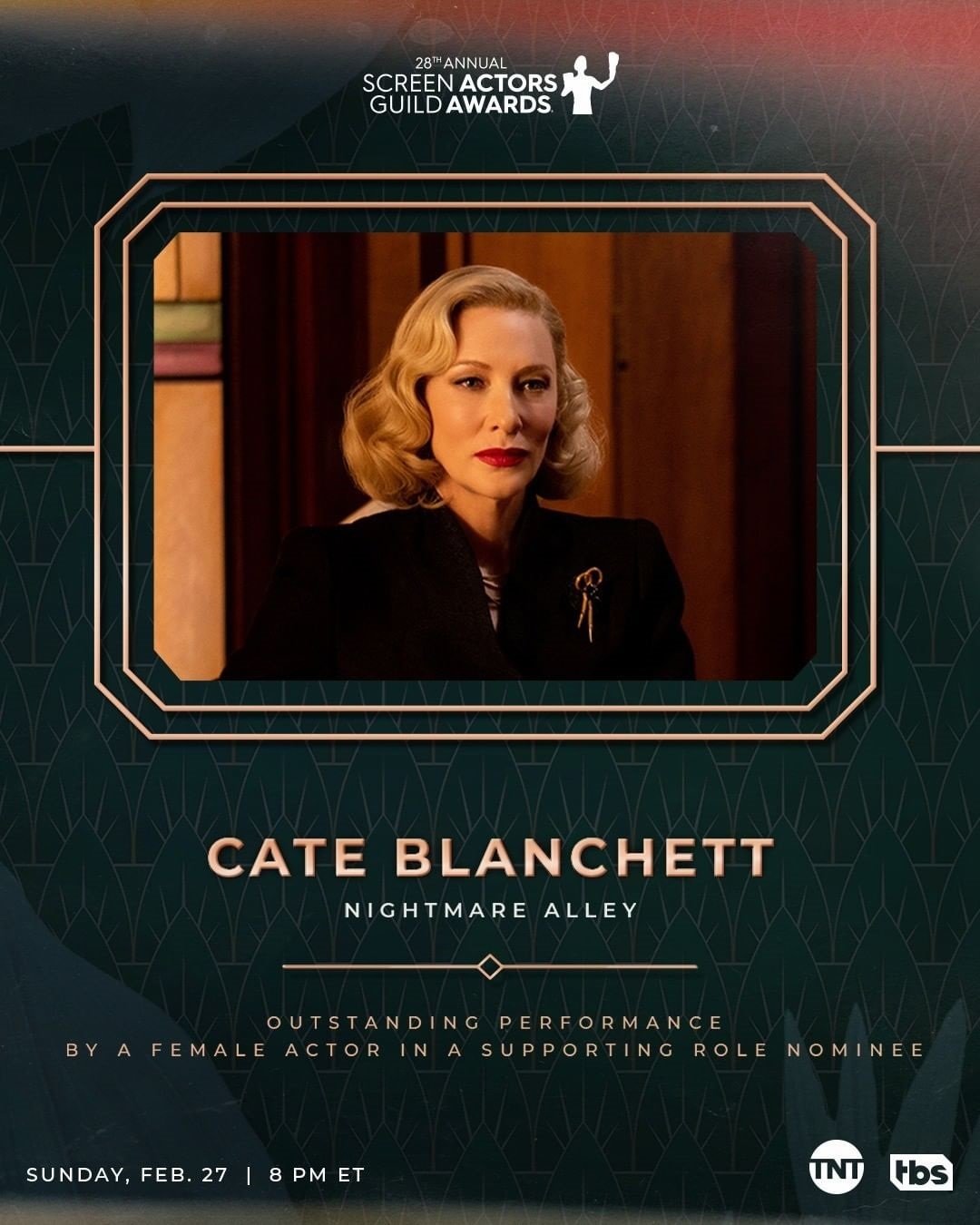 Congratulations to #NightmareAlley's Cate Blanchett on her #SAGawards nomination for BEST SUPPORTING ACTRESS! @SAGawards @RealGDT pic.twitter.com/WhFBIMahdr

— Nightmare Alley (@Nightmare_Alley) January 12, 2022
Meryl Streep & Cate Blanchett Continue Record Streaks For SAG Award Film Nominations
Overall, including TV noms, Meryl Streep counts 19 SAG nominations in her career including noms from such TV series as Big Little Lies (ensemble drama) in 2020 and a 2004 win for female lead actor in a TV movie/miniseries for HBO's Angels in America.

Cate Blanchett isn't far behind, taking her SAG nom running total to second place among all feature performers from 14 to 16 today with a supporting female actor nomination for Searchlight's Nightmare Alley and an ensemble feature cast nomination for Don't Look Up. In total for her career, including SAG nom recognition from TV roles, Blanchett counts 17 SAG nominations, tying with Allison Janney's overall count.

Blanchett won three times prior, for Film Best Female Lead Actor (2014 for Blue Jasmine), Supporting Female Actor (2005 for The Aviator) and Ensemble Feature cast (2004 for Lord of the Rings: The Return of the King).
Source: W Magazine, BAFTA, Variety, Deadline