Hola, Cate Blanchett fans! What a weekend we have!
The new episode, with Cate, of Talk Easy with Sam Fragoso has been released. You can listen below. Cate has been presented with the inaugural International Goya Award last night in Valencia, Spain. Pedro Almodóvar and Penélope Cruz presented the award. Check out the photos and videos from yesterday.
A Tea with Cate Blanchett
Goya Awards Ceremony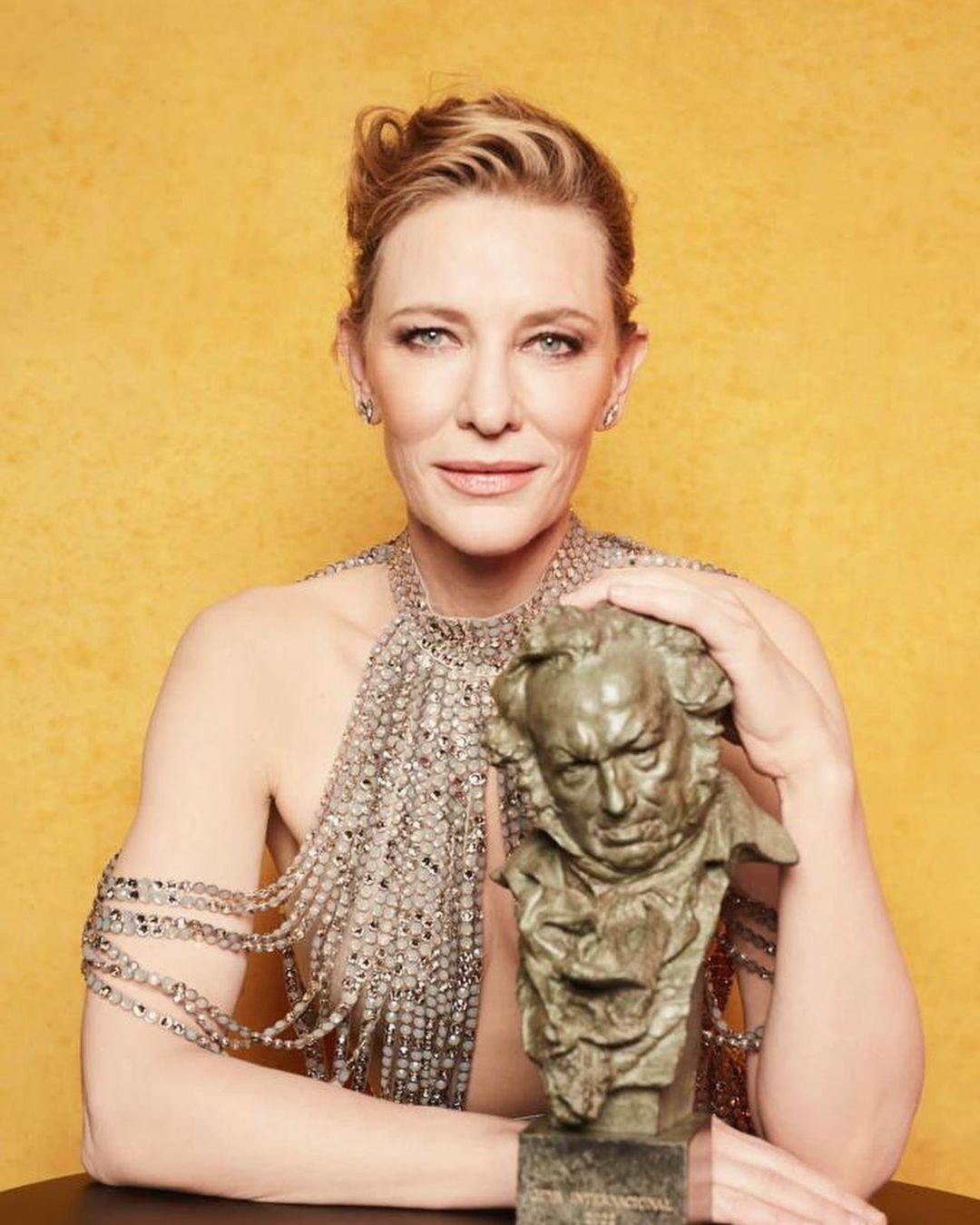 36th Goya Awards – Stage – February 12th 2022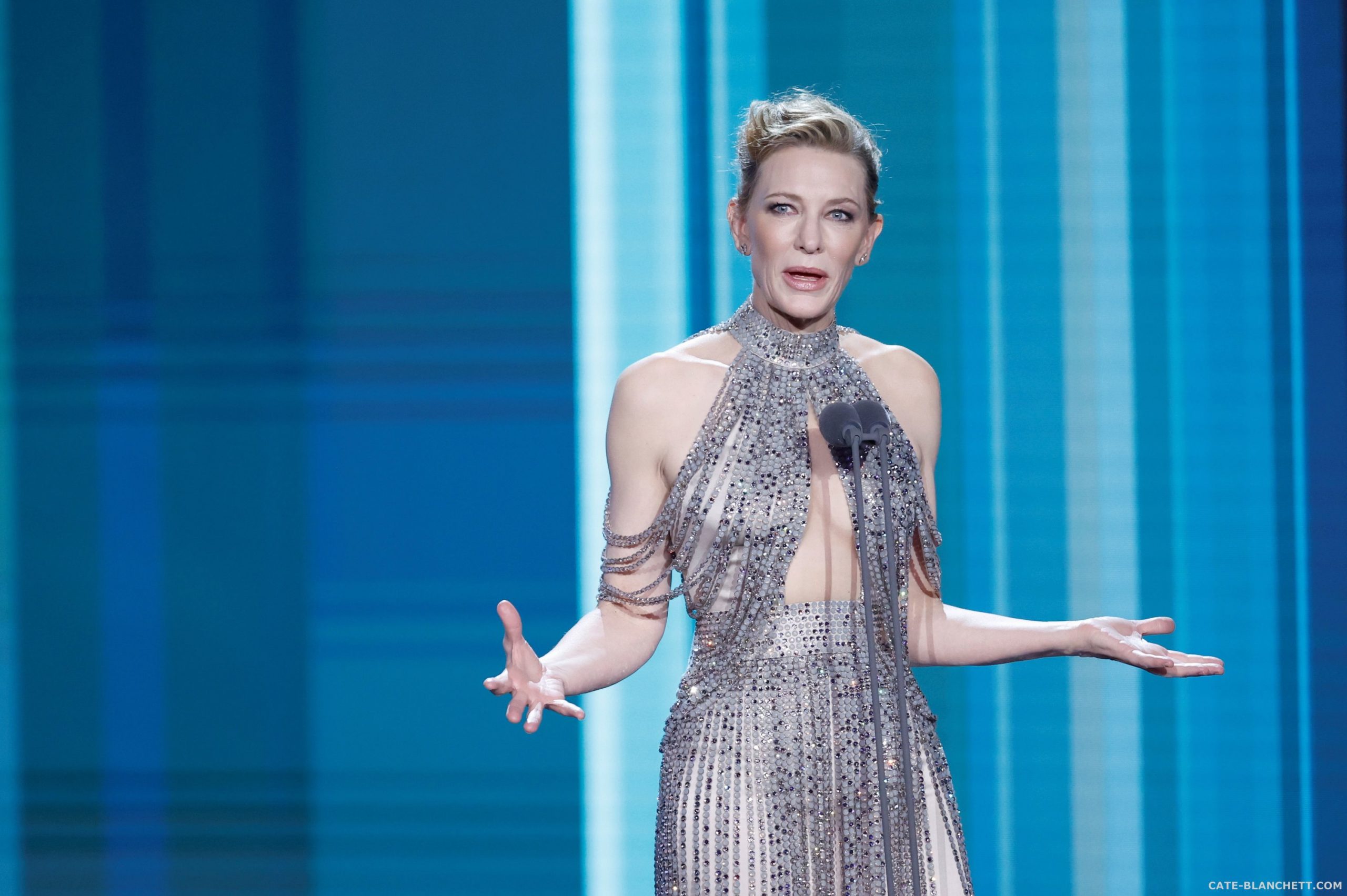 "La Academia de Cine ha creado el #Goya2022 Internacional para reconocer a personalidades que contribuyen al cine como arte"

Cate Blanchett recibe el primer Goya Internacional https://t.co/KWLB2PW9re pic.twitter.com/llbfIsqBoL

— RTVE Noticias (@rtvenoticias) February 12, 2022
Cate Blanchett recibe el primer Goya Internacional en el Palau de @LesArtsValencia #Goya2022 pic.twitter.com/0zmT5hjjpB

— Premios Goya (@PremiosGoya) February 12, 2022
Cate, Pe y Pedro.Primer momento histórico de la gala de los Goya. pic.twitter.com/tTuKiWlEnI

— Agustín Almodóvar (@AgustinAlmo) February 12, 2022
Photocall and Press Conference
Photocall
Press Con
Cate Blanchett recibirá esta noche el primer Goya Internacional.@josferlo ha charlado con la actriz horas antes de los #Goya2022https://t.co/aNlG2IlBhB pic.twitter.com/tYcd0jE1yZ

— Telediarios de TVE (@telediario_tve) February 12, 2022
Acabo de entrevistar a Cate Blanchett y me quiero casar con ella. End of tweet. Thanks @Academiadecine Thanks @PremiosGoya pic.twitter.com/Kep61YZ3Pv

— jose fernández (@josferlo) February 12, 2022
Divina Cate Blanchett #Goya2022 pic.twitter.com/utUBR0FgYk

— Magdalena Tsanis (@magdalini) February 12, 2022
Cate Blanchett, #Goya2022 internacional: "La oportunidad de estar aquí, en Valencia, con este reconocimiento de la Academia significa mucho para mí"https://t.co/1YKsdA9ocs pic.twitter.com/1dG5SxCzM6

— RTVE Noticias (@rtvenoticias) February 12, 2022
The text below is google translated but the source is linked at the end of this post.
Cate Blanchett, "speechless" for receiving the first International Goya
With a sweet "Hello!", the actress Cate Blanchett has conquered the press that was waiting for her in the hall of the Palau de les Arts de València. Many of them welcomed her to the city that hosts, for the first time, the Goya ceremony.

She, on the other hand, "does not need introductions", as Mariano Barroso, director of the Film Academy, has pointed out, who has accompanied her in the pose before the incessant shooting of the photographers. Then she, alone, elegantly, she has smiled at everyone dressed in a pink suit jacket and sneakers, before explaining that "I was speechless when they called me to tell me that they gave me the award."
Cate Blanchett: "The Academy Award means that what I do has reached a different culture and audience"
It had raised maximum expectation and did not disappoint. Cate Blanchett starred this Saturday in a massive meeting with the media a few hours before receiving at the Palau de les Arts in Valencia the International Goya Award created this year by the Film Academy to "recognize personalities who contribute to cinema as an art that unites cultures and viewers of all the world". In her case, she is also awarded for being "an actress who has played unforgettable characters that are already part of our memory and our present." The Australian actress and producer was satisfied and excited, and she thanked the Film Academy for this recognition, which represents support for her career. "I come from Australia, where we have a small but quite powerful film industry, and being in Valencia receiving an award from the Spanish Academy means a lot to me,

In a room packed with journalists, cameras and photographers, the president of the Film Academy, Mariano Barroso , opened the event by welcoming Cate Blanchett, who was very grateful for the award. "When they called me to tell me that they were going to give me the International Goya, I was speechless, because Spanish cinema has had a fundamental influence on me, not only because of the work of Almodóvar and Amenábar, but also because of all cinema spoken in Spanish" he explained.

Winner of two Oscars, for Best Leading Actress for Woody Allen 's Blue Jasmine , and Best Supporting Actress for Martin Scorsese 's The Aviator. .In addition to three Golden Globes, three BAFTAs and three Screen Actors Guild Awards, Blanchett is one of the greatest talents in world cinema today. Some awards that represent recognition of his professional career. "I am old enough to say that I have a career, and I hope that it will continue to advance and take me in multiple directions. The creative path is full of deviations, it is not a straight line. If one decides to make applause the objective of the experience and ignore what work is, one is making a mistake. When you make a movie, a play, a book, how the audience is going to receive it is completely out of your control."

Project with Almodovar

The actor spoke with enthusiasm about her upcoming projects, among which is Manual for cleaning women , by Pedro Almodóvar, an adaptation of the book by Lucía Berlín produced by El Deseo and Dirty Films, a company of which she is the founder and director together with Andrew Upton(with whom he chaired and artistically directed the Sydney Theater Company from 2008 to 2014. He had words of praise and admiration for the director from La Mancha. "I have known him for 20 years and we have been talking about working together for a long time. Now we have found a project that excites us both. There was another that did not materialize because it was not the right time, but now it is, "he revealed, adding that making this adaptation "means working with a person and a film culture that I love. It has always interested me and allows me to enter Pedro's universe".

This will be Almodóvar's first film in English. "The key to working with him is that he is an excellent writer, an artist. All his cinema, everything he has created has a brutal influence. The script that he has proposed to me is unique, I had not seen something like it. Lucia Berlin's stories can be represented cinematographically in very different ways, but Pedro's point of view makes us go further, that we delve into concepts that have to do with addiction at different levels. We are going to talk about addictive relationships, but also about substance addiction, "she recounted enthusiastically.

In addition, Blanchett currently has Nightmare Alley by Guillermo del Toro which she said "generates a great story behind each character that helps you a lot."

Academies and festivals

Blanchett highlighted the important role of film academies and festivals today. "They have much more than nominees, red carpet and awards. There is work to support the industry and they are mentors in a process that has to look at the present and the future without fear. We find social movements such as Black Lives Matter or MeToo that must be understood and included. That inclusivity has to be adapted at all levels. If an academy does not understand these concepts and does not look to the future, it ends up being irrelevant, "she said bluntly.

She also referenced the damage the pandemic has done to culture. "We have all missed going to a movie theater and all these types of cultural events that allow us to share experiences with complete strangers. We have missed it in the cinema, but in the theater even more", she assured, although she acknowledged that the cinema was already "in danger" before the virus spread. "I had the hope, which I still do, that once we go out on the street we would really want to meet and we would do it in a movie theater. I don't lose it." But "we must be aware of what has happened: for 18 months we have been consuming on platforms," she said, after considering that "the works should be seen as they have been planned. When we talk about creativity we talk about great ideas. The size of the screens doesn't matter if the ideas are big". The Australian actress and producer is currently involved in the pre-production of the series Disclaimer, directed by Alfonso Cuarón for AppleTV+, in which she will star and executive produce, and has just wrapped filming on Todd Field 's TAR , which she also produces and stars in, and Guillermo del Toro's version of Pinocchio , for Netflix.
Arrival and red carpet
?? #Goya2022 | Espectacular lluïa l'actriu australiana Cate Blanchett, que aquesta nit rep el primer Premi Goya Internacional.

Entre aplaudiments, eixia per la porta de l'hotel.

?? Més informació: https://t.co/mYz9XE7zPI pic.twitter.com/LJzeswUFss

— À Punt NTC (@apuntnoticies) February 12, 2022
cate blanchett te manda saludos @Najwa_Nimri pic.twitter.com/Wj6MBSpTxH

— påu?? (@raliciasporro) February 12, 2022
Penélope Cruz, Cate Blanchett y Javier Bardem se saludan en la alfombra roja de los #Goya2022 en València. Los tres han sido galardonados con un premio Oscar. La actriz australiana tiene dos y los intérpretes españoles están nominados este año. pic.twitter.com/7xXYsv6YkA

— Miguel Vicente (@_mvicente_) February 12, 2022
¡Ya están en los #Goya2022 Cate Blanchett, que recibirá esta noche el primer Goya Internacional! pic.twitter.com/6S8o4lnTFO

— Premios Goya (@PremiosGoya) February 12, 2022
Source:
La Vanguardia
,
Premios Goya