Hi, Blanchetters!
Cate has shown her support for flood appeal telethon to help those who have been devastated by the flooding in Queensland and New South Wales, Australia. She has also given interviews to Variety and Io Donna plus a podcast interview which can be listened on Amazon Music for free and will be available on Apple and Spotify on March 14th. We've also added some magazine scans from the recent releases.
Australia Unites: Red Cross Flood Appeal 2022
Cate Blanchett shows her support for the flood appeal telethon which aims to help those who have been affected by the floods in Queensland and New South Wales.

More info on how to donate: https://t.co/o9IZOWWIqv pic.twitter.com/pFp70fnTdg

— Cate Blanchett Fan (@blanchettcom) March 12, 2022
In a rare move, tonight Seven Network, Nine Network and Network 10 will jointly present Australia Unites: Red Cross Flood Appeal to help the people and communities who have suffered from the devastating floods across Queensland and New South Wales.

All of the funds raised during the Telethon will go to people affected by the floods.

Kym Pfitzner, Australian Red Cross CEO, said: "Red Cross is delighted and grateful to join with the major TV networks to raise money for flood-affected areas. We have all seen the enormity of the flood damage across large parts of New South Wales and Queensland, and these communities now face a long and tough road to recovery.

"Everyone coming together during this telethon will help Australian Red Cross provide financial assistance to people at a time when they really need it.

"We can only give out what we raise, so we ask everyone to dig deep and really come together to support the people who have lost so much."Whenever disaster strikes, Australian Red Cross works side by side with organisations such as the St Vincent de Paul Society, The Salvation Army, Lifeline, and GIVIT to get help to where it's needed most. They do an incredible job and the Red Cross is grateful to work alongside all of them."

Donations to the Telethon will help Red Cross teams provide humanitarian support to people and communities smashed by the floods, which may include:

Enabling volunteers and staff to help with evacuation and relief centres and outreach services
Supporting people and communities to recover and build resilience to disasters

So far, 468 Red Cross emergency response team members and volunteers have provided support in 49 evacuation centres – and donations help to make that support possible.

Apart from the Telethon, Australian Red Cross has already launched a flood appeal. You can donate to it now at redcross.org.au/floodsappeal or by calling 1800 733 276.

Tonight's Telethon will also be highlighting the great work from organisations such as the Foodbank, Rotary, Good Food 360, Koori Mail Flood Appeal, and Rural Aid.

7:30pm AEDT tonight on Seven, Nine and 10 (7plus, 9Now, 10Play)*
* check local guides.
This is a Google translated interview
Cate Blanchett: "The time has come to banish fears and face reality"
Oscar-winning actress, Cate Blanchett, just made two films about greed and selfishness. But she is preparing to celebrate "what unites us". She is ironic and a bit philosophical, for the directors she has the energy of "a 12-year-old bad boy". And here she tells us how she faces life on this complicated planet every day.
Six in the morning in Los Angeles, early afternoon in England: Cate Blanchett calls me from her "manor", the manor house in East Sussex – once home to Sherlock Holmes creator Arthur Conan Doyle – where she lives with her children Dashiell, 20 years old , Roman, 17, Ignatius, 13, little Edith of 7 and husband Andrew Upton. We have had several encounters in recent years, in person, on the phone, during photo shoots or at international festivals, and they have been promptly animated: we discuss cinema, the conditions of immigrants, refugees (she produced the TV series Stateless) and women's wage equality, with some ironic allusion to our respective roles in Hollywood as well.
In short, each of her films becomes a reason or an excuse to pick up the thread of our discussion: "What's new in this world of ours? Is it possible to participate, to make it better for us and for future generations?". I have always spoken with Blanchett as if she were a guru, an enlightened soul: her interests range in the most diverse fields, from art to history, to economics. She is informed and curious, but she is also generous and helpful, she knows how to manage fame and success with completely unusual naturalness and spirit.
As an eclectic and courageous actress perhaps, the most acclaimed and coveted on the current international scene – she has never lost the pleasure of having fun and playing with even the slightest tones : she is there to comment on the color of my socks or the cut of a jacket, to indicate as icons of style Iris Apfel, the famous American interior designer who has passed the century of age, and Fran Lebowitz, the 70-year-old writer to whom Martin Scorsese has dedicated two works. She says: "Please remind me of the name of that extraordinary restaurant in Turin…" and then she cites the latest essay by a sociologist, that of a physicist expert on climate and the talk of an economist who studies mathematical models of productivity and wages.
The tone of the conversation today is calm, thoughtful, reflective. Two years of Covid also leave their mark on an incurable optimist like her. We have just seen the Oscar-winning actress in two films, Nightmare Alley, film noir with Bradley Cooper directed by Guillermo del Toro, and Don't Look Up, a catastrophic-political-ecological satire directed by Adam McKay. In the coming months we will see her in Tár, the story of the first female German conductor, Pinocchio, the animated film directed by del Toro, and Borderlands, based on the popular video game. A few days ago, the news came that the director Alfonso Cuaròn managed to grab her for his first series for Apple, Disclaimer, with Kevin Kline.
Good morning Cate. The last time we spoke we were at the beginning of the pandemic, singing on the balconies and switching from one zoom to another with friends and family. Today, after two years of forced isolation, we are all a little tired, empty. How can we find ourselves? What to rely on, who to rely on to recover strength, hope and face the world? Art and creativity have been a healthy refuge for many…
I feel exactly this emotions and feelings. But I don't think we can tell stories, read books, listen to music or walk down the street and walk in a park without thinking about what happened, and it's still happening in a global sense. Even if you don't make a film about the pandemic, that's the thing we talk about or keep quiet about. I believe the time has come to put it out of mind and celebrate what unites us. It is interesting, however, that my last two films, Nightmare Alley and Don't Look Up, instead tell precisely what separates us from one another.
Meaning what?
Both speak of our spiritual dryness, greed, selfishness, and the need to believe our own lies. In the case of Nightmare Alley, then, there is a very strong desire to ignore the truth. My truth? Let's focus instead on what unites us, otherwise everything becomes only debilitating, tiring, exhausting. Because life is exhausting.
We generally find relief in movies, in stories.
Yes, many have taken refuge in cinema and books, especially during the first months of the pandemic, but now I want to face reality. I found myself reflecting on what is important and what is not, what is broken and what must be resolved, on a personal and systemic level. We are not only experiencing the reality of the pandemic, there are other relevant movements for which we should move and intervene. Having said that, I am also convinced that films, in a period like the one we are experiencing, offer the possibility of reading and understanding reality better.
Cinema as therapy?
Of course, to recharge and forget our worries for a while, but above all to communicate with each other. If you think of the films of 1945, and after the Second World War, you find great works of art that helped to process terrible catastrophes and crises. A film like Nightmare Alley, it forces you to reflect on what it means to be corrupt: you see a man who does not respect any rules, shows no empathy or compassion of any kind and a weak social system that allows him to get away with it. Just recently I read in The Guardian an article that, to report the growth in wealth of the richest men in the world as a percentage, cited a billionaire whose wealth had increased by 1006 percent in the last 12 months, that is, by 1.3 billion a day. A financial disparity of this kind is impossible to digest, not even the most amazing film can make you forget it.
You are active in various social and environmental organizations. You now collaborate with activist Danny Kennedy on the Climate Change podcast, on Amazon. Is the climate issue the most urgent problem to face and solve today?
Ours is a complicated planet, isn't it? Everything is connected, but what is striking in the world, everywhere, is the disproportionate number of refugees due to the climate and certain political realities, and this will have a ripple effect. Insisting on protecting borders is pure folly: we need an international strategy that allows us to work together. This is my answer.
Don't you think that the world, on the other hand, is closing up and not opening up to others?
Violence is perhaps more active, but it is motivated by fear, and fear takes shape and action when the truth has flown away. I think of Bradley Cooper's character in Nightmare Alley and what happens to those who lose the sense of who he is, to situations without any underlying truth. Lies never got the human race anywhere.
You have three teenage children. How do you deal with these issues with them?
Bits and bits, sometimes with deeper conversations, often with brief hints. Taking it for granted that everything is working well doesn't lead to substantial changes, but at the same time you can't get caught up in the mud. You have to give yourself a move and move forward, with attention, respect for others, and never forgetting the sense of humor. Whatever your ideology or religion, what matters is to be human, tolerant and humble.
Immediately after Nightmare Alley you wanted to work with Guillermo del Toro again.
Yes, yes, I'll be one of the voices in his version of Pinocchio, a monkey actually (laughs). One day on the set I ask him: «When is it that we will work together again, Guillermo?». "I don't know, now I'm doing Pinocchio" … then he looks at the producer, Miles, and blurts out: "That monkey, for example… You know what, Cate, everyone has this idea of you as a great lady when in reality you are a rascal, a dirty, cheeky 12-year-old bad boy! " Yes, you see, he is someone who knows me well (laughs). I ended up in his next movie for this reason, probably (winks).
What else can you tell us about Guillermo?
If Guillermo asks me to work with him, I don't hesitate for a moment: in common we have the same love for horror, and a sort of obsession for the human animal, its unpleasant and sublime complexity. Besides, he has crazy, fantastic ideas, nothing is too much for him and he keeps a flawless sense of history. In short: his is a truly stimulating space in which to work, not counting the actors and the cast that he brings together. But do you know that thanks to him I was able to work twice with Ron Perlman? (legendary American actor, favorite of John Frankenheimer and Joe Dante, ed).
How Cate Blanchett's Dirty Films Production Company Is Making a Global Impact
Cate Blanchett, who recently appeared front of the camera in "Don't Look Up" and "Nightmare Alley," has been busy behind the scenes developing film and TV projects through the Dirty Films banner she co-founded with her husband, Andrew Upton.

Among those in the works: "A Manual for Cleaning Women," her first collaboration with Pedro Almodóvar in his English-language debut; Indigenous Australian filmmaker Warwick Thornton's "The New Boy"; and the Apple TV Plus series "Disclaimer" from Alfonso Cuarón.

Blanchett will star in each in addition to producing, building on her résumé of dual credits that includes "Carol," "Stateless" and "Mrs. America." Similar to how she chooses acting roles, the Dirty Films team (which also includes Coco Francini and Georgie Pym) takes a "filmmaker-driven" approach.

"No matter the budget or the genre, films are born out of interesting conversations, so that's where we begin," Blanchett tells Variety over the phone, chalking up the company's "incredibly eclectic" selections to its principals' Australian heritage.

"It's a small country in terms of population, but we individually punch above our cultural weight, because we have such a mix of cultural influences, in a great way — also in a painful way," she explains, alluding to the country's birth by colonial invasion. "We have a very interesting perspective on the world."

For her, the appeal of producing is less about finding a role to perform than about having a creative stake in the project.

"People often assume that when you have a production company, you are simply trying to develop materials for yourself. Sometimes that's the case, and you do need to be in something," Blanchett says, pointing to the "Stateless" as an example. The two-time Oscar-winner appeared in all six episodes of the miniseries that ultimately landed at Netflix. "I knew that I had to be in it in some way because of the material. No one wanted to make a project that was ostensibly about refugees and asylum seekers."

Among other accolades, the drama earned 13 awards from the Australian Academy of Cinema and Television Arts. But she's also found that an actor's ability to work behind the scenes can be underestimated.

"Oftentimes, people think, as an actor, that you don't have that perspective on the whole thing — that you don't understand how a film is put together," she observes. "After years and years and years of doing this, it's not just sitting in your trailer, waiting for your hair and makeup call."

Pointing to her contemporaries who also produce — including her Oscar-nominated "Nightmare Alley" producer and co-star Bradley Cooper, Matt Damon, Leonardo DiCaprio, and Reese Witherspoon — she adds, "You get involved in a project because you're interested in the whole thing."

"You're involved from soup to nuts; you're invested in that experience," Blanchett explains. "So you get to understand how all of those cogs come together and you can see a way that they might be put together slightly differently, or what didn't work, because you're inside the experience. And that is what I find increasingly exciting. Acting, less and less so, frankly."

As for stepping behind the camera to direct, Blanchett acknowledges she's been "spoiled by some of the most astonishing directors of all time, so it feels like an act of hubris to think that I could or would."

But she won't count out the possibility entirely. "If it was material that took me by the short and curlies, it could happen. But just because you're opinionated, as I painfully am, doesn't mean you are a director."

Last month, Blanchett accepted the 47th annual Honorary Ce?sar award, presented by French film icon Isabelle Huppert, and became the inaugural recipient of Spain's International Goya award, given by Almodóvar and Penélope Cruz. Both prizes celebrated the actor and producer for her contributions to cinema on a global scale.

"I've known Isabelle for a while now; we're both theater animals who also work in cinema, and she's such a legend," Blanchett says, reflecting on the "huge" honor. "Penélope's work is constantly inspiring and [Cruz and Almodóvar] is a historic partnership. To be in Spain, presented by both of them, you die and go to heaven. I can't work out why [they awarded me], but I didn't say no."

In her acceptance speeches, Blanchett shared how she'd been influenced by the great cinematic artists of those countries, including Spain's Luis Buñuel and France's Robert Bresson.

"Watching a Bresson film, when I was in my early teens, it blew the back of my head off. I'd never seen anything like it," she recalls. "There's so many Russian filmmakers that have been deeply influential on me, not only working in the cinema, but also as an actor on stage. One of my favorite films this year was Sean Baker's 'Red Rocket"; Janicza Bravo's 'Zola' was profound. I consider American filmmakers 'international.'"

Beyond her own range of influences and collaborations with international filmmakers, the awards represent Dirty Films' penchant to think globally. The company is in pre-production on "Disclaimer" with Cuaro?n and will then go straight into Thornton's "The New Boy" and, later, Almodóvar's "A Manual for Cleaning Women." Also, following their partnership on the critical-acclaimed "Apples," which Dirty Films executive produced, they'll team up with filmmaker Christos Nikou again for "Fingernails."

According to Blanchett, their greatest strength as producers lies in their understanding of the creative process and "knowing where to cut corners and where that will enhance the ultimate, individual creative flourish of the product itself."

"We can all find money; but money is more difficult to come by without any creative strings attached," she says. "To find the right rhythm, the right wave, the right budget ties and the best way to film, it's not a science, it's an art."

Blanchett also credits her and Upton's time heading the Sydney Theatre Company with helping to hone their skills, particularly in reference to getting a production off the ground quickly instead of languishing in development hell.

"We have a much quicker rhythm. If we committed to an idea, we could get it on," she says and between 2008-2013, the duo produced between 19 and 20 shows a year. In 2015, they officially awoke Dirty Films from its dormancy with Todd Haynes' critically acclaimed "Carol" and it's been full steam ahead ever since.

"We want to be nimble," she explains. "There's a lot of stuff being developed that may never see the light of day. We're not into over-developing or over-committing. You can get the thing up eight years later, but you've lost the reason why [that story needed to be told]. That's something that carried from working at the theater company."

In recent years, Blanchett has headed the juries at the Cannes and Venice film festivals and relished watching the definition of "cinema" morph as boundaries between the big and small screens — as well as those between streaming and theatrical — blur.

"The streaming platforms have shaken things up," she comments, regarding the way the distribution and windowing have shifted. "We don't want them to calcify and reform and imitate the worst sides of studios in terms of monopolies, but it does mean that you don't have to think of things in terms of length."

Plus, she says, "Streaming platforms and series have kept us afloat, frankly, mentally and psychologically over the last two years."

While Blanchett believes that "big ideas happen in a cinematic form," she notes that, "There's a lot of options there in the way we think about stories, and the possibility of how we realize those narratives. The idea of making a short film or a long masterwork — those definitions are much more nebulous now. And I think that's really exciting."

Additionally, the business itself has become more international and likewise has a wider reach with its themes.

"We're finding we're much more amoeba-like in terms of cultural boundaries. That's where the cinematic arts are a real bridge between this surge of ridiculous, antiquated nationalism that's happening," Blanchett says, relating the conversation to the news of the day. "There aren't closed borders because we are all communicating. So, this rubbish that is going on in the Ukraine — this horrendous, disgusting rubbish — is totally antithetical to the way human beings are actually communicating."

The actor and producer, who is also a Global Goodwill Ambassador for UNHCR, the UN Refugee Agency, adds: "I think cinema can, through the lens of metaphor and allegory, help audiences. Without wanting to sound too pretentious, I think it can help society to comprehend and possibly make some kind of sense of issues that we all have a stake in."
SmartLess Podcast
We roll up our sleeves and get down to business with none other than Cate Blanchett. She reveals her aspirations to make cheese, Sean fans-out on Lord of the Rings, Will explains his rich history in lowered expectations, and Jason explores his elasticity challenges. Pass the honey butter; it's SmartLess.

Click the image below to listen to the podcast. This episode will be available on Apple and Spotify on March 14th.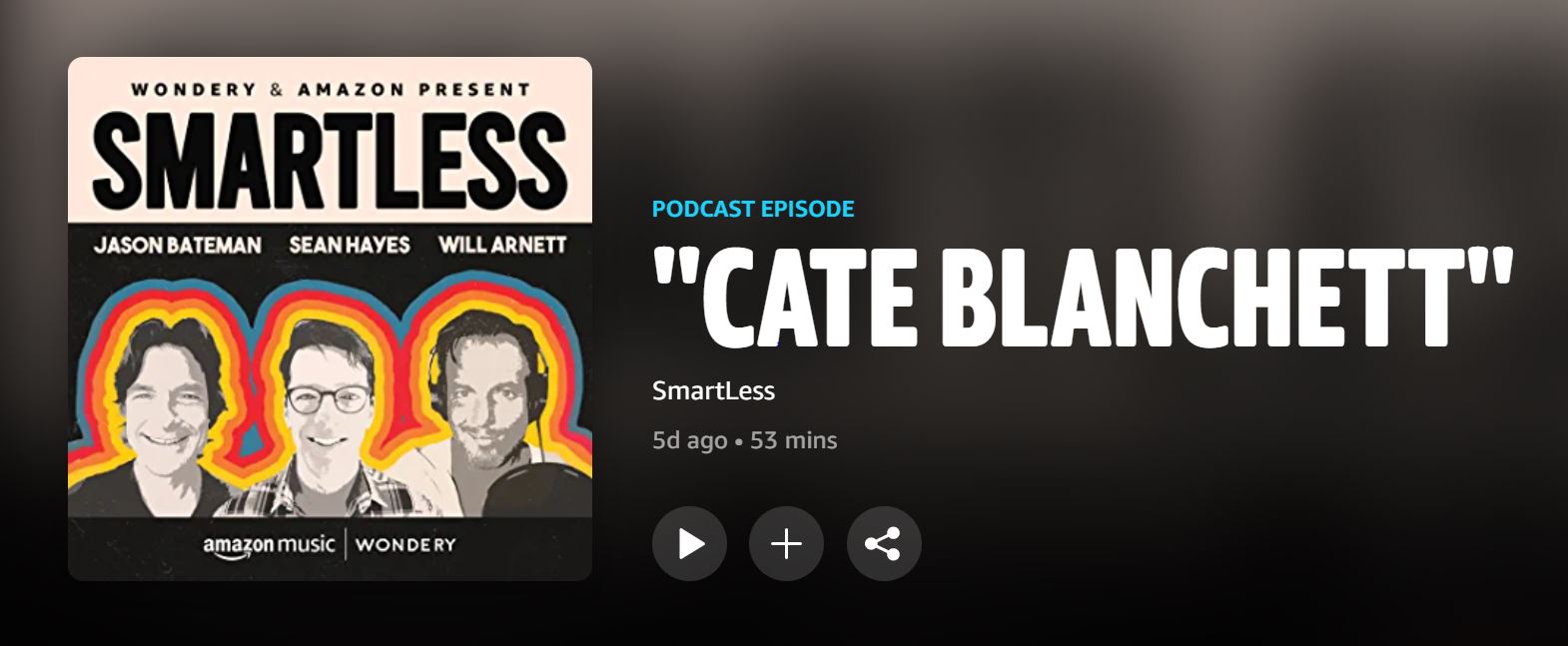 Magazine Scans
Paris Match No. 3798 – February 23rd 2022
Entertainment Weekly – March 2022
Variety -Match 9th 2022
Io Donna – March 12th 2022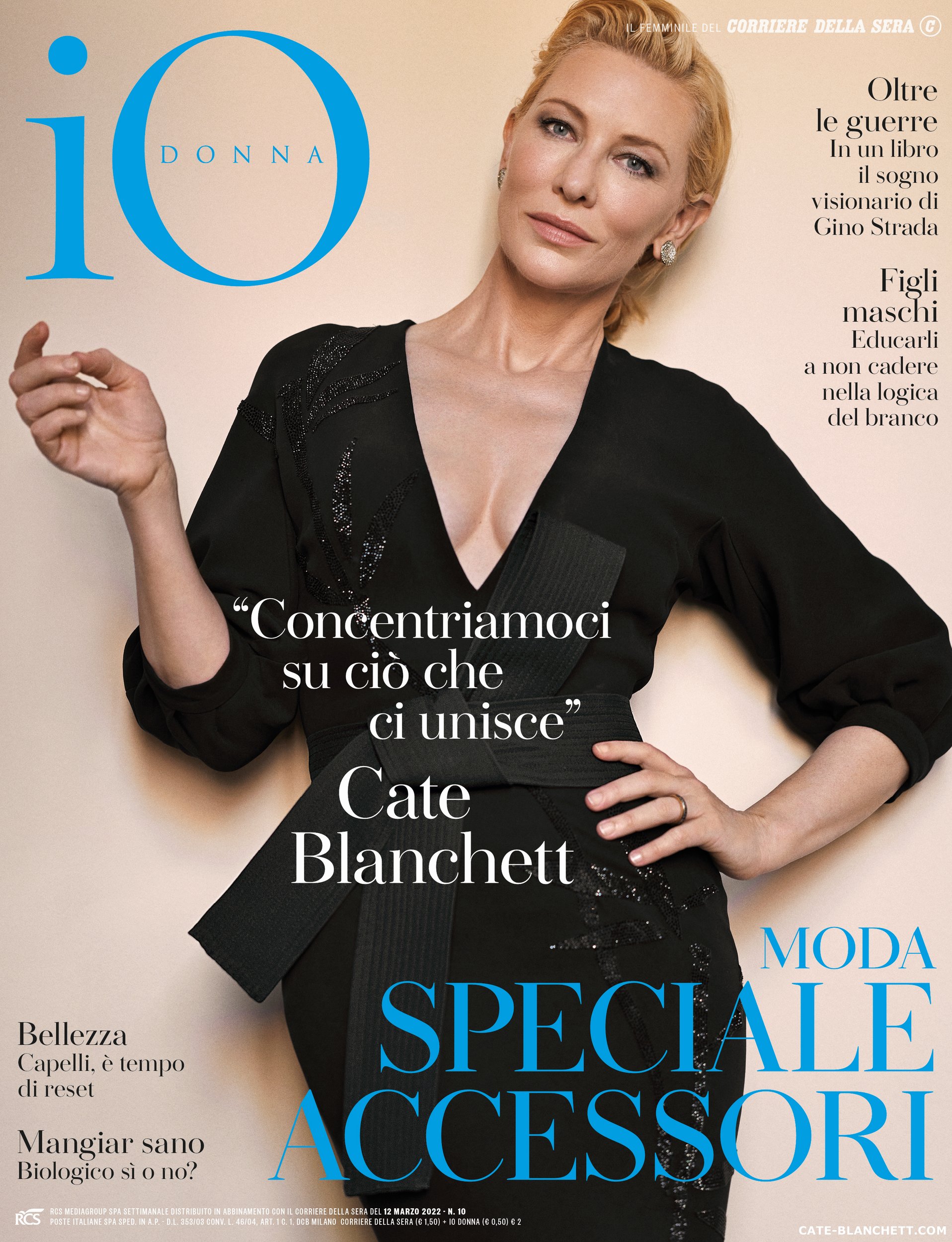 Source: IoDonna, Variety, TV Tonight