Hi, blanchetters!
We have added some photos from Chaplin Awards and there are articles released the past few days since the gala.
Cate Blanchett Honored by Film at Lincoln Center
It took Film at Lincoln Center (née Film Society of Lincoln Center) 47 years to get around to honoring "the Meryl Streep from Down Under," Australia's own chameleon-in residence, Cate Blanchett. To give you an idea of her range: not only is she able to get away with impersonating Bob Dylan and Katharine Hepburn, she gets Oscar-nominated and even an Oscar for the effort.

The Chaplin Award (named for its first recipient back in 1972) used to come with a phalanx of the honoree's name-brand co-stars, who'd introduce a group of film clips they appeared in, then retire to glitter up the after-party. Times have changed, and the celebrity count is way down.

Todd Haynes, who directed the actress to two Academy Award shots (Carol and I'm Not There, the movie that saw Blanchett's turn as Dylan), was to lead "A Conversation with Cate Blanchett" on stage, but tested positive the day of and had to cancel. Strike Two: Guest Speaker Bradley Cooper, her Nightmare Alley co-star, likewise was "not feeling well and unable to attend the festivities."

It fell (upward) to Daniel H. Stern, President of Film at Lincoln Center, to bring this brimming bad news to the Alice Tully Hall crowd. They, of course, responded en masse with a primal moan.

"I'm here!" trilled a statuesque celeb in the orchestra section. It was the evening's honoree, and the moans turned immediately and memorably into roars of delight. She proved quite enough.

Blanchett was not entirely abandoned on her big night. Several of her directors sent filmed testaments to her considerable worth. Austin filmmaker Richard Linklater, who guided her through Where'd You Go, Bernadette, took it upon himself to do The Big Reveal: that she's half-Texan, half-Australian. Her dad was a US Navy officer who settled in Australia after World War II.

Martin Scorsese admitted he didn't just love making a movie with Blanchett, he felt a bit blessed by the experience. (His movie was the Howard Hughes bio The Aviator and Cate was Kate—Hepburn.) "The role called for her to do something that I think is extraordinarily difficult, which was to take a very famous and extremely recognizable person and bring her to life as a character in our film," he said. "I found out that this was exactly the kind of challenge Cate was up for, and to watch her taking it on was really a learning experience. Did you ever see an actor who is so brave and so daring on the one hand and at the same time so confident in her ability to meet that problem head on?"

Fellow Aussies Hugh Jackman and wife Deborra-Lee Furness chimed in with cheery sentiments. "We were at drama school around the same time, and everyone was talking about Cate Blanchett," he remembered. "You were, for us, the north star—your courage, your range of the work that you do, your commitment to theater and to your community. You are extraordinary."

Such testimonials served as punctuation for the film clips that illustrated the depth and range of Blanchett's performances. After the clips had run their course, the evening went into the chat portion of the program. Co-deputy editor of FALC's Film Comment Devika Girish, having chalked up an earlier podcast with Blanchett, took on the interview duties that Haynes was to do.

The blast of Blanchett Concentrate in the film clips left the actress a little shaky. "Sorry, I'm still reeling from the reel," she said as she joined Girish on stage for the sit-down grilling.
Cate Blanchett, mask with message: "Stop bombing hospitals"
Cate was seen recently wearing a mask that says "STOP Bombing Hospitals". Last Sunday, she had moderated a Q&A for FOR SAMA — the filmmakers of this documentary are also advocating for the targeted bombing at hospitals to stop. They have started the campaign #StopBombingHospitals. You can find more information about the campaign on their official website.
April 27th 2022 marks 6 years since the brutal attack on Al Quds hospital in Aleppo – an attack you see in For Sama Film. It is on this anniversary that we are launching a global action to show solidarity with all brave medical colleagues who are saving lives under fire.

The international community has failed to hold the perpetrators of these war crimes to account. This is why Russia has been allowed to repeat these crimes over and over again – testing their war tactics over many years and now targeting healthcare facilities in Ukraine.

— Dr. Hamza al-Kateab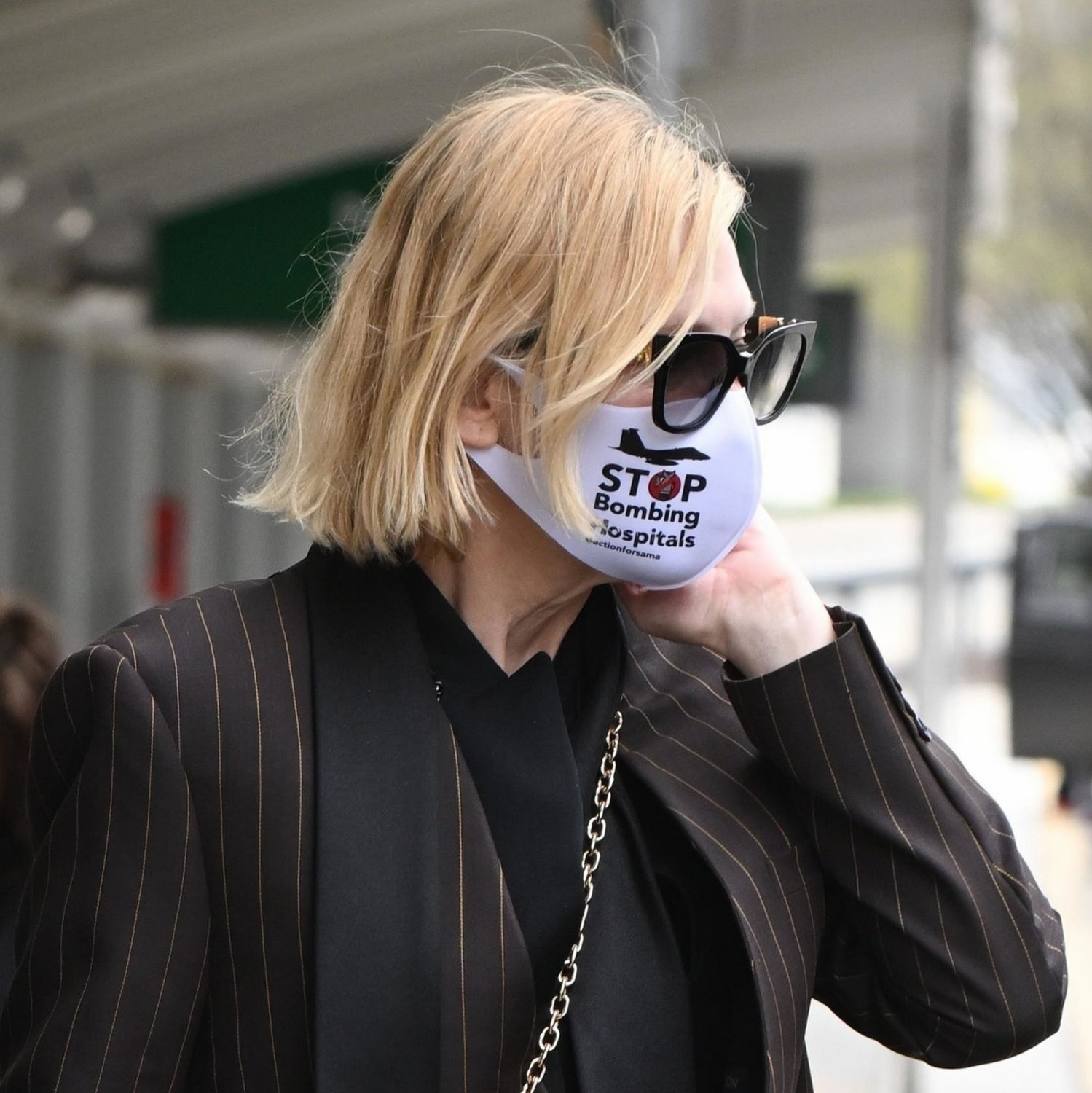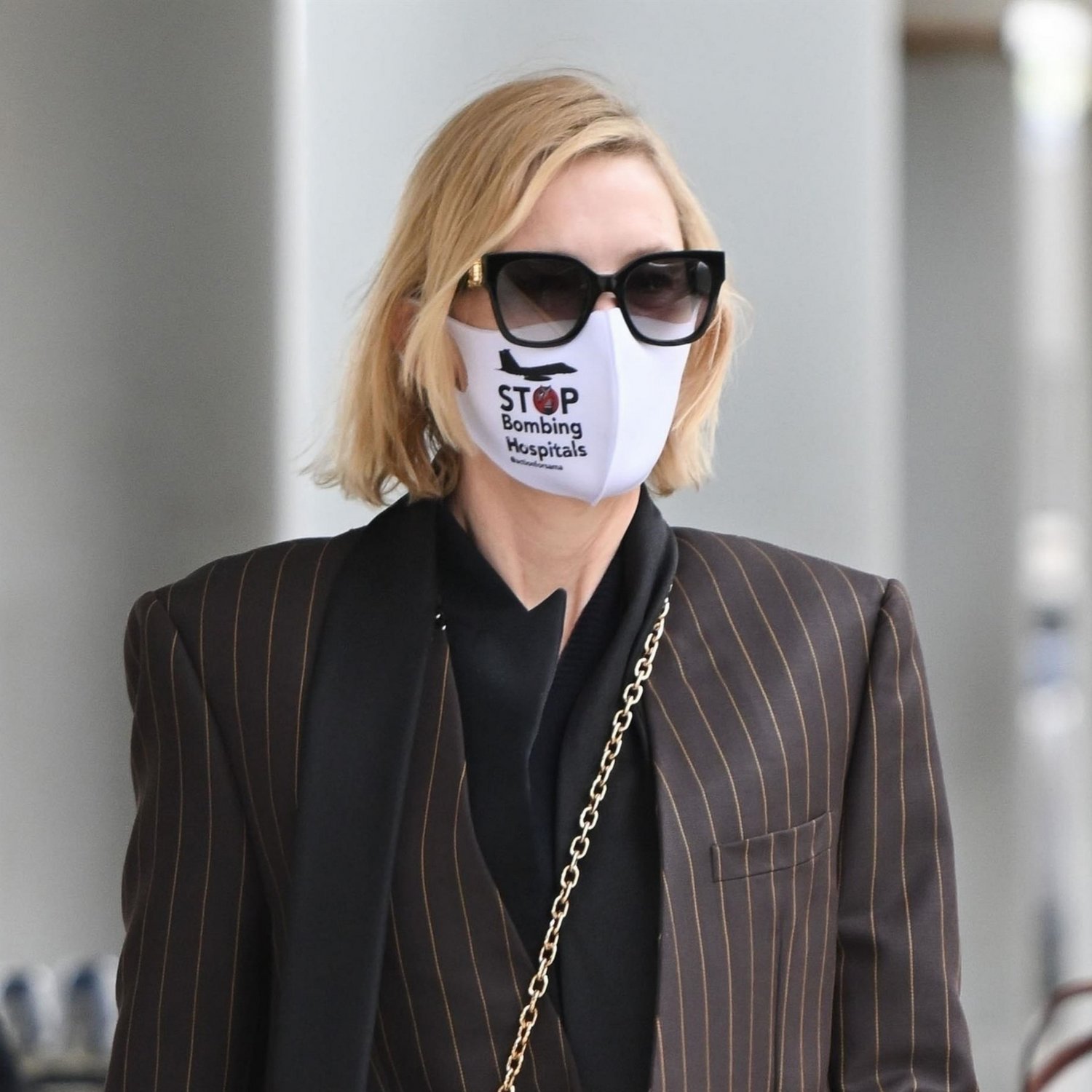 The actress was photographed at New York's JFK airport. Always, even on social media, she has been urging people to donate and help those who fled Ukraine due to the war.

The reference to the situation between Russia and Ukraine seems evident, also because Blanchett, UNHCR Goodwill Ambassador (United Nations High Commissioner for Refugees), has always expressed herself clearly on the ongoing war. "As the conflict and tragedy hit Ukraine, the world is watching," she said in a video posted on the organization's Twitter: Cate Blanchett has repeatedly called for donations to help UNHCR give life-saving aid to people fleeing Ukraine.

Her appeal did not go unheeded by the private sector which donated $200 million to help fleeing people. "Right now, all eyes in the world are on Ukraine. We stand in solidarity with people who are fleeing for their lives, whose families have been destroyed. We thank the private sector for their overwhelming generosity," Blanchett said.
Cate Blanchett's kids totally 'disinterested' in mom's fame
Cate Blanchett's kids couldn't care less that their mom is a movie star.

"They have no idea, no idea," the Australian actress told Page Six at Lincoln Center's Alice Tully Hall Monday night, where she was honored with the prestigious Chaplin Award.

"I told them, 'Oh I'm going to New York for 36 hours. I'll be back on Wednesday…' One of them is getting an award at school, and they went, 'Oh, OK, have a good time.'"

Blanchett shares four children – Dashiell, 20, Roman, 18, Ignatius, 14, and Edith, 7 – with husband Andrew Upton.

The "Don't Look Up" star, 52, told Page Six that her kids are totally "disinterested" in her fame, but "in the best possible, healthiest way."

Regardless of how her children feel, Blanchett's accolades are highly impressive and she's regarded as one of the finest actresses of her generation.

In her years in the spotlight, she's won two Oscars – for her roles in "The Aviator" and "Blue Jasmine" – and doesn't seem to be slowing down any time soon.

"I was talking to somebody about the notion of arriving somewhere and how dangerous that can be when you think you've arrived. Without wanting to sound pretentious, I think it's about a process of constantly becoming, like there's a flow to it," she told us.

"Every time someone wins an Oscar, there are five or six, maybe 15 other people who were equally deserving. It just happens to be your timing," she continued.

"But, you know, not being from this filmmaking culture, and being recognized by this filmmaking culture tonight at the Chaplin Awards – such an international set of previous recipients – it's such a deep and profound honor."
Film at Lincoln Center Tributes Chaplin Winner Cate Blanchett
Glittering in flowing black sequins, two-time Oscar-winner Cate Blanchett, the second-youngest recipient of Film at Lincoln Center's coveted 47th Chaplin Award, was ushered to her seat at Alice Tully Hall to resounding applause. As Film at Lincoln Center president Daniel H. Stern intoned the usual litany of praise and tribute to "one of the most versatile and talented actresses working today," he eventually had to inform the crowd that the two starry presenters of the night, "Carol" filmmaker Todd Haynes ("Ooooh," groaned the audience) and "Nightmare Alley" star Bradley Cooper ("ughh," they moaned), couldn't make the event due to a direct COVID hit, in Haynes' case. Cooper was under the weather, he said. (A Searchlight source said Cooper's daughter had COVID.)

A voice pierced the darkness. "I'm here!" cried Blanchett. The audience cheered.

Over the course of the night, between videos of former winners (including Bette Davis, Barbara Stanwyck, Sidney Poitier, Alfred Hitchcock, James Stewart, Robert Altman, and Meryl Streep) and Blanchett stans like fellow-Aussie Hugh Jackman, Martin Scorsese ("The Aviator"), and Richard Linklater ("Where'd You Go, Bernadette?") who explained how Blanchett was a good ol' Texas name, Blanchett and others had fun throwing a bit of shade on Cooper.

And later, when the co-deputy editor of Film Comment, Devika Girish, gracefully took over the career interview from Haynes, Blanchett responded charmingly to the younger woman's queries about running the gamut of characters from Queen Elizabeth and Katharine Hepburn to a Middle Earth elf and Norse villain and working for directors Peter Jackson, Gillian Armstrong, Terrence Malick, Steven Soderbergh, and David Fincher. Like many actresses, it turns out that Blanchett is motivated by a combination of confidence, fear, and going with the flow. And if she'd had another career, she might have studied dance with Pina Bausch.

Finally, Blanchett loves cinema. "We have had a collective experience over the last two years to a greater or lesser degree that has been deeply, profoundly confronting," she said,  "and dealing with our situation through allegory and metaphor, which is what film is. It has been providing us with a collective catharsis. Our cinema is ripe for an enormous lift, because we want to be together in a room, we want to be experiencing something in the dark together with strangers and with friends, and being united by something that we're seeing together."

After a rough weekend, Film at Lincoln Center's Lesli Klainberg and Eugene Hernandez were relieved that the event went smoothly after scrambling to pull it together. At the end of the night, Haynes' producer Christine Vachon took on the presenting role. And at the elegant sponsor and patron black-tie dinner at Lincoln Center's David H. Koch Theatre, Vachon explained how Haynes arrived from Portland, Oregon not feeling at all well. She got him tested, and sure enough, he was positive.

As for Blanchett, these days she just rolls with the punches, she told me, as she looks forward to getting back to work in London on Alfonso Cuaron's Apple TV+ mini-series "Disclaimer," about television documentary journalist Catherine Ravenscroft, in which she and Sacha Baron Cohen play the parents of Kodi Smit-McPhee.
Cate Blanchett Says Elon Musk's Twitter Takeover Is 'Very Dangerous'
Director Adam McKay's Netflix film "Don't Look Up," which starred Leonardo DiCaprio, Jennifer Lawrence, Meryl Streep, Cate Blanchett, Mark Rylance and more A-listers, made a splash last winter for how the dark, political comedy eerily mirrored real life. The film tackled issues of climate change and media misinformation, and one fictional tech billionaire character hit even closer to home after Elon Musk and Twitter agreed to a $44 billion deal on Monday.

"It's dangerous," Blanchett told Variety about Musk's Twitter takeover, at the Chaplin Award Gala in New York on Monday. "That's all I have to say, it's very, very dangerous."

Rylance's character, Peter Isherwell, an eccentric tech CEO who profits off a comet hurtling toward Earth, was based partly on Musk, Jeff Bezos, Mark Zuckerberg and Steve Jobs. In "Don't Look Up," the comet becomes a politicized and misinformed issue, as Isherwell helps spin the catastrophe into a cash-grab and job-creating scheme that picks up widespread support. After Musk's shocking Twitter deal, the "Don't Look Up" character seems even more ripped from the headlines.

"I think the future is often imagined in the mind of the artist," Blanchett told Variety. "Adam wrote this well and truly pre-pandemic. It was really interesting to see how much meaning an audience brings to a work. If the audience viewed the same script, the same story performed in exactly the same way, pre-pandemic, it would've been a very different response to the takeaway than the audience has now. That speaks to the power of the zeitgeist and the times in which we live."

In "Don't Look Up," Blanchett played a talk-show host who dismissed the urgency of the comet disaster live on air. Earlier this month, a "Good Morning Britain" interview went viral after the TV anchor downplayed a climate activist's serious concerns about the world's growing oil use.

The Oscar best picture-nominated film was one of many on display at the 47th Chaplin Award Gala, where Blanchett was being honored. The two-time Academy Award winner became the second-youngest recipient of the Chaplin Award. Past honorees include Spike Lee, Helen Mirren, Robert De Niro, Morgan Freeman, Streep, Tom Hanks and other film icons.

The Lincoln Center celebration included several montages of Blanchett's work, including "Blue Jasmine," "The Aviator," "Carol," "Elizabeth: The Golden Age," "Thor: Ragnarok," "Lord of the Rings," "Nightmare Alley" and more. There were also video tributes from some of her directors and collaborators, like Martin Scorsese, Hugh Jackman, Richard Linklater and James Gray.

However, the celebration was not without a few hitches; presenters Todd Haynes and Bradley Cooper were unable to attend, as planned. Haynes, who directed Blanchett in "Carol," tested positive for COVID on Monday morning, and Cooper, her "Nightmare Alley" co-star, was "not feeling well," Film at Lincoln Center chair Dan Stern announced at the beginning of the ceremony. Blanchett was quick to poke fun at Cooper's absence.

"There's a few empty seats there; there's a few people who either didn't want to come up and said they had COVID or actually really had COVID — Bradley!" Blanchett joked. During her acceptance speech, she went after her co-star again. "I want to thank all those people who've been paid to say such wonderful things about me this evening. And to all of those who offered to be here, but couldn't due to contracting COVID — rest up — or laziness, whatever."
Sources: The Observer, Corriere, Page Six, Indiewire, Variety