Ciao!
Cate Blanchett is featured on the cover of Financial Times' How to Spend It weekly magazine. It will available on UK newsstands this Saturday and Sunday. The latest issue of Pianist Magazine where Cate is on the cover too is out now.
Beware of spoilers!
The revelations of Cate Blanchett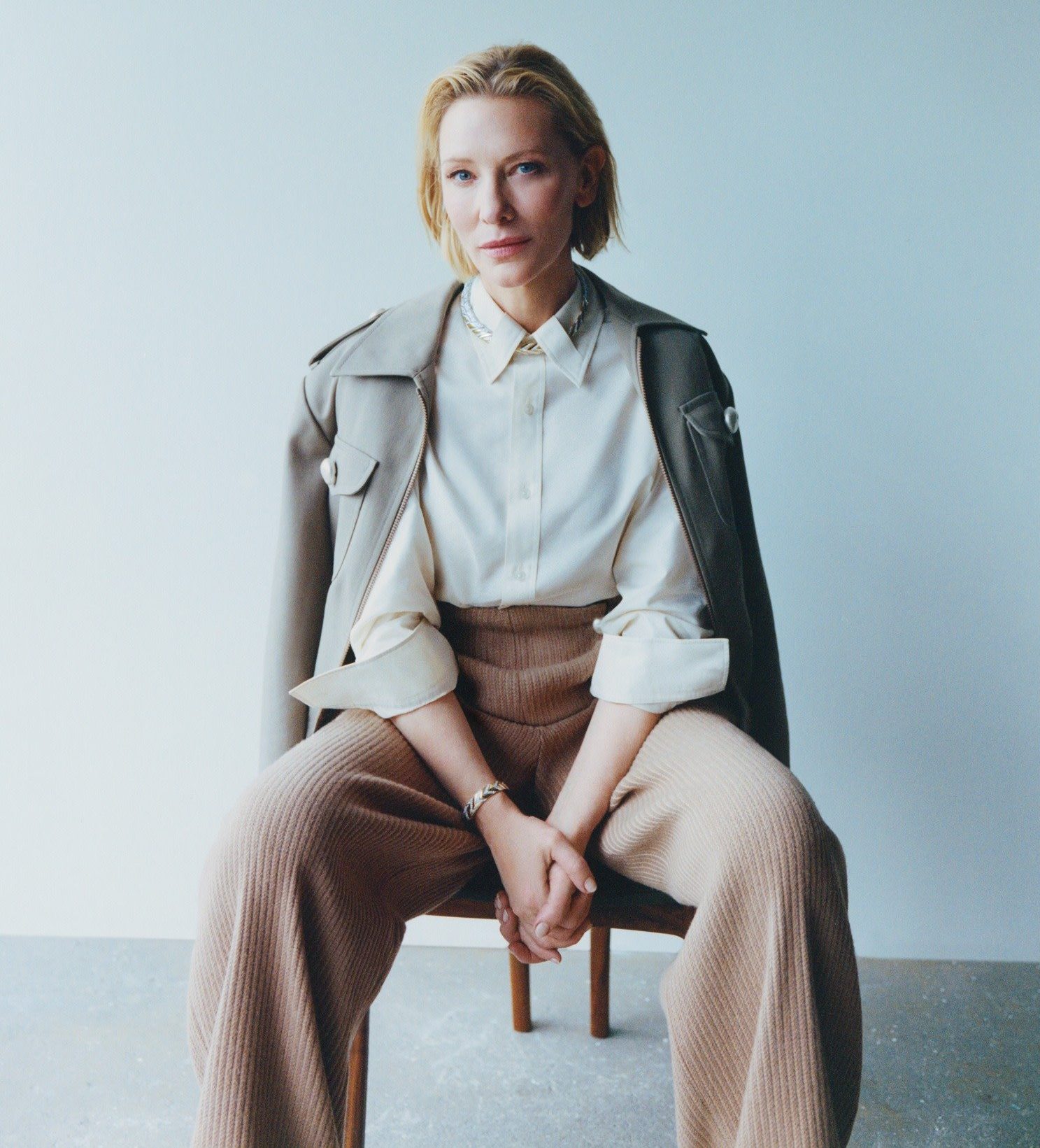 For her next role, Cate Blanchett is… "Oh God," cries the Australian actress, "I look like a vampire! I look like I'm about to play the organ!" She is sitting late one night in the study of her home in the English countryside, and it's true, the mood is gothic with a touch of eco-spiritual, with two small owl totems looming behind her. The surroundings are very dark, and more to the point, she is wearing black, pointed, thick-rimmed glasses that make the actress, one of Hollywood's most beautiful women, look like she's auditioning for a highbrow reboot of Elvira: Mistress of the Dark. Luckily, she's smiling.

Blanchett will star in two films this season, one of which has already placed her as a leading contender in the annual awards-season circuit. Tár is a virtuoso piece written and directed by Todd Field that showcases the actress as Lydia Tár, a complicated music conductor who, approaching 50 and preparing a seminal performance of Mahler's Fifth Symphony, is also careening towards a gigantic personal reckoning. It really is a showcase: Blanchett is in every single scene. "Look," she admits, "it was one of the most extraordinarily intense and revelatory experiences I have ever had."

You can read the full interview on Financial Times.
Pianist Magazine
The December 2022 and January 2023 issue of Piano Magazine is out now. You can purchase a copy here.
Cate Blanchett casts a spell over any role she takes, whether on stage or screen, indie of blockbuster. She has played a 16th-century monarch (Elizabeth), an ageless princess (Lord of the Rings), a predatory Nazi collaborator (The Good German), Katharine Hepburn (The Aviator), a British schoolteacher who has an affair with a teenage student (Notes on a Scandal), even a version of Bob Dylan, complete with big hair and sideburns (I'm Not There). In each case, she is fully them, and fully herself before our eyes.

After such a breathtaking gallery of characters, perhaps the backstage conflict, onstage triumphs, sublime highs and soul-searching lows of the music world are not so impossible a leap for Blanchett to take in her latest film, TÁR.

It comes as a no surprise to learn that Blanchett has assumed the character of Lydia Tár by dint of meticulous preparation. She has learnt how to give a convincing upbeat in font of a hundred musicians. She has also brushed up her childhood German and piano studies in order to show Tár behind the scenes, doing the hard yards of private study which make every conductor's life an essentially lonely one.

Blanchett meet two days after a private screening of Tárm in company with the film's writer, producer, and director, Todd Field.

From early on, Field had his lead role fixed in the mind's eye. 'I wrote the script for Cate,' he says. 'I've never written for an actor, ever. And I guess I painted myself into a deadly corner, because if she had said no, I' have been in a sticky situation,' he laughs. 'Tár is a very particular character, and I knew that it had to be Cate. So I was lucky: this is one of the most creative experiences I've had.' Blanchett jumps in: 'Likewise — I feel lucky too! I'd never read such a script… it was speaking a language that I did not speak, so there was a lot of research to do.'

'The music world is so insular and so hierarchical,' continues Blanchett. 'I knew I had to get to a point where you didn't need to be from, or live inside, the classical music world in order to know what the character was talking about. It's like if you watch a film about rocket scientist, it has to be about something else. That was just the language she spoke. It's masterful in that it's so specific yet so universal.' Evidently well advised, Blanchett studied masterclasses given by the Russian conducting guru Ilya Musin, looked at films of Claudio Abbado, Carlos Kleiber, Emmanuelle Haïm, and Bernard Haitink in performance, and took practical lessons with the conducting coach, Natalie Murray Beale.

Playing a pianist — and the piano

When it comes to the piano, lessons from Blanchett's Melbourne childhood were buried somewhere in the muscle memory, but they needed digging up. Again her role model was a shrewdly chosen one: 'When I started thinking about the demeanour or the deportment of what the character might be, I watched a lot of interviews with Imogen Cooper. There's no parallel between her and the character at all, or what the character says or does. It was more about her intelligence and the way that she could talk about what it is that she does – the years of work and practice that she did.'

Blanchett was filming in Budapest as she was beginning to prepare for Tár. 'I was worried because I knew I had to play these bits and pieces, and I thought, "I have to get some lessons". I was lucky to find Emese Virág, who teaches at the Liszt Academy in Budapest. She would come to see me once a week.'

At one point in the film, Tär sits down to play Bach's familiar C major Prelude. She plays it romantically at first, then more analytically in the style of Glenn Gould, and carries on a conversation, as any practised musician might. Blanchett reflects on the challenge: 'Emese taught me how to play the piece, but I also had to understand how to play Bach – the kind of freedom that the rules give you. I had to treat playing the piano like dialogue, like a language.'

'Emese would play," Blanchett continues, 'and then I'd ask, "How would you play it as if you were trying to play it like this person or that person?" She was amazing. She'd probably be horrified if she heard me!' It is, all the same, quite a feat. 'It was scary but it was also fun,' says Blanchett. 'I love an impossible challenge. And you know if you fail at it, then you fail at it. But you have to give it a go.'

Field's camera shows Blanchett's face rather than her fingers during the scene, but he insists that she is playing every note. "We had a long talk about this. I didn't focus on her hands for a reason.' He explains: 'You master something, and you want someone to see it, right? But what if you were Leonard Bernstein? Would I show his hands? No. With films of Bernstein, his Harvard lectures and so on, you see his facial expressions. You don't have to prove that he can conduct. I wanted the same for this character.'

Has her work on the film made Blanchett more fascinated with the piano? 'Oh, I have always been,' she replies. 'People who are astonishing musicians and who can do magic make me want to scream with joy. It's like when you ride a horse, you have a symbiotic relationship with the horse. By watching Emese play, I glimpsed that you become one with that instrument. It's magic.'

You can read the full article on the scans below.