Cate Blanchett is on the cover of Sunday Times Magazine. She was on Afternoons with Deborah Knight to talk about The New Boy which is out in cinemas across Australia. There are few additional photos from Sydney Q&A screening of The New Boy.
Cate has been nominated at HCA TV Awards for Best Actress in a Broadcast Network or Cable Limited Series or TV Movie for her role as Alice in Documentary Now! Season 53. She sent a message as part of the tribute to Dame Judi Dench who received the IFTA Lifetime Achievement Award.
SAG-AFTRA (Screen Actors Guild – American Federation of Television and Radio Artists) for which Cate is a member of is officially on strike. Film/TV productions, including promotions, that are part of Alliance of Motion Picture and Television Producers (AMPTP) are halted until they reach a fair deal with the studios.
The interviews below are done and released prior to SAG-AFTRA strike that began on Thursday, July 13.
The 2023 HCA TV Awards nominees for Best Actress in a Broadcast Network or Cable Limited Series or TV Movie are:

Cate Blanchett – Documentary Now!
Bel Powley – A Small Light
H.E.R. – Beauty and the Beast: A 30th Celebration
Jessica Chastain – George & Tammy#HCATVAwards… pic.twitter.com/o818lVM6Rr

— Hollywood Critics Awards (@HCAcritics) July 11, 2023
Cate Blanchett Retrospective
Few hours before SAG-AFTRA went on strike officially, Chichester International Film Festival announced that Cate is a special guest on their festival and will be taking part on a Q&A following the screening of Todd Field's 'TÁR' on August 21 as part of their Cate Blanchett Retrospective. However, this Q&A event may be cancelled because SAG-AFTRA members cannot participate in any publicity of old and new projects that are made under the TV-Theatrical Agreement. If you are planning to go to the specific event, it is best to reach out to the film festival organizers directly.
Last June 2023, Film Podium in Zurich, Switzerland also announced their own Cate Blanchett Retrospective from August to September 2023.
The New Boy interviews
The New Boy at Hayden Orpheum Picture Palace
Sunday Times Magazine
As one of Australia's greatest living actors, there are few things Cate Blanchett is yet to achieve in her career. Academy Awards? She has two, with the first coming in the best supporting actress category for her turn as Katherine Hepburn in Martin Scorcese's 2005 drama, The Aviator. She won the Oscar for best actress a few years later, for a finely nuanced performance in Woody Allen's Blue Jasmine. Despite all this, there was one thing this screen legend had yet to accomplish in her career, and it is what brought her back to Australia to make her latest film, The New Boy.

"To be honest," Blanchett confides to STM, "it was a selfish desire to work with Warwick Thornton."

Thornton might not have the brand recognition of a Spielberg, but the Indigenous director has established himself as one of the most important voices in Australian cinema. A Kaytetye man, who grew up in Alice Springs, Thornton arrived on the world stage with the release of his debut feature, Samson and Delilah, a heart-wrenchingly beautiful and bleak drama, which won the Camera d'Or prize at the 2009 Cannes Film Festival. His second feature, Sweet Country, a searing examination of justice in post-WWI Australia, was just as well received, winning the Special Jury Prize at the Venice Film Festival in 2017.

"My world view has been shifted in ways beyond articulation by the films Warwick's made," Blanchett admits. "He's a singular, mercurial filmmaker, yet there is a beguiling universality to the stories he chooses to tell. He is, quite simply, one of Australia's greats."

Unsurprisingly, the feeling was mutual, and the pair began a lengthy series of phone and video calls around the idea of working together, after a chance first meeting at the Berlin Film Festival in 2020.

What Blanchett didn't realise at that point was Thornton had a script up his sleeve, a deeply personal work he had been tinkering with for 18 years.

What would eventually become The New Boy was inspired by Thornton's own childhood, as an Indigenous kid who frequently got himself into trouble and was sent to a remote boarding school run by Spanish monks.

After years of developing his screenplay, it had evolved into a story set in the 1940s of a young boy from the desert country, who is sent against his will to be assimilated into white society at a remote monastery.

The boy, who is played in the film by newcomer Aswan Reid, doesn't know a word of English, but has something much more important — a connection to an ancient spirituality that has guided Indigenous people for tens of thousands of years. A spirituality that has existed far longer than the religious dogma he encounters at the monastery, although he quickly becomes fascinated by the chapel's precious sculpture of Christ on the cross. This fascination is juxtaposed with the faith of the top nun in this far-flung outpost, Sister Eileen, who is, in her own way, a square peg in a round hole, and played to perfection by Blanchett.

"Eileen recognises there is a spiritual power in the boy, and is curious about him," the actor explains. "But, in that moment of openness, then, just through force of habit, not because she's some malign force, she tries to fit him into the box that she understands, rather than allow her own religion to approach and find some sort of median point between the two. "So she ends up trying to sort of tame his spirituality, or force it into hers as a way of protecting him, so she thinks she's doing a positive thing, but in fact it's an incurious way of looking at his abilities and point of view."

Blanchett's Sister Eileen is a force of nature, fiercely defiant in the face of a racist, patriarchal system that would seek to hurt the Indigenous boys in her care. Yet there is a fragility there, too, which becomes more apparent as the new boy's influence slowly begins to erode the faith her worldview is based on. In that sense, one may see a similarity to another great character from Blanchett's recent past, the deeply flawed fictional composer Lydia Tar, from Todd Field's Tar.

"The issues of power and concentration of power, and what power does to individuals and groups of individuals, is in the zeitgeist at the moment," the actor says. "We're examining those systems and The New Boy is looking at it in one way, an entirely different way that Todd Field was looking at the notion of power. "I would argue that Lydia Tar was actually riddled with doubt, you know, as any artist is, no matter where they are in their careers. "But I think that (Sister Eileen) also is having a moment of spiritual doubt, and into that moment comes this extraordinary life force, and in a way she thinks might be her salvation, or be able to reignite her own faith."

Much of the film's success rests on the shoulders of Reid in his screen debut, and the 11-year-old Warakurna-Kiwirrkurra boy proves himself to be a bright talent to watch. Thornton says casting Reid was a no-brainer. "I remember when we first seen images of him, with the back of his head walking down a dirt road . . . and this lock of barley hair, and it was just completely beguiling right from the beginning," the director recalls.

As it turns out, it was a case of art imitating life. "What we did is we plucked this child out of the desert, but, rather than going to a monastery, he went to a film shoot, and we just watched him actually be the new boy," Thornton says.

"As a director, I'm kind of like the grumpy old uncle, and Cate was kind of like a mum in a way to him, so Aswan asked her all these amazing questions about, 'What does that person on set do? Why are we doing this? Why do I have to hit that mark?' and suddenly The New Boy was happening in real life."

As much as the roles Reid and Blanchett play, the landscape is also a character in Thornton's film, which is another reason the Oscar-winning actor is so eager to constantly return Down Under to ply her trade. In this instance it was the tiny town of Burra in South Australia.

"I find the Australian landscape so varied; Western Australia is an entirely different place to South Australia, as is the Victoria Desert," Blanchett says. "I always love returning here to work in these landscapes, but also with these crews and (in The New Boy) working with (actors) Deb Mailman and Wayne Blair. It was all the component parts that just made it extraordinary, and the fact that we were working in the one location, so this monastery sort of felt like our home away from home. And we took over the town of Burra, and the locals were very generous, we were all kind of in each other's pockets for the six, seven weeks that we were filming, and it was really glorious — it was one of those sort of unforgettable experiences."

Thornton talks of recognising Indigenous beliefs, and The New Boy hits cinemas as a more formal question of First Nations recognition looms over Australia: the Aboriginal and Torres Strait Islander Voice to Parliament referendum. While it may feel as though there is significant uncertainty around what the result of this referendum will be, as depressing as that is to admit, Blanchett prefers to remain hopeful that her fellow Australians will take the opportunity to acknowledge the traditional custodians of this land we all call home.

"I think that at any moment of monumental positive change, there will always be fear, because fear and excitement are very similar things, but I think there's a lot of excitement (around the Voice) as well," Blanchett says.

One thing is certain, however, and it's that movies such as The New Boy, by directors such as Warwick Thornton, have an incredibly important role to play in reshaping the nation's understanding of Indigenous culture and underscoring its importance.

And that such a movie features an actor of Blanchett's calibre only adds to the power of its message.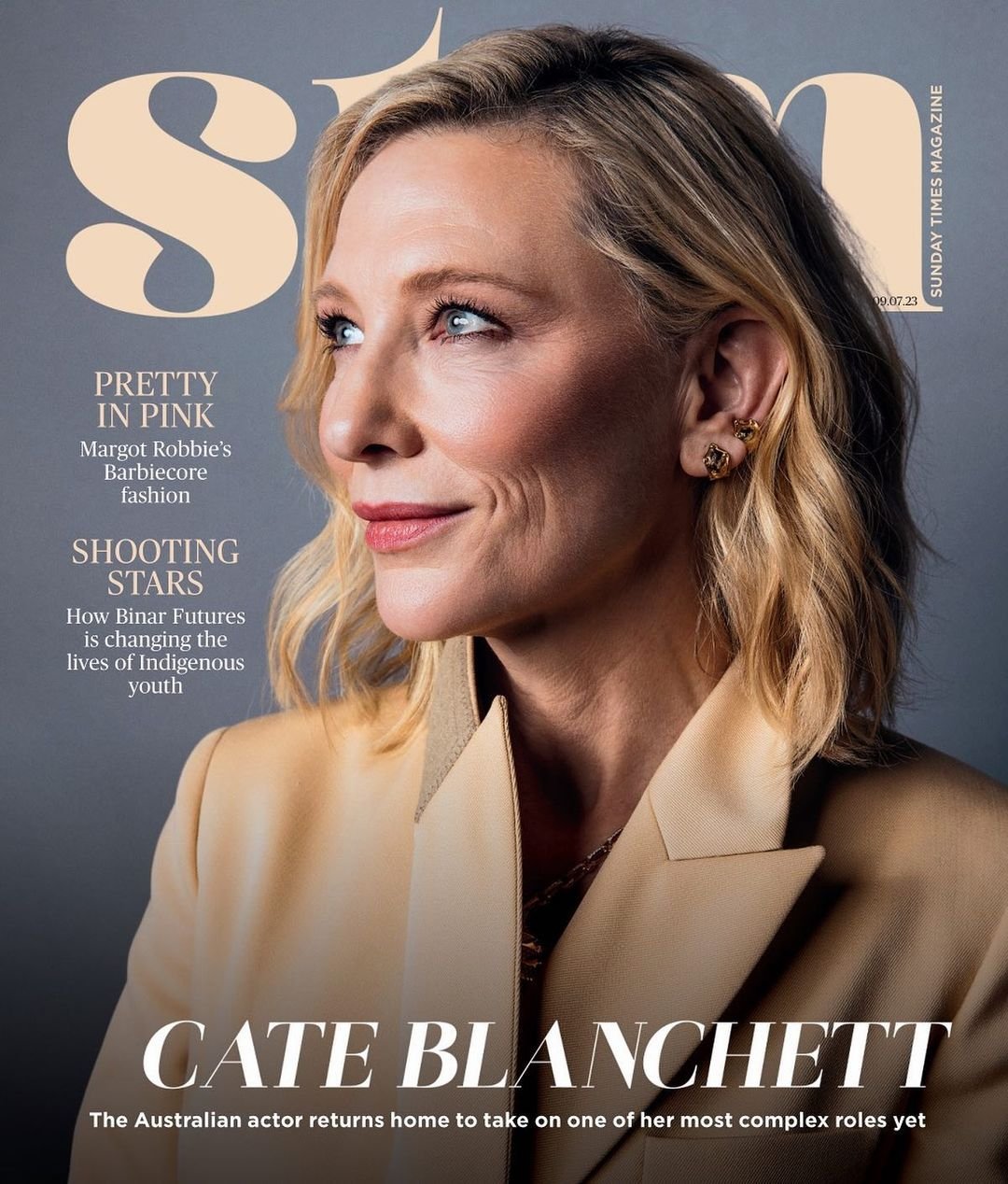 Sources: SAG-AFTRA, Chichester, STM