This year marks the 10th year since Woody Allen's Blue Jasmine was released in cinemas in the US. We thought of having a look back on the film. This post includes photos, conversations, and some anecdotes on the film.
Cate Blanchett plays the titular character of Jasmine French, a former Upper East side socialite who moves in with her sister Ginger (played by the amazing Sally Hawkins) in San Francisco to try to pull herself back together again after her New York life crumbles.
Jasmine arrives in San Francisco in a fragile mental state, her head reeling from the cocktail of anti-depressants she's on. While still able to project her aristocratic bearing, Jasmine is emotionally precarious and lacks any practical ability to support herself. She disapproves of Ginger's boyfriend Chili (Bobby Cannavale), who she considers another "loser" like Ginger's ex-husband Augie (Andrew Dice Clay). Ginger, recognizing but not fully understanding her sister's psychological instability, suggests that she pursue interior design, a career she correctly intuits that Jasmine won't feel is beneath her. In the meantime, Jasmine begrudgingly accepts work as the receptionist in a dentist's office, where she attracts the unwanted attentions of her boss, Dr. Flicker (Michael Stuhlbarg).

Feeling that her sister might be right about her poor taste in men, Ginger starts seeing Al (Louis C.K.), a sound engineer whom she considers as a step up from Chili. Jasmine sees a potential lifeline when she meets Dwight (Peter Sarsgaard), a diplomat who is quickly smitten with her beauty, sophistication and style.
The film had its world premiere in New York on 22nd July, 2013. It was initially released at six theatres only in New York and Los Angeles on 26th July of the same year then went onto wide release in the US on 23rd August. It was a box office success, the film has grossed $99.1 million against a budget of $18 million.

Cate Blanchett at the New York and Los Angeles premiere of Blue Jasmine
This was considered as Blanchett's major comeback in film having worked primarily in the theatre as co-artistic director and co-CEO with her husband, Andrew Upton, at Sydney Theatre Company since their appointment in 2008. Jasmine French is one of Blanchett's most critically acclaimed roles and has won her the most awards to date, including her second Academy Award and the first of her film critics trifecta (New York Film Critics Circle, Los Angeles Film Critics Circle, and National Society of Film Critics) 'Best Actress Award' sweep.
Jasmine's flaw is that she derives her worth from the way she's perceived by others, while she herself is blind to what is going around her. Delicately portrayed by a regal Cate Blanchett, Jasmine earns our compassion because she is the unwitting instrument of her own downfall.
Sundays with Cate
, a podcast series on Cate Blanchett's films hosted by
Murtada Elfadl
, has a Blue Jasmine Miniseries where he and other guests analyze the film and Blanchett's performance. 
Blanchett was preparing for this film role while she was onstage in New York for Uncle Vanya. She and Sally Hawkins, who was called early in New York for costume fittings, would meet to talk about the background of Jasmine and Ginger as sisters which helped them inhabit their characters.
I was lucky enough that our wonderful costume designer got me out to New York early to do the prep. So I had a few weeks in New York prior to going out to San Francisco, which was invaluable to me especially because Cate happened to be there at that time performing onstage. And she was so generous with her time, even though she was performing onstage to great accolades, and was incredibly tired during the day performing night after night on Broadway. The first time I saw Cate was onstage during Uncle Vanya. We spent some time in New York with the dialect coach, unraveling the text and figuring out their childhood and where they started from — which was key to me. – Sally Hawkins (Vanity Fair, 2013)
Blanchett and Hawkins are the only actors who received the full script of the film.
They were both nominated at the 86th Academy Awards.
Audiences have noticed the similarities between Blue Jasmine and Tennessee Williams' A Streetcar Named Desire. Blanchett was on the stage production of A Streetcar Named Desire in 2009 with STC and she thought that Allen may have seen her when the play toured in the US but Allen has said that the idea for the film came from his wife. Nevertheless, to Blanchett, her stage roles including Blanche Dubois and Richard II (War of the Roses) during her tenure at STC have a huge impact on her performance in the film.
"There's a tragedy to her clinging onto those threadbare things – a bit like Blanche DuBois, trying to make herself as attractive and alluring as possible. Like Blanche, she has such a romanticized sense of self. Because of the internal pain, sometimes it's easier to exist in a world of fairy lights and fantasy. One of the primary industries in America is fantasy, and so there's a naivety behind that. And I think that makes Jasmine an anti-hero of her time in her way.
Jasmine is a woman without any agency, without any autonomy, she's given that away to her husband, and that's what makes her current today – even in this post-feminist world. There are a lot of women out there who have given their power away to their husbands, to their brothers, to their fathers and the only way that they can see a way of getting themselves out, or reinventing themselves, is to attach themselves to another man. It's very sad." – Cate Blanchett (Vogue, 2013)
Apart from Blanchett's performance, the costumes of the films she is in are always an important part of the conversation. In Blue Jasmine, the costumes play a big role. The New York Times reported that the costume department has a budget of $35,000 but one would not think that at first glance since Jasmine wears many designers' pieces in the film. It is a testament to Blanchett's status also as a fashion icon as designers are even willing to lend or make bespoke pieces for her to be used in film.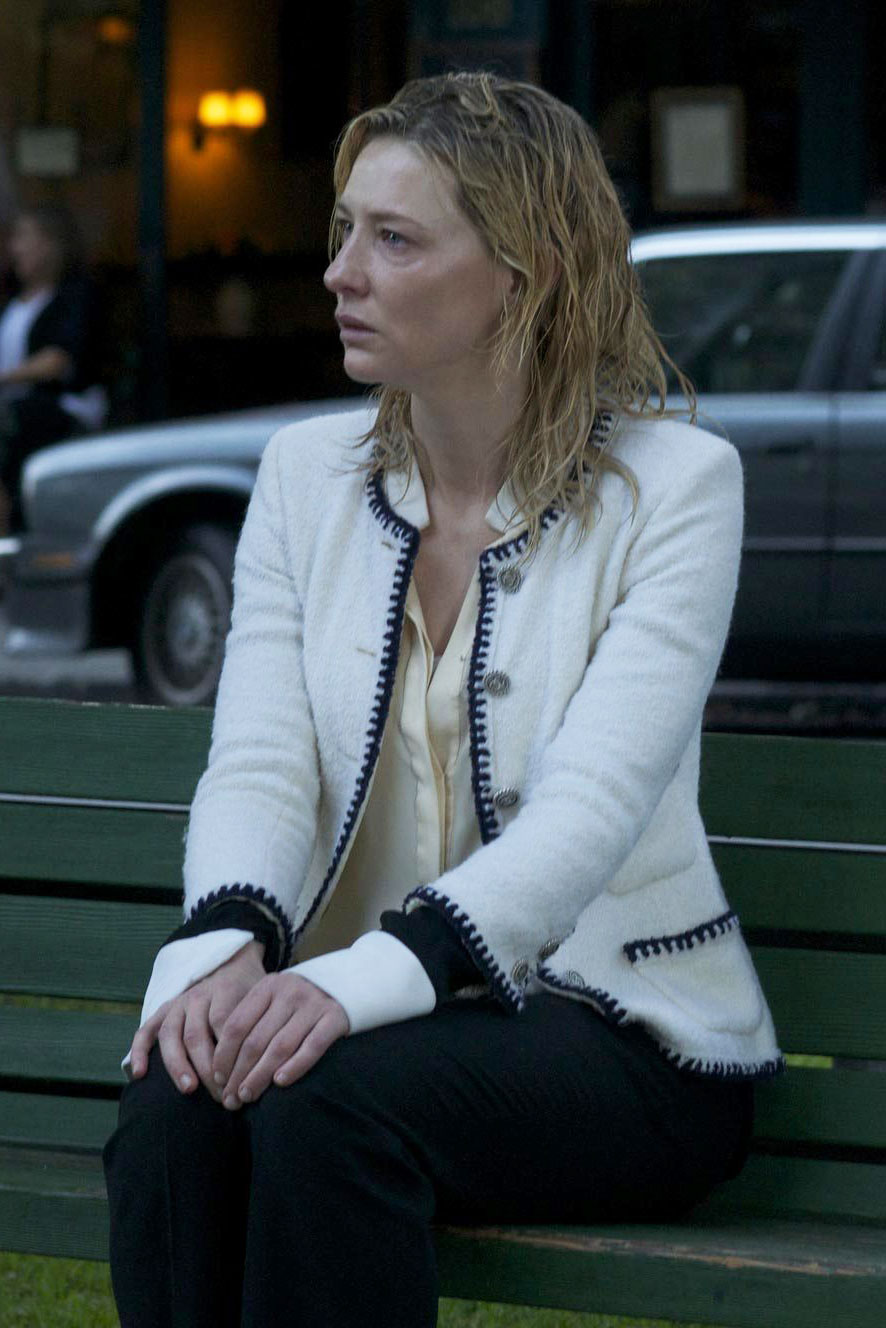 Allen was certain that Jasmine should be wearing Chanel. Speaking with Vogue, costume designer, Suzy Benzinger said that she sent her own design of the jacket to Chanel and the maison sent two bespoke jackets (one for New York scenes, the other for San Francisco scenes) two days later. They came with a note from Karl Lagerfeld saying "For Cate, I'd do anything."
For a lot of women clothes don't reflect who they are – but who they want to be. The wardrobe of my character in Blue Jasmine is the last vestige of her former life as a wealthy lady. She loses everything when her husband's shady business is exposed, and I spent a lot of time thinking about which clothes she would hide from the feds. I knew she would keep her channel jacket. It might be somewhat frayed, but she needed to use it as a mask. – Blanchett (W Mag, 2014)
Jasmine in Fendi
In Fendi dress with a Missoni for Target cardigan
In Akris blouse and Michael Kors pants
In Prada
In Oscar de la Renta: custom twinset; gold lamé dress and cardigan with pearls not intended to be worn together
In Alberta Ferretti dress with Oscar de la Renta cardigan
In Valentino
In Carolina Herrera
We had a Valentino strapless dress for the cocktail party scene, but Cate did not want to wear it. She felt she didn't do service to the dress. She said, "I just think Jasmine would be more beautiful in this," meaning the Carolina Herrera. There is something you should know about Woody's crews. They've worked with him for years, and they've seen it all. They're not interested in what an actress has on.
But the day Cate Blanchett walked on set in that Carolina Herrera, I had a gaffer come up to me and say, "I've never seen a woman look more beautiful in my life." – Suzy Benzinger (New York Times, 2013)
Wearing custom Roger Vivier shoes
The Louis Vuitton luggage is written into the script. In the beginning, Louis Vuitton was reluctant to lend the luggage since they want to see the script first, but with the help of Blanchett they finally approved.
We knew we had to go to Vuitton. They said, "Well, we love Woody, but we have to see the script." O.K., nobody sees the script. So I thought, "Oh, my God, I'm never going to get this luggage." But then Cate said, "You know, I just opened the Vuitton store in Australia, let's call them." And they relented. But first it was a month of begging, begging, begging on the phone. – Benzinger
The Hermès bag which is like a character of its own costs more than the costume budget. For the film they borrowed the bag of a PR from Hermès.
The Hermès bag I was carrying was more than the whole budget, and there I was, throwing it on the sidewalk again and again. I felt her [Benzinger] go up every time it hit the pavement… We borrowed it. But the waiting list for those bags is decades. You're in the wheelchairs before they arrive. I think we borrowed the PR girl's bag, but I didn't find out until I'd thrown it on the sidewalk for the seventh time. – Blanchett (Harper's Bazaar, 2013)
With Blue Jasmine, Cate Blanchett holds the record for the largest "Best Actress" award sweep with 42 wins from different critics groups and industry awards.
Cate Blanchett, 'Blue Jasmine' (Best Actress, 2013) #Oscars #oscarsclip pic.twitter.com/fwm6f8GrV1

— oscarsclip ? (@oscarsclip) November 6, 2021
Without wanting to sound too pompous, when acting works, when performance works, when theater's great, when films connect — whether it's a piece of profound satire or a work of great drama — it expands what it means to be human. It expands our ability to be compassionate, I think. So, I think I have a greater compassion for women like Jasmine. In that way, yes, it will definitely stay with me. In terms of an experience, it was pretty bloody special. – Cate Blanchett (New York Times, 2014)