Ciao!
Last August, while Cate Blanchett was in New York she went to Chamber Magic show.
Armani Beauty released videos with Cate and her friend and make-up artist, Mary Greenwell, as part of the campaign for the new Sì Eau de Parfum Intense perfume. She is also featured on the September 2023 issue of Vogue Italia.
Chamber Magic Show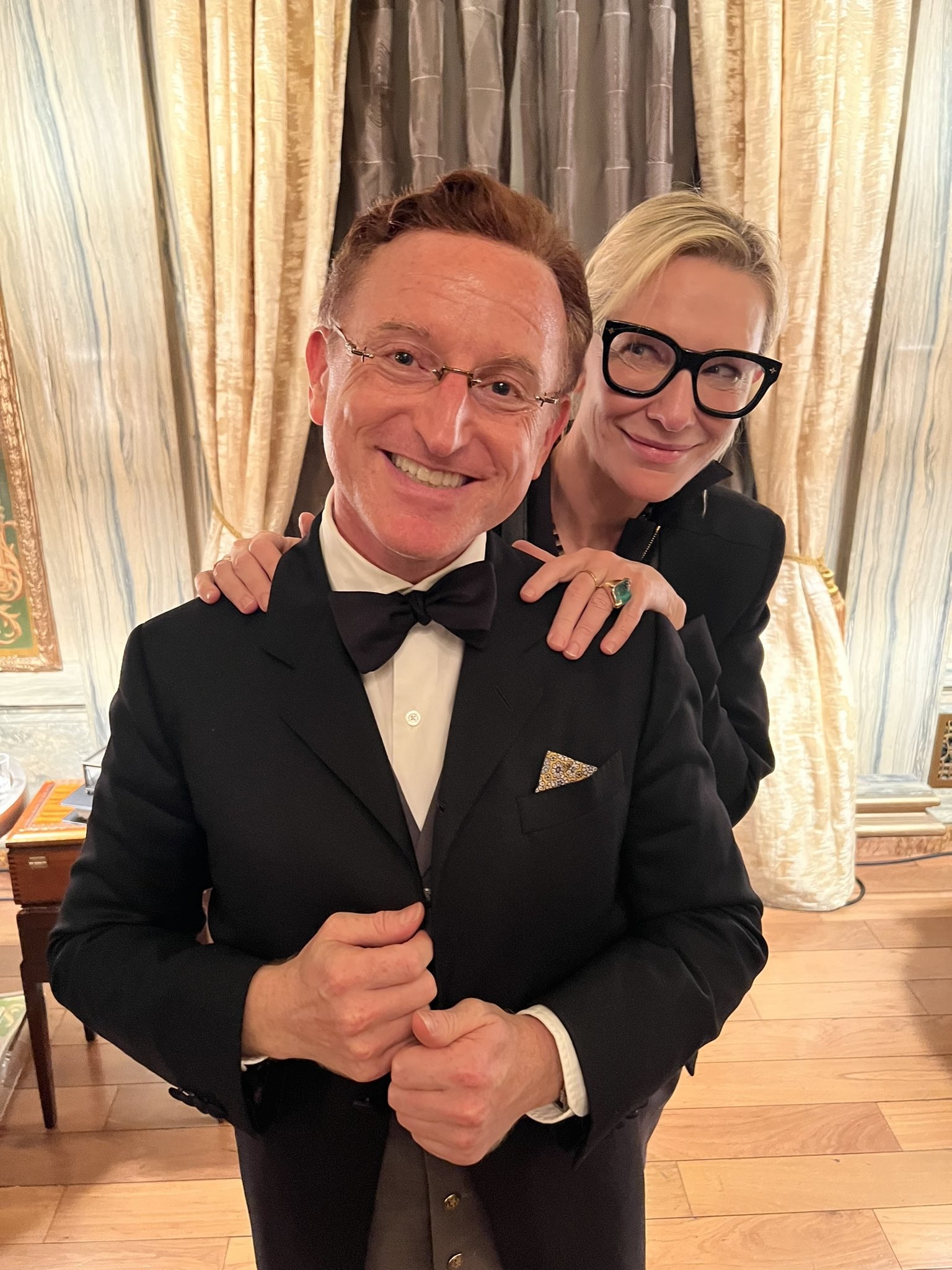 Actress Cate Blanchett sat in the front row center seat this past weekend at Chamber Magic. It was a great thrill for me, since – like the rest of the world – I'm a huge fan. Her recent film Tár is stunning, and I believe will garner her an Oscar nomination for Best Actress.

We had a nice, long post-show talk about our mutual friend Guillermo del Toro, and our experience working on his film Nightmare Alley. She is Hollywood royalty, no doubt. What an honor.

Guillermo del Toro has visited Chamber Magic three times, and on his last visit asked if I would be interested in a cameo role in his next film. I immediately accepted the offer, and soon found myself in Buffalo being fitted for a costume as a locksmith. The sets department constructed an outdoor kiosk for my character. It was located just down the street from Buffalo City Hall.

Cate Blanchett shot her scenes in Toronto, so we never crossed paths on set. I did, however, get a chance to meet Rooney Mara in the Hair and Makeup trailer, since we were getting prepped right next to each other.
Sì Eau de Parfum Intense campaign
---
---
Google translated from Italian to English. Original text on the scans below.
The same role for 10 years and still many things to say, much to do. If Cate Blanchett is Cate Blanchett, after all, it is precisely because of that mix of the new and the usual, the known and the wild. As if the granite had a dynamic, aerial component. Ten years in the same role, we said: it was 2013 when Armani chose the Australian actress as the face of Sì, a fragrance which, from its first launch, was destined to become a great perfumery classic. Giorgio Armani wanted a chypre essence and so it was, giving that powdery trait the task of keeping the thread between the various chapters that have followed one another in this decade. A sort of polar star of smell that leads us to the latest version of Armani Si: the Eau de Parfum Intense. "If I had to describe it I would say full of energy and soul. And also, or rather above all, warm", says Blanchett. A characteristic, that of "temperature", given by the fusion of three elements: the blackcurrant nectar, the velvety floral heart, and the sensual vanilla bouquet. New formula, new campaign, starring, in addition to Cate, also the Italian colleague Matilde Gioli. "The new communication has a lot to do with the power to let go. We often think that to be powerful you have to keep everything under control, but we are wrong. And so, after 10 years, Armani's perfume becomes a symbol of freedom" explains Blanchett. Yeah, but it's not always easy to "break free" and say yes. "Sometimes it is very tiring and I think it is especially tiring for us women who are great experts in hiding emotions. It often requires a lot of courage, as if it were a revelation, a public expression of one's desires and feelings."

And among the most daring and decisive "yes" of her existence Cate undoubtedly places the choice to become a mother ("at first I wasn't interested, I wanted to travel the world. Then I met my husband", the Australian playwright, screenwriter and director Andrew Upton with whom she has four children), there were choices that required a lot of energy from her. And also an inspiration, a point of reference, to look to in order to move forward and keep going. But who can someone like Cate Blanchett aspire to? Easy: Glenda Jackson, British actress and politician who passed away on 15 June this year. "She followed her passions and her beliefs, so she lived many lives. She too, like all human beings, may have felt fragile, but she was never afraid to be intensely herself. And she is intensely funny, intelligent and an activist."

Where the concept of "intensity" is fundamental. It is the same for the new version of Sì – which has this characteristic in its name and as for the female universe which often passes through this "bottleneck". "How many times have you heard a man describe a woman as "too intense"? I believe that this attitude can in some way discourage us, it can make us desist from being on the front line, from fighting for what we want." Intense yes, but also strategic. Because, it is good to keep in mind, not all yeses have to be aggressive.

There are some, even in Cate's life, who have a calm and soft allure. "I have always been guided by instinct. And so I made a lot of mistakes, but I have never regretted it. On the other hand, we know, we learn above all from our mistakes. At this point, however, I would like to become more selective: do fewer things, but better. And say yes to a more intimate, calmer part of myself. This morning, so to speak, I woke up early and dedicated some time to myself. My new buzzword? Indulgence".

A human side, made up of facials and tea with mushrooms ("a friend recommended it to me, it seems to do very well"), which goes well with a certain dose of gratitude. In the first place towards Mr. Armani who, she admits, has "changed her life". Then towards the photographer Tom Munro and the director Fleur Fortuné with whom she shot some Sì campaigns. Of these, in addition to the last obviously, the one linked to the launch of Sì Passione Red Maestro will remain in her heart forever. "I was wearing a red dress that I will never forget." And speaking of memory, we asked Cate Blanchett what her first olfactory memory is. "Without a doubt the smell of dry and damp leaves in autumn: with my family we collected small colored piles in the garden, then burned them in the fireplace." A warm scent, which coincidentally also characterizes Armani Si the Eau de Parfum Intense.
Vogue Italia September 2023