It has been 25 years since Cate Blanchett reigned our screens as Queen Elizabeth I. ELIZABETH directed by Shekhar Kapur premiered at the 55th Venice Film Festival on 8 September 1998. Blanchett first gained international attention with OSCAR AND LUCINDA, directed by Gillian Armstrong, but it is Elizabeth that catapulted her to global acclaim.
Her performance was widely praised and she became one of the most sought-after actors of her generation. With this film, she earned her first Academy Award nomination, won her first Golden Globe and BAFTA Awards. The film was a commercial success, it grossed $82 million against a budget of $30 million.
Elizabeth Tudor (Cate Blanchett) becomes queen of a divided and dangerous England in 1558. She is roundly perceived as weak by threats from within and abroad, and she is strongly advised to marry by counsel William Cecil (Richard Attenborough). But she will be married only to her country. Intelligent and cautious, she must choose where to place her trust: with her shrewd secretary Walsingham (Geoffrey Rush), a master of espionage, or her secret lover, Sir Robert Dudley (Joseph Fiennes).
Sundays with Cate podcast first episode was a discussion on Elizabeth, culture writer and film critic, Murtada Elfadl, who host the podcast discovered Blanchett when he watched this film.
It is the journey of a young girl and the sacrifices she makes in order to rule. The film explores her use of marriage as a political tool. Whether Elizabeth considered marriage is one of the enigmas of her career, but she was smart enough and perhaps sacrificial enough to use marriage not in love, as we now perceive, but as a weapon. – Cate Blanchett on (Harper's Bazaar Australia, 1998)
Speaking to Harper's Bazaar, Kapur said that he chose Blanchett to play Elizabeth after seeing her on the promo reel for Oscar and Lucinda. He said that there were only five six shots of Blanchett, he saw her face coming out of the water and thought there's no doubt in mind that is Elizabeth.
One day I was sitting in the producers' office and they were running a promo reel of 'Oscar and Lucinda,'" Kapur recalls. "And I'm sitting here and I suddenly looked at this and I saw Cate. In that half-a-minute promo reel, I knew why I was not supposed to cast anyone else. – Shekhar Kapur (CNN, 1998)
Blanchett in Oscar & Lucinda and Elizabeth 
Cate has this quality that is ageless. Her face is very modern yet period. She also has the ability to be very strong and vulnerable at the same time. – Kapur (The Express on Sunday Times, 1998)

Portrait of Blanchett from Venice Film Festival; portrait as Elizabeth I 
Cate has the ability to convey dual elements within a performance which makes that performance absolutely fascinating and out of the ordinary"- Richard Attenborough (Harper's Bazaar Australia, 1998)
It's a role full of conundrums. You need an actress with not just a broad technical range but someone capable of playing an extreme emotional range. One quality that Cate carries is the ability to flicker between extraordinary vulnerability and indomitable power. – Geoffrey Rush, (The Sentinel, 1998)

She's got the perfect combination of intellect and instinct, but at the end of the day she'll let instinct override. – Christopher Eccleston (The Guardian, 1998)


Rush, Blanchett, and Eccleston at the New York Premiere of Elizabeth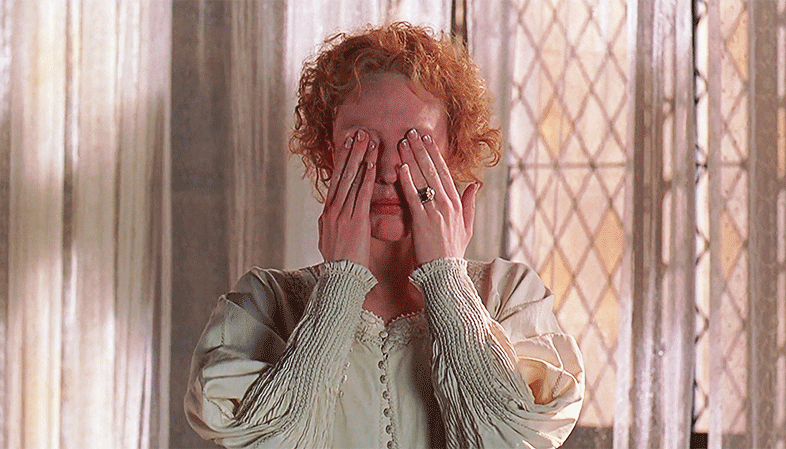 There was no script. So I just kind of read a bit about the Act of Uniformity the night before, and when we got to the set, I said to Shekhar, 'I can't improvise Elizabeth's dialogue. And he said, ' dont worry about it'. I was scared and probably a bit hostile because I kept thinking, 'I just can't do this'. But I did what I could and Shekhar just left the camera running. We did that twice for about five minutes. We didn't spend a lot of time on it, and to tell the truth, I didn't think he had anything he could use in the film. – Blanchett (Detroit Free Press, 1998)
Elizabeth won the Max Factor Award for Make-up at the Venice Film Festival and Best Make-up at the Oscars. Blanchett went under physical transformation, her hairline was shaved and her hair was dyed red to resemble Queen Elizabeth I.
The film was also nominated for Best Picture, Best Cinematography, Best Art Direction, Best Costume Design, Best Original Dramatic Score at the Oscars.
The costumes in the film reflect the transformation of Elizabeth from a young woman to a queen who is completely devoted to her country.
Necklines start low and gradually move higher; muted colors give way to stronger hues; the dresses become more constricting as Elizabeth stops dancing and her movements grow smaller. "Alex [Byrne, costume designer] and I talked a lot about body movement, as Elizabeth closes up, her clothing closes up as well. – Blanchett (Harper's Bazaar Australia, 1998)