In less than two weeks, Cate Blanchett and Warwick Thornton will be participating in a few Q&As for The New Boy ahead of its release in Australia and New Zealand on July 6. There are new interviews from Marie Claire Greece and Sight & Sound. More news below.
We are running a donation drive for the renewal of the hosting and domain to keep the site open, our deadline is in August. Your donation will be much appreciated. You can use the donation button below or the right sidebar for desktop users.
Or using QR Code:


Las Culturistas Awards 2023
Cate Blanchett won the Cate Blanchett Award for Good Acting at this year's Las Culturistas Culture Award.
Las Culturistas, a culture podcast hosted by comedians Bowen Yang and Matt Rogers, returned to Lincoln Center for their annual Las Culturistas Culture Awards in New York City. Saturday night's show highlighted every high and low point in pop culture in the past year.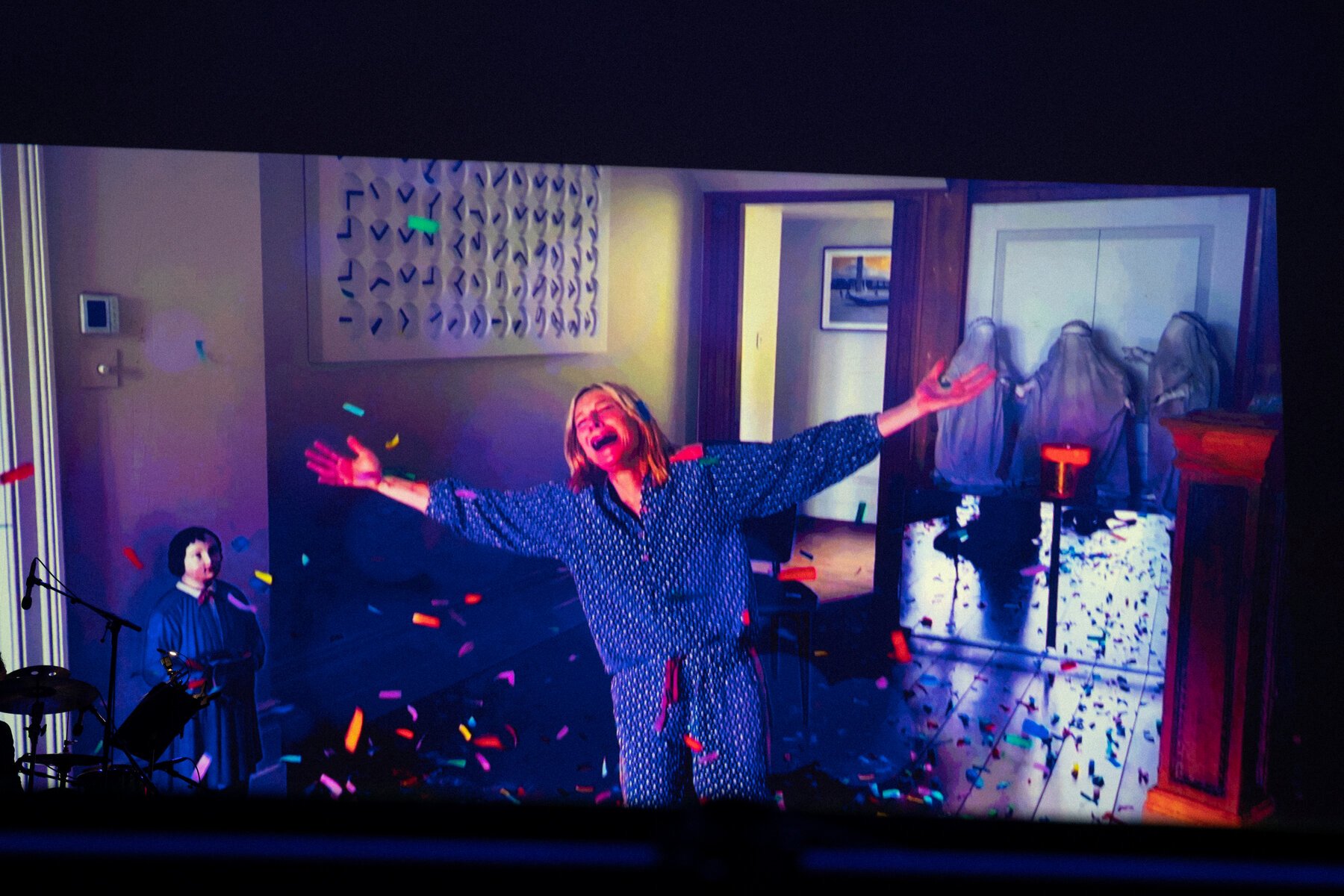 Ms. Blanchett had sent in an acceptance video in which she fell dramatically to her knees in a swirl of confetti. It played on a screen at Damrosch Park at Lincoln Center to cheers and laughter from the crowd.

Ms. Blanchett was in on the joke of the evening: Beneath their sequins and sense of self-importance, award shows are kind of funny.
More awards including the Cate Blanchett Award for Good Acting.@LydiaTarReal accepted pic.twitter.com/GEYYJxI4Ht

— Nolan Boggess (@NolanBoggess) June 18, 2023
 Evolver exhibition in South Korea
Evolver which is a VR project is narrated by Cate Blanchett is open from June 17 to September 17 at Museum Wave in Seoul. Korean narration is by Squid Game's Lee Jung-jae.
"Evolver" is a pioneering experience taking audiences inside the landscape of the body, following the flow of oxygen through a branching ecosystem, to a single 'breathing' cell.

Blanchett described "Evolver" as an "immersive experience on a metaphysical level that" and said she thinks it will "take the participants on a dynamic journey as the work is simultaneously inward and outward facing, encouraging deep introspection and reflection but also inviting people to connect, not only to their own bodies but to the natural world around them."
Experience EVOLVER, a mind-expanding VR journey through the human body, created in partnership with Terrence Malick, @PRESSMANFILM, @marshmallowlf and @AtlasVcorp pic.twitter.com/aTB6xn3YoQ

— Dirty Films (@dirtyfilms) June 17, 2023
The New Boy
There are preview screenings in Australia the The New Boy as early as June 30. The film is also part of New Zealand International Film Festival.
The New Boy preview at Avoca Beach Theatre and Thornbury Picture House on June 30.
Cate Blanchett and Warwick Thornton are featured on the latest issue of Sight & Sound Magazine. They discussed the film's long gestation and how to lend complexity to a portrayal of the vexed history of the Roman Catholic Church and Australian Aboriginal people. You can order the magazine here.
Interview below Google translated from Greek to English
Cate Blanchett huddles with director Warwick Thornton and reporters on the few sofas sheltered from the torrential rain that has marked the opening days of this year's Cannes Film Destival to discuss her latest role, that of a nun who runs a Catholic orphanage in the Australian outback in the 1940s. "It was a story we always had inside us, it was just expressed differently".

"I'm thrilled with the reception of the film last night," confesses Blanchett, who should be used to triumphant comments (after all, it was only a few months ago that Tár earned her 8th Oscar nomination). "It was obvious that this spoke to people who have no contact with Australian culture, the story has a universality."

Truth is, she looked so relaxed and happy herself that she showed up to the cocktail party that followed wearing a velvet Giorgio Armani jumpsuit, but completely barefoot (today she's chic and comfortable in oversized suit and Alexander McQueen sneakers).

In The New Boy she plays Sister Eileen, a patient mother figure for the Aboriginal boy who is delivered to her one night at the monastery by the police. His innocent blasphemies (and possibly metaphysical leanings) upset the workings of this almost forgotten place in a way that awakened Blanchett's complicated memories from her own childhood. "I always wanted to get kicked out of a Catholic boarding school," she says with a laugh.

"I went to the local primary school and my best friend went to the Catholic school next door. We were meeting on both sides of the barbed wire and I wanted to jump to the other side because I could see the children cursing and playing with wood. It looked so exciting. Of course I knew nothing about the dark aspects of the Catholic Church, I really enjoyed going to mass (with my best friend). I knew that these rituals were hiding something and that intrigued me. And then my father died . I spent a year waiting for him to come back, I went to church every Sunday hoping, until I realized he's not coming back."

However, Blanchett, who describes her relationship with organized religion as strained, feels she has a duty to discuss spiritual issues with her children.

"I try not to be cautious and fearful, not to be overtly certain about anything, which I think is the negative element of religion," she continues. "It's nice to have something to criticize every now and then, especially when you think it's inherently wrong. The world is cruel and we all instinctively try to protect our children. Mistakes are painful."

Blanchett and her family live in London , but the film gave her the opportunity to return to her homeland during the pandemic lockdown. "I want my children to have a relationship with Australia as a place, as land and as nature," she says. "I missed this place so much, I couldn't wait to reconnect with it. When you live abroad and everything suddenly closes, you wonder if you will ever come back. This movie was ultimately a gift from God."
The New Boy Q&A and Intros
– July 1st 2023, The New Boy Q&A at Palace Cinemas Astor Theatre; Intro only at Cinema Nova
– July 2nd 2023, The New Boy Q&A at Hayden Orpheum Picture Palace
– July 3rd 2023, The New Boy Q&A at Ritz Cinema Randwick; Intro only at Palace Cinema Norton Street and Dendy Newton
– July 6th 2023, The New Boy New Zealand and Australian release date
Sources: Vulture, NY Times, Variety, Marie Claire