Good day, Blanchett fans!
We have compiled updates on other Cate Blanchett-related projects and causes she supports, ranging from interviews, magazine scans, and recent or upcoming event appearances. You can check them below.
— UNHCR Goodwill Ambassador, Cate Blanchett has penned an piece for Politico urging global leaders to do more for the Rohingya refugees.
Rohingya: A life lived in limbo
It's more important than ever that we don't look away, despite other emerging humanitarian and refugee crises in the world.

Gul Zahar, a young Rohingya woman, was forced to flee her home in western Myanmar's Rakhine State. Escaping brutality and widespread abuse, she and around 200,000 fellow Rohingya refugees sought safety in Bangladesh. That was in 1978.

After returning home, another wave of violence against the Rohingya forced her to seek safety in Bangladesh once more. That was in 1992.

Many years later, Gul and her four-generation family were among the 720,000 Rohingya who made that same desperate journey to safety, yet again forced from their homes by violence. Trekking through jungles and mountains and crossing the river, it was one of the largest and fastest refugee influxes the world had seen for decades.

That was five years ago, in 2017.

Today, over 925,000 Rohingya refugees live in the densely populated camps near Cox's Bazar, Bangladesh. Over 75 percent are women and children.

The Rohingya are the largest stateless community in the world.

Although they have lived in Myanmar for generations, they aren't recognized as citizens. And they face a host of discriminatory practices limiting their daily lives, in addition to the violence and persecution carried out against them.

When I visited Bangladesh in 2018 in my role as a goodwill ambassador for the U.N. Refugee Agency (UNHCR), I was not prepared for the depth of suffering that I saw.

I witnessed mothers enduring the unending pain of seeing their children live through these experiences. I sat with countless refugee children who had endured brutality and uncertainty, as I pictured my own children safe at home, joyful and carefree.

Following the influx in 2017, the emergency response to the refugee crisis, led by the government and people of Bangladesh, was exemplary. With the help of the international community, they provided medical assistance, food and relief items, and built makeshift shelters. Rohingya refugees were registered and issued with identity documentation — the first many had received in their lives.

Over time, however, the camps have developed their own fragile ecosystem, with their health care, water and sanitation facilities becoming severely challenged.

Rohingya refugees themselves play a vital role as the first responders in their community, including in the areas of emergency preparedness and disaster response, health, education, as well as community response and mobilization. During the COVID-19 pandemic, for instance, refugee volunteers took the lead in informing their community about health and hygiene, monitored signs of illness and connected refugees with critical health services. Their ingenious efforts saved countless lives.

Five years since that latest mass influx from Myanmar to Bangladesh, the collective effort in responding to the ongoing Rohingya refugee crisis — and the role undertaken by Rohingya refugees themselves — should be commended.

But despite this acknowledgment, we mustn't be allowed to forget that the Rohingya shouldn't be refugees at all — not the women, men and children who fled in 2017, nor those who fled in the successive waves of violence in previous decades.

The protracted exile of the Rohingya is simply unacceptable and unsustainable.

Diminishing hopes of returning home are pushing increasing numbers of Rohingya refugees, including children, to undertake perilous boat journeys in search of a future. Placing themselves at the mercy of smugglers and the treacherous waters of the Bay of Bengal, they are at risk of dehydration, starvation, physical and sexual abuse, and death. They do so, as many feel that they have little choice.

Today, it is more important than ever that we don't look away from Rohingya, despite other emerging humanitarian and refugee crises in the world.

We must continue to support Bangladesh and other host communities in enabling Rohingya refugees to live full and dignified lives in exile. This includes providing them with greater access to education, skills training and opportunities for earning livelihoods.

Rohingya refugees, in particular the large proportion of youth among them, are resilient and resourceful. They want to rebuild their lives and ensure they are prepared for the future — including a return to their homes.

It is vital the international community continues to press for the rights of Rohingya in Myanmar.

They long for their homeland. They want to return but cannot do so unless conditions are safe, unless they can exercise their fundamental human rights — the right to move freely within their own country, the right to services such as education, livelihood and health care, and a clear pathway to citizenship — the rights so many of us take for granted.

In a conversation she had with the UNHCR in 2018, Gul had made clear what her wishes were: "I want to die on my soil," she said.

Heartbreakingly, Gul passed away last year at the age of 94 in Bangladesh, her deepest yearning unrealized.

A life lived in limbo.
— Cate is also a council member of Earthshot Prize, which is "a global prize for the environment, designed to incentivise change and help to repair our planet over the next ten years". There is going to be a summit in partnership with Bloomberg Philanthropies where Cate is confirmed as a speaker. It will be held on September 21st from 8:00am-12:30pm ET at The Plaza Hotel in New York City.
The Earthshot Prize Innovation Summit
The Earthshot Prize and Bloomberg Philanthropies previewed confirmed speakers and programming for The Earthshot Innovation Summit, which will take place on the morning of September 21, 2022 at The Plaza Hotel in New York City. The Summit, hosted by Michael R. Bloomberg, the UN Secretary-General's Special Envoy on Climate Ambition and Solutions, will bring together heads of state, government and civil society leaders, philanthropists, business executives, and grassroots climate activists from around the world to spotlight emerging, systems-changing solutions and showcase the critical need to turbocharge ground-breaking climate innovations to address the world's most pressing environmental challenges.
Global Australian Awards 2022
Cate alongside her friend and co-host of Climate of Change podcast, Danny Kennedy, were presenters at this year's Global Australian Award. You can watch them present at around 43:19.
Global Goals Yearbook 2022
Vanity Fair European Edition
Click images for higher resolution
Click the images to open the scans.
Film Updates
— Another movie with Cate that will be released this year is the stop-motion version of Pinocchio directed by Guillermo Del Toro and Mark Gustafson. Three episodes of Documentary Now premiered at Toronto International Film Festival last weekend.
On a sadder news, Pedro Almodóvar has pulled out of directing job in A Manual for Cleaning Women but Cate is still attached to star and produce under Dirty Films.
Meanwhile, TÁR continues to be part of film festival lineups. It will have it's Australian premiere at Adelaide Film Festival, US West Coast premiere at Mill Valley Film Festival, it is also part of Orcas Island Film Festival lineup. There is a concept album to be released in October 2022 where Cate can be seen and heard conducting a rehearsal of Dresden Orchestra. Cate also did an interview with Swedish newspaper Dagens Nyheter while she was in Venice at the beginning of this month, the movie will be released on October 23rd in Sweden.
Pinocchio
Cate voiced the monkey, Spazzatura. The movie will have it's world premiere at London Film Festival on October 15th. You can buy tickets here.
Guillermo del Toro's Pinocchio (dirs. @RealGDT & Mark Gustafson), a dark fable about a naive wooden puppet, presented in dazzling stop-motion animation. #LFF pic.twitter.com/rppZDQCxhv

— BFI (@BFI) August 31, 2022
Documentary Now
Over the weekend, three episodes from the new season of IFC's iconic mockumentary series Documentary Now! premiered at the Toronto International Film Festival (TIFF).  And during a post-screening Q&A, it was revealed that we have Australia's own Cate Blanchett to thank for its long awaited return.

In front of a sold out audience at the Scotiabank Cinemas, directors Alex Buono, Rhys Thomas, and co-creator and series regular Fred Armisen – all of whom met in the writer's room on Saturday Night Live – talked about how Cate, who also appeared in the third series of the mockumentary, reached out expressing her interest in parodying an obscure British TV documentary.

Cate had taken a shining to the 1994 BBC documentary, Three Salons at the Seaside, which she discovered with her hair & makeup team while filming her FX series Mrs. America in Toronto, Canada.

The Cate Blanchett episode in question – "Two Hairdressers in Bagglyport", which screened at TIFF – was filmed over four days at the original location of the documentary in Blackpool – redressed to match its original time period.

Having seen the episode, which unfolds like a beautifully written stage play, I can safely say that the persistence of Blanchett paid off – it's one of the finest of the series to date. And, simultaneously, may be the most obscure documentary they've lovingly parodied.
Pedro Almodóvar departs A Manual for Cleaning Women
Oscar-winning Spanish filmmaker Pedro Almodóvar will not be making his first English-language feature directorial debut with A Manual for Cleaning Women, which has Cate Blanchett set to star and produce under her Dirty Films, Deadline has learned.

The filmmaker finally had all the elements to realize the magnitude of this future production. However, he came to the decision that he's not ready to tackle such a monumental project in English. A search for another director is underway.

The feature project was first announced back in January based on Lucia Berlin's 43-part collection of short stories, examining the lives of women working a wide variety of demanding jobs.

"It has been a very painful decision for me," Almodóvar tells Deadline. "I have dreamt of working with Cate for such a long time. Dirty Films has been so generous with me this whole time and I was blinded by excitement, but unfortunately, I no longer feel able to fully realize this film."

Dirty Films producers Blanchett, Andrew Upton, and Coco Francini tell us, "We have the utmost respect for Pedro and his extraordinary body of work, and while the stars may not have aligned this time, we hope to collaborate with Pedro and El Deseo on another project in the future. Dirty Films' passion for A Manual for Cleaning Women and Lucia Berlin's unique and searing voice – full of danger, joyousness and loss – has not dimmed, and we are excited to continue this project with our partners at New Republic."
TÁR at Film Festivals
Mill Valley Film Festival World Cinema Lineup. Showings on October 7th and 8th, tickets can be booked here.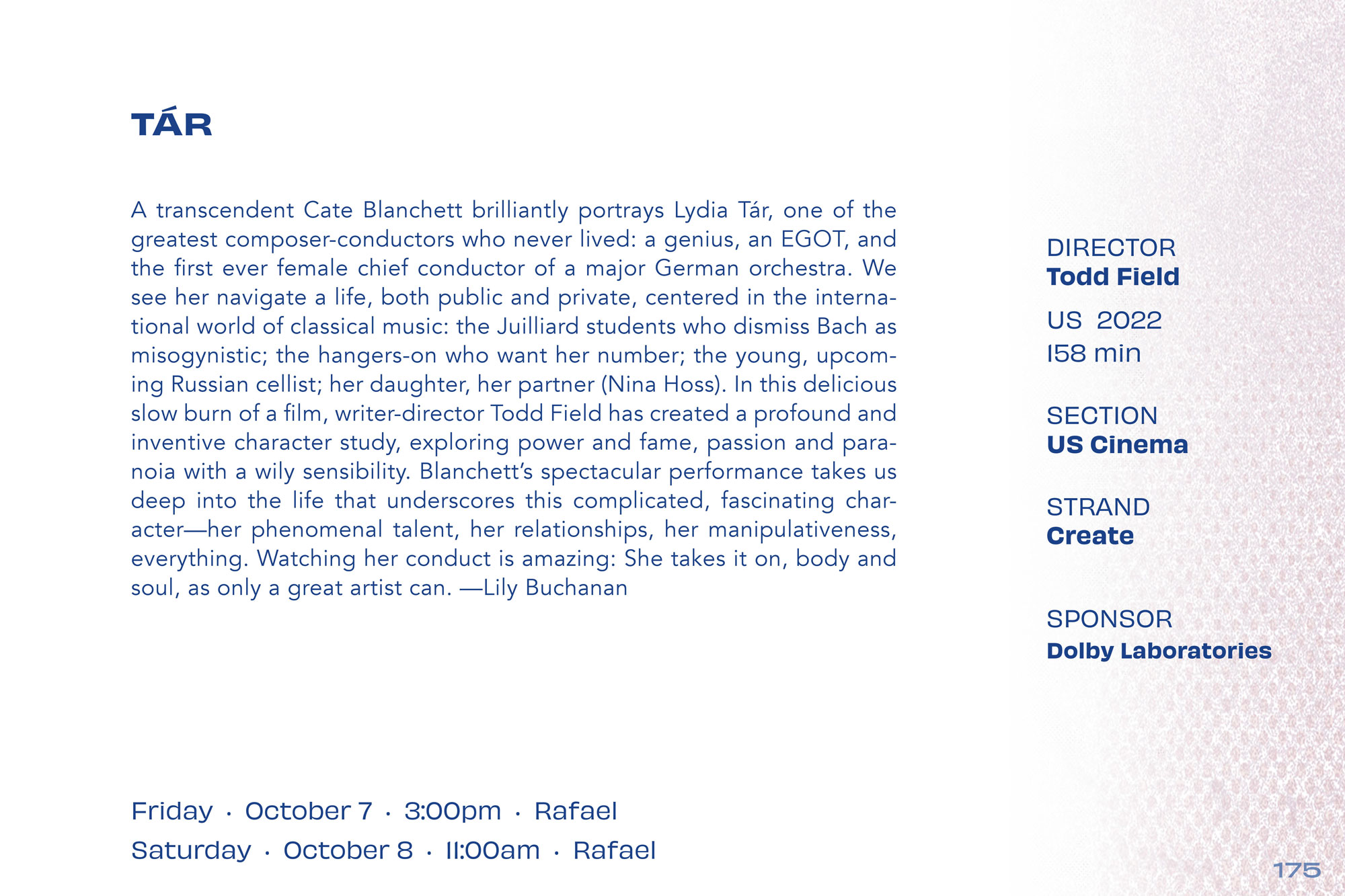 Australian premiere on October 21st as part of Adelaide Film Festival Special Presentation lineup. Tickets here.
See "Cate Blanchett's magnum opus", and Todd Field's "Triumphant return to filmmaking" TÁR as an #AFF22 Special Presentation, Friday October 21!
?? Tix at https://t.co/R28IrgZ5OP pic.twitter.com/WmQx3NvO9F

— Adelaide Film Festival (@AdlFilmFest) September 13, 2022
Orcas Island Film Festival runs from October 6th-10th, festival passes are now
on sale
but no scheduled showing yet for TÁR.
TÁR (Music from and inspired by the motion picture)
TÁR concept album is set to be released on October 21st, an LP version will be released on January 20th 2023. You can pre-order at Deutsche Grammophon, JPC, Roan Records or Amazon.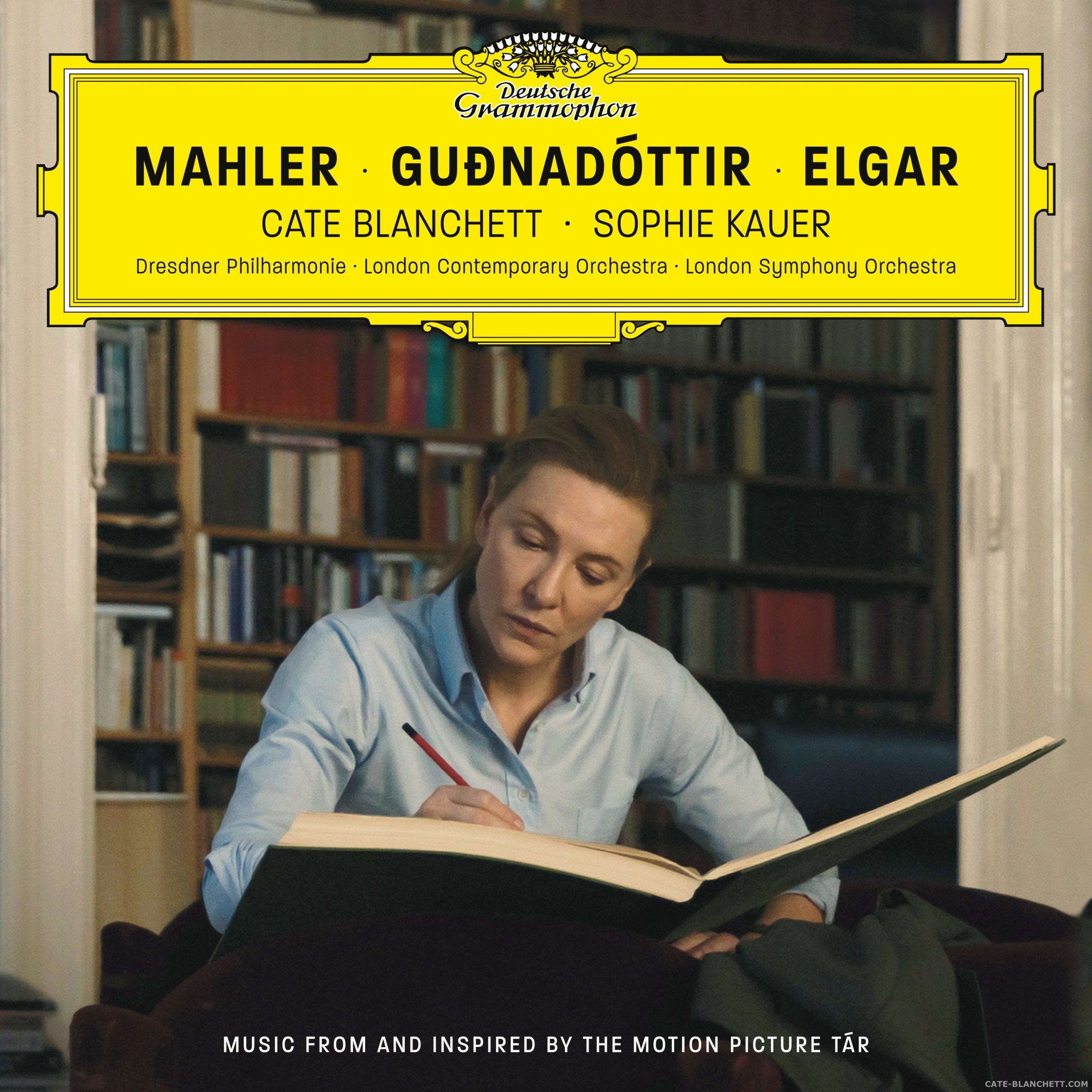 Deutsche Grammophon presents Hildur Guðnadóttir's exciting new film project – a groundbreaking concept album for Todd Field's new movie TÁR, starring Cate Blanchett in the title role.

The multi-faceted concept album features music from and inspired by the movie, including a series of stunning new tracks by Guðnadóttir, as well as extracts from major works by Elgar and Mahler. It complements the film by presenting completed, real-life versions of the music on which we see the fictional protagonist Lydia Tár working. One of the aims of the album is to reveal something of the complex process that goes on behind orchestral rehearsals and recordings.

"The tracks, like the film, are meant to invite the listener to experience the messiness involved in the making of music." Todd Field

Written and directed by three-time Oscar-nominated filmmaker Field, TÁR tells the story of high-powered composer-conductor Lydia Tár, played by Cate Blanchett. The two-time Oscar winner immersed herself in every aspect of her character's life and can be seen – and heard on the DG album – conducting rehearsals of a Mahler symphony with extraordinary skill. Her fellow cast members include talented young British-German cellist Sophie Kauer, whose playing also features on the concept album.
This is a Google translated interview from Swedish to English.
Cate Blanchett: "There's a lot of unresolved anger in the wake of MeToo"
Almost 25 years ago, Cate Blanchett came to Venice for the first time with "Elizabeth", where she made an unforgettable portrait of the 16th-century regent who "married England". Now the Australian Hollywood star is back at the Lido with another majestic full-length portrait of a woman with enormous power in her world.

In Todd Field's magnetic "Tár", Blanchett plays a fictional star conductor who has mentor Leonard Bernstein at her back, stands at the peak of her career as a celebrated composer and is the first female chief conductor of the prestigious Berlin Symphony Orchestra. A demanding recording of Mahler's Fifth Symphony is at hand. Lydia Tár is certainly married to the orchestra's female concertmaster (played by the German Nina Hoss) but is much more loyal to her position of power – which she exploits wildly in private – than her wife.

Learning to conduct believably was the least of the challenges with "Tár", says Blanchett.

– For me, "Tár" is not really so much about the conducting itself. For Lydia, it's like breathing. It was simply about finding the right way to breathe. But it's clear that I studied many conductors that I became quite obsessed with, from Carlos Kleiber who had such a tormented and ambivalent approach to his work – to women like Antonia Brica, Marian Alsop and my compatriot Simone Young, says Cate Blanchett at a hotel room with sea view on the festival island Lido.

She is dressed in a white summer suit that elegantly mirrors the expensive tailored suits her character wears in the film. Speaks enthusiastically in a voice that is slightly higher than Lydia's deep voice.

– The most important thing was to understand the structures of the classical world and how orchestras work. It was so interesting to follow the development, from the autocratic times when the conductor's word was law and then over the fall of the Berlin Wall when more democratic tendencies began to seep into this world as well. It's clear that the classical music world is still very much about canon and hierarchies, but the dynamic has clearly changed.

Her character Lydia Tár stands in the middle of that process, and not unexpectedly ends up in a storm when she not only manipulates younger women for her own needs, but also suppresses students who question the canon, like Bach, for reasons of identity politics.

Was it time for a reverse method drama?

– There is a lot of unresolved anger to explore in the wake of MeToo, and it is something we are far from done with. The system still needs to be fundamentally changed. The cancel culture is part of this process. But for me it is still only one aspect of "Tár". Todd, who also wrote the screenplay, did a huge amount of research for the film and I think he has found mined ground that is very exciting.

To the now classic question of whether you can separate the author from the work, Blanchett answers with an anecdote from the early nineties when she had just graduated from acting school in Australia.

– It is in many ways a generational issue. At 22, I was cast in a production of David Mamet's "Oleanna" and was full of strong opinions about gender and power. The first time I read the play I threw it at the wall. Second and third time too. When we finally played it, it became an incredibly exciting and challenging debate among the audience. And probably a lot of divorces, laughs Blanchett.

– The lesson from that is that if we are to avoid everything that is controversial or disturbing in art, or authors who have behaved questionably, then we miss out on a lot, both experiences and a significant critical debate. God knows what went on in Picasso's studio, but "Guérnica" is still one of the world's most important works of art, and so on.

What is "Tár" above all about, for you?

– It's almost hard to say, there are so many layers to it. Lydia is both perpetrator and victim of a system where men have been kings for so long that she constantly has to prove that she is capable. But I woke up this morning and thought that it is above all a meditation on power, she says and elaborates:

– It is not only about institutional power but also creative power. Conductors often call the orchestra their instrument, but at the same time it's about many different individuals, says Blanchett, who received praise for her interpretation of the role.

– "Tár" depicts the trend breaking that takes place in a world where the collective has been hierarchically controlled but where the individual and how one identifies oneself has become a new factor of power, she says.

Having long run theater in Sydney with her husband Andrew Upton, she can easily identify with institutional power, but personally she is more interested in creative power and how to convey it to others.

– Often the most creative thing you can say is "I don't know, yet" when people demand answers. But there's a funny difference depending on who's saying it. If a male director says it, people find it exciting. But if it's a female director, people just get nervous, ha ha.

– That's one thing I really appreciate about "Tár". It asks questions, but does not judge.
Sources:
Politico
,
Bloomberg
,
The AU Review
,
Dagens Nyheter